Read Time:
1 Minute, 5 Second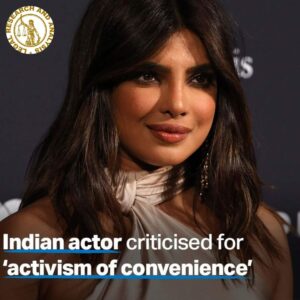 Priyanka Chopra, an Indian actress, has come under fire for her support for Iranian women protesting the death of Mahsa Amini while in the custody of Iran's morality police.
Chopra wrote on her Instagram, "I am in awe of your courage and your purpose." It is difficult to put your life on the line to challenge the patriarchal establishment and fight for your rights. "However, you are brave women who do this every day regardless of the cost to yourself," she added.
While some praised the actress for speaking out, others chastised her for her "silence" and "selective activism" on similar issues in India.
"Priyanka Chopra comes out in support of everyone except Indians," tweeted user Abhishek Baxi.
"Your activism of convenience is pukeworthy," another user wrote. This means nothing if you choose to ignore the plight of hijabi women in India, who are denied an education because they wear a piece of cloth over their heads and are harassed by Hindutva goons and the state. You are a hypocrite!"
Chopra has been accused of selective outrage before. In 2020, she was chastised for being tone-deaf about police brutality and violence against Muslims and Dalits in India while protesting George Floyd's death in the United States.