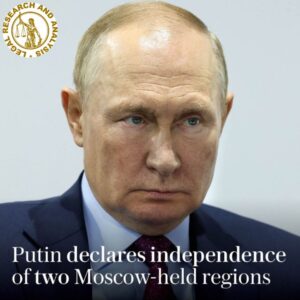 Russian President Vladimir Putin has recognized the independence of Ukraine's Zaporizhzhia and Kherson regions, According to presidential decrees issued late Thursday, on the eve of Russia finalizing their annexation.⁠
⁠
"I order the recognition of the state sovereignty and independence" of the regions of Zaporizhzhia and Kherson, located in southern Ukraine, Putin said in the decrees, as Russia prepares to formalize the annexation of the two areas, along with Donetsk and Lugansk on Friday.⁠
The Russian president is expected to deliver a major speech on Friday announcing the formal annexation of the regions, which represent about 15 percent of Ukraine's total area.
Russian government officials have said that the four regions will subsequently fall under Moscow's nuclear umbrella, and Putin has repeatedly warned he could use nuclear weapons to defend Russian territory if it is attacked.
Volodymyr Zelensky, the Ukrainian president, promised a strong response to the annexations and summoned his defense and security chiefs for an emergency meeting on Friday where "fundamental decisions" will be taken, an official said.