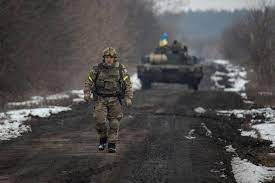 Up to 4,000 Russian troops may have died since President Vladimir Putin launched Russia's invasion of Ukraine on Feb. 24, a senior U.S. military officer said Tuesday, as the Kremlin's military forces continued to face fierce resistance.
Lt. Gen. Scott D. Berrier, director of the Defense Intelligence Agency, told House lawmakers that the best estimate is between 2,000 and 4,000 Russian fatalities. But he said he had low confidence in that figure, citing "some intelligence sources, but also open source" information. The general's reference to open source information probably refers to assessments made public by credible outside groups monitoring the conflict.
The estimate is a significant indication of how badly the much smaller Ukrainian military has exacted a toll on Russian forces, even as the Kremlin wages a bombardment of both military and civilian targets in numerous Ukrainian cities. By comparison, the entire 20-year U.S. war in Afghanistan resulted in 2,461 American combat fatalities, according to Pentagon figures.