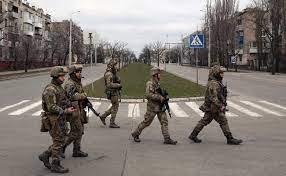 Russia has begun withdrawing its soldiers from the defunct Chernobyl nuclear power plant after seizing control of the facility on the opening day of its invasion of Ukraine.
A senior official at the Pentagon said the troops were being repositioned into Belarus whose border lies 10 miles away.
He said: "We think that they are leaving, I can't tell you that they're all gone."
Around Kyiv, the Kremlin had begun to withdraw approximately 20 per cent of its forces to the north of Ukraine where they could be resupplied and rearmed, the US official added.
Declassified intelligence from the White House has revealed Vladimir Putin feels "misled by the Russian military" and has lost faith in his top officials.
The newly revealed report says the Russian president did not even know his military was using conscripts for the invasion which has killed an estimated 7,000 Russian troops.