0
0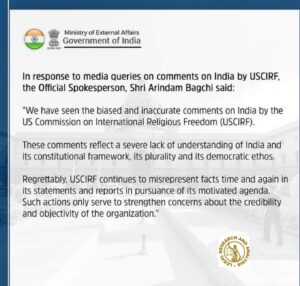 New Delhi today condemned the US Commission on International Religious Freedom's remarks about India as biased and inaccurate.
In response to media inquiries, External Affairs Ministry spokesperson Arindam Bagchi stated that these remarks demonstrate a profound misunderstanding of India and its constitutional framework, plurality, and democratic ethos.
He stated that, regrettably, USCIRF needs to continue to misrepresent facts in its reporting in order to further its motivated agenda.
The spokesperson underscored that such deeds only serve to exacerbate concerns about the organization's credibility and objectivity.