Read Time:
1 Minute, 20 Second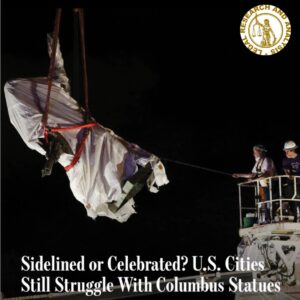 Some cities are still unsure what to do with statues of Christopher Columbus that were involved in protests following the death of George Floyd two years ago. ⁠
A 13-foot-tall likeness of the Genoa-born explorer has been wrapped in plastic in Pittsburgh while a court battle takes place. The mayor of Chicago has yet to decide what to do with two Columbus statues that were removed by the city in 2020.
Meanwhile, a Columbus statue sculpted this spring to replace one thrown into Baltimore's harbor by protesters two years ago has yet to find a home.
 Many Italian Americans regard Columbus as a heroic figure whose achievements as an explorer should be celebrated. Many Native Americans and others associate him with atrocities against indigenous peoples and the emergence of the trans-Atlantic slave trade years after his arrival in what is now part of the Bahamas.
The opposing viewpoints are part of a larger national debate taking place in schools, statehouses, and other venues about whether and how historical events should be reinterpreted today.
Italian-American organizations have filed state lawsuits in Pittsburgh, Philadelphia, and Chicago, as well as two federal lawsuits in New Jersey and Pennsylvania, to protect Columbus statues and the holiday that bears his name.
After a mob lynched 11 Italian Americans in New Orleans in 1891, many Columbus statues were erected. In 1934, Franklin D. Roosevelt declared Columbus Day a national holiday.
President Biden issued two proclamations on Friday designating October 10, 2022, as Columbus Day and Indigenous Peoples' Day.