0
0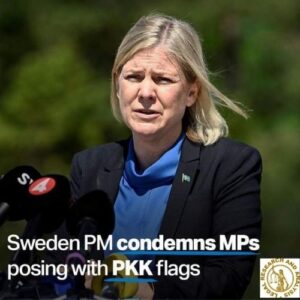 Sweden's Prime Minister, Magdalena Andersson, has decried a group of left-wing MPs for displaying PKK and its affiliate flags.
"The PKK is an assigned terror organization not only in Sweden, but throughout the EU, and trying to pose with such flags is completely inappropriate," Andersson said.
Andersson's denunciation came a day after NATO launched the annexation processes for Sweden and Finland, who promised Turkey in a trilateral memorandum that they would take action against the PKK and its offshoots.
Images on social media showed parliamentarians from Sweden's Left Party, which opposed Sweden's intention to pursue NATO membership, waving flags of the PKK, its Syrian spinoff, the YPG, and the all-female YPJ on Tuesday.