Read Time:
1 Minute, 27 Second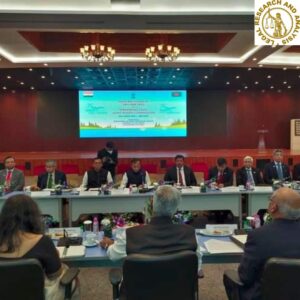 The 38th meeting of the India-Bangladesh Joint River Commission (JRC) was held in Delhi yesterday.
The meeting discussed several ongoing projects of mutual interest including common river water sharing, sharing of data on floods, countering river pollution, a joint survey on sediment management, and protection of river banks among others.
The two sides finalized the contents of an MoU on interim water sharing of the Kushiara river. Both sides also welcomed the finalization of the design and location of water intake points on the Feni river to meet the needs of the people in Sabrum town in India as per the India-Bangladesh MoU signed in 2019.
The JRC meeting was held after 12 years even while bilateral technical discussions and consultations under the JRC framework continued between the two countries.
Prior to yesterday's Ministerial meeting, the Secretary level talks were held between the two countries on Aug 23-24 in Delhi.
India and Bangladesh have 54 common rivers between them out of which 7 rivers were identified earlier for the development of a water sharing agreement framework on a priority basis.
Sharing of the real-time flood data is one of the most important areas of India's cooperation with Bangladesh. India recently extended the flood information sharing period beyond October 15 to help Bangladesh deal with unexpected floods in some areas.
The Bangladeshi delegation was led by the Minister of State for Water Resources Zaheed Farooq. Bangladesh Deputy Minister of the Ministry of Water Resources AKM Enamul Haque Shamim was also a part of the delegation.
The Indian delegation was led by Minister of Water Power Gajendra Singh Shekhawat. Pankaj Kumar, Secretary, Ministry of Water Resources also attended the meeting.