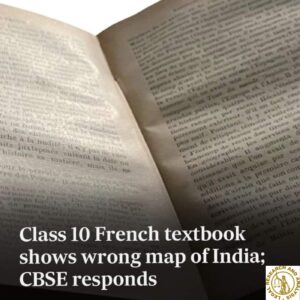 The Central Board of Secondary Education explained, stating that "The book is from the 2014 Edition," in response to the controversy surrounding a widely circulated CBSE Class 10 French textbook front page depicting the incorrect map of India.
Rama Sharma, a CBSE PRO, said: "The Class 10 French Textbook's cover page, which accidentally depicts the incorrect map, is from a previously phased-out edition from 2014. On the CBSE website, you can access the updated version."
The fourth revised edition of the Class 10 French textbook, according to the CBSE, was released by the organization's Academics and Training Wing. According to a tweet from Legal Rights Observatory, the map of India on the book's cover is incorrect.
"Hey@cbseindia29 Is that correct? Do you not consider Jammu and Kashmir to be a fundamental component of India? Or is the school book department still tightly controlled by a Marxist gang? You're reaching new heights, from JK Separatism to children misidentifying their gender! Amazing," the tweet stated.