Read Time:
1 Minute, 25 Second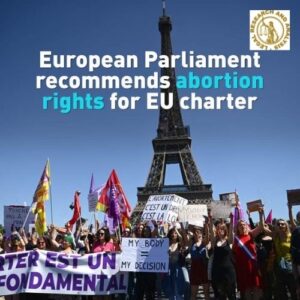 The European Parliament voted Thursday in favor of a resolution calling for the right to abortion to be used in the EU Charter of Fundamental Rights.
The resolution was passed with 324 votes in favor, 155 votes against, and 38 abstentions.
"A suggestion should be decided to submit to the [European] Council to amend Article 7 of the Charter of Fundamental Rights, adding that 'everyone has the right to safe and legal abortion,'" the parliament said in a news release.
Parliamentarians anticipate that the EC will meet at some point in the future to discuss a conference to rethink the European Union Treaties. This comes after the United States Supreme Court overruled federal protection of abortion rights in June, leaving it up to individual states to restrict or prohibit abortion.
MEPs have once again strongly condemned the erosion of women's rights, family planning services, and rights in the United States and some EU countries.
The European Parliament's resolution on Thursday also condemns the Supreme Court decision in the United States.
The parliament urged its members to demand member states decriminalize abortion and to "remove and combat the faces challenges, financial, social, and practical restrictions that continue to impede access in some member states."
MEPs passed a resolution in June trying to call for the landmark Roe vs. Wade case to be affirmed.
Abortion rights vary greatly across EU member states, with Malta possessing the most stringent restrictions, prohibiting the process under any circumstances.
"Today, the [European Parliament] has stood up for all women by having to send a strong message that will empathize globally," MEP Susana Sols Pérez told Politico.