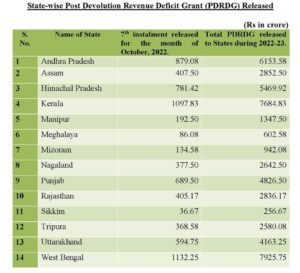 The government has released the 7th monthly installment of the Post Devolution Revenue Deficit grant of over seven thousand 183 crore rupees to 14 states.
Finance Ministry said the grant has been released as per the recommendations of the 15th Finance Commission.
It said the commission has recommended a total Revenue Deficit Grant of 86 thousand 201 crore rupees to 14 States for the financial year 2022-23.
These states are Andhra Pradesh, Assam, Himachal Pradesh, Kerala, Manipur, Meghalaya, Mizoram, Nagaland, Punjab, Rajasthan, Sikkim, Tripura, Uttarakhand, and West Bengal.
The recommended grant is released by the Department of Expenditure to the States in 12 equated monthly installments.
The Ministry said, with the release of the 7th installment for the month of October this year, the total amount of Revenue Deficit Grants released to the States has gone up to 50 thousand 282 crore rupees.