Read Time:
1 Minute, 47 Second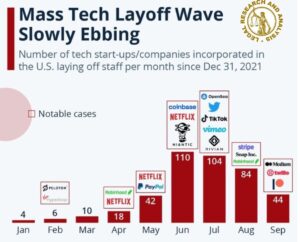 Following a wave of mass layoffs in the tech sector during the summer months of June, July, and August, the wave of established companies such as Twitter, Tiktok, and Netflix, as well as crypto companies such as Coinbase, letting go parts of their workforce appears to be coming to an end.
With inflation rates gradually declining to April 2022 levels, owing in part to the Fed's aggressive interest rate hikes, 44 companies incorporated in the United States laid off workers in September. This is the lowest amount since May 2022, according to our chart, which is based on data from Layoffs.
In September, the most notable companies that reduced their workforce were publishing company Medium, crowdfunding platform Patreon, which laid off nearly 20% of its employees and closed its Dublin and Berlin offices, and Twilio.
The latter laid off approximately 11% of its workforce, or approximately 800 people, in order to position the company that provides corporate communications solutions to AirBnB, Lyft, and Netflix for a more profitable 2023. In a message to employees, CEO Jeff Lawson called the move "wise and necessary."
Several employees were laid off by TikTok and Twitter in July. The former is owned by the Chinese tech firm Bytedance, but it stores the data of its non-Chinese users in the United States and can be considered a fringe case in terms of being incorporated in the United States.
In the case of Twitter, increasing pressure from Tesla CEO Elon Musk's potential takeover was one of the suspected reasons for these layoffs. Rivian, an Amazon-backed electric vehicle manufacturer, also laid off 840 workers in July because the world had "dramatically changed."
The fintech sector has also been plagued by fraud, increased hacker attacks, and a significant loss in value for many crypto currencies in recent months.
For example, between April and August, industry darlings such as no broker Robinhood, NFT marketplace OpenSea, and cryptocurrency exchange Coinbase all had to lay off between 20% and one-third of their workforce due to effects attributable, at least in part, to the so-called "crypto winter."