0
0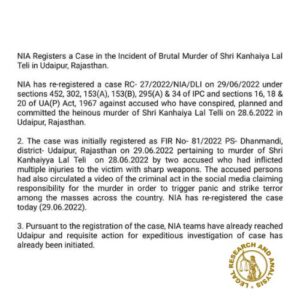 The National Investigation Agency NIA has registered a case in the incident of a brutal murder in Udaipur, Rajasthan. It has registered a case against the accused who have conspired, planned, and committed the heinous murder yesterday.
​
The case was initially registered in Udaipur by the State Police. The accused persons had circulated a video of the criminal act on social media claiming responsibility for the murder in order to trigger panic and strike terror among the masses across the country. Later, NIA today re-registered the case.
The NIA teams have already reached Udaipur and requisite action for expeditious investigation of the case has already been initiated.