Read Time:
1 Minute, 39 Second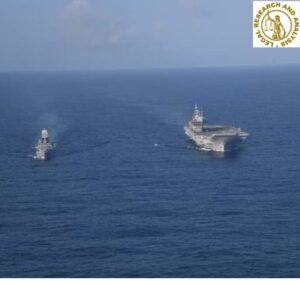 The Indian Navy received the esteemed Indigenous Aircraft Carrier Vikrant, constructed by the Cochin Shipyard, today, making maritime history.
The documents relating to the vessel's delivery were signed by the Commanding Officer Designate of Vikrant, Commodore Vidyadhar Harke, and the Chairman and Managing Director of Cochin Shipyard, Madhu S Nair.
With the dispatch of the IAC, India decided to join a select set of countries with the unique capability of designing and building an Aircraft Carrier in-house.
The 262-meter-long aircraft carrier is indeed the country's largest warship ever built. The vessel, with a displacement of 45,000 tons, was constructed at a cost of nearly 20,000 crore rupees.
The IAC can operate 30 aircraft, including MIG-29K fighter jets, Kamov-31, and MH-60R multi-role helicopters, as well as domestically produced Advanced Light Helicopters and Light Combat Aircraft.
The vessel is capable of Short Turn but Arrested Landing, and it is outfitted with a ski-jump for launching aircraft as well as a series of 'arrester wires' for onboard recovery. The vessel has a top speed of 28 knots and is driven by four power plants bringing a total of 88 MW.
The vessel is set to be inducted and incorporated into the Indian Navy's service next month. With a 76 percent indigenous content, IAC exemplifies the country's quest for Aatma-Nirbhar Bharat and gives impetus to the government's 'Make in India' strategy.
INS Vikrant was also the name of India's first aircraft carrier, which played an important role in the 1971 war. After 36 years of distinguished service to the Navy, the Aircraft Carrier was taken out of service on January 3, 1997.
According to the Defense Ministry, Vikrant's reincarnation is a true testament to the country's eagerness and fervor in continuing to pursue capability build-up for enhanced maritime security.