Read Time:
1 Minute, 20 Second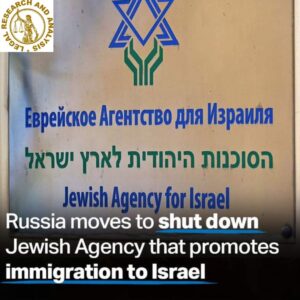 Since the Ukraine war, Israel-Russia relations have hit rock bottom. The Russian Ministry of Justice has now demanded that the "Jewish Agency for Israel" office in Russia be closed.
The Russian Ministry of Justice has requested the closure of the "Jewish Agency for Israel" office in Russia, according to the Times of Israel, citing the RIA Novosti news agency on Thursday afternoon.
In a letter, the Russian government told recently the "Jewish Agency for Israel" that its actions in the country contravene Russian law and must be discontinued. Russia accused the organization of illegally gathering information on Russian citizens.
Last month, the Jewish Agency, which is in charge of promoting and coordinating Jewish emigration throughout the world to Israel, received a document from Russian authorities in which they made a number of demands and threatened legal proceedings if the Jewish Agency did not comply.
Although Russia did not explicitly threaten to end the Jewish Agency's operations in the country, the Times of Israel reported that the organization's capability to operate there would be seriously constrained if it followed Moscow's "ultimatum."
Relations between Moscow and Tel Aviv deteriorated gradually in the aftermath of the Ukraine war, particularly after Israel condemned Russia's special operation in Ukraine.
According to the Israeli news channel Walla, Israeli Ambassador to Russia Alexander Ben Zvi met with Russian Deputy Foreign Minister Mikhail Bogdanov last week.
Bogdanov denied during the meeting that the movements against the Jewish Agency were a pattern of diplomacy reprisal for Tel Aviv siding with Kyiv in the Ukraine war.