Read Time:
1 Minute, 38 Second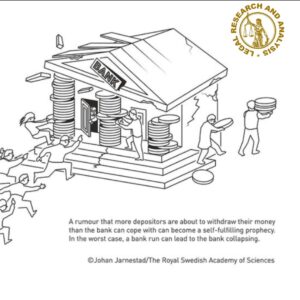 Could we survive without banks if bank failures can cause so much damage? Is it necessary for banks to be so volatile, and if so, why? How can society improve the banking system's stability? Why do the aftereffects of a banking crisis linger so long?
 And, if banks fail, why can't new ones be established right away to help the economy get back on its feet? In three articles published in the early 1980s, this year's Nobel laureates in economic sciences, Ben Bernanke, Douglas Diamond, and Philip Dybvig laid the scientific groundwork for modern research into these issues.
Diamond and Dybvig created theoretical models that explain why banks exist, how their role in society makes them vulnerable to rumors of impending failure, and how society can mitigate this vulnerability. These insights are the bedrock of modern banking regulation.
Bernanke demonstrated how failing banks played a critical role in the global depression of the 1930s, the worst economic crisis in modern history, using statistical analysis and historical source research. The failure of the banking system explains why the downturn was not only severe but also prolonged.
According to Bernanke's research, bank crises can have disastrous consequences. This insight demonstrates the significance of well-functioning bank regulation, and it was also the reasoning behind critical elements of economic policy during the 2008-2009 financial crisis.
Bernanke was the chairman of the Federal Reserve Bank of the United States at the time, and he was able to translate research findings into policy.
When the pandemic struck in 2020, significant steps were taken to avert a global financial crisis. The laureates' insights were critical in preventing these latter crises from escalating into new depressions with disastrous societal consequences.
 Ben S. Bernanke, Douglas W. Diamond, and Philip H. Dybvig have been awarded the 2022 Sveriges Riksbank Prize in Economic Sciences in Memory of Alfred Nobel for "research on banks and financial crises."