0
0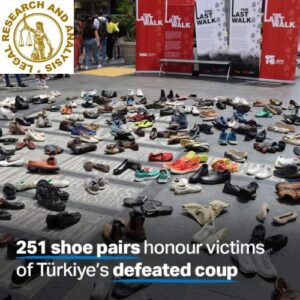 The Turkish-American National Steering Committee (TASC) has placed 251 pairs of shoes in New York City's famous Times Square to commemorate those killed during the failed 2016 coup attempt in Türkiye.
Tuesday's event, titled "The Last Walk," displayed the shoes in memory of the fallen citizens of Türkiye who fought the coup leaders on the night of July 15.
The Fetullah Terrorist Organization (FETO) and its US-based leader defeated the 2016 coup that left 251 dead and 2,734 injured.
Ankara accuses FETO of being behind a long-running campaign to overthrow the state by infiltrating Turkish institutions, particularly the army, police, and judiciary.