Read Time:
1 Minute, 45 Second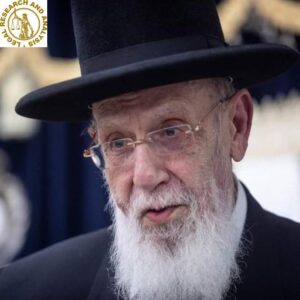 Rabbi Shalom Cohen, the head of the Council of Torah Sages and the Shas party's spiritual leader, passed away on Monday evening in Jerusalem at the age of 91.
Rabbi Cohen, who succeeded Rabbi Ovadia Yosef after the latter passed away in 2013 was admitted to the Hadassah Medical Center in Jerusalem a week ago with an infection in his leg.
Rabbi Cohen was one of the founders of Shas and the first rabbi to support the party when it was first established in the Jerusalem municipal elections in 1983.
He was chosen to serve on the Council of Torah Sages a year later when the party had evolved into a nationwide movement led by Rabbi Ovadia Yosef.
Rabbi Cohen's leadership was characterized by a stricter ultra-Orthodox line than his predecessor Yosef, who took a moderate and stately line and also appealed to the religious and Masorti movements.
Rabbi Cohen was firm and used harsh, sometimes blunt statements against other religious groups. In the elections for the position of Chief Rabbi of Israel in 2013, at the end of Rabbi Yosef's days and when the latter's son ran for office, Cohen said that the religious Zionist public and its rabbis are not Jews.
In 2015, he said at a Sha's election conference that while he and Rabbi Yosef were attending a state event, he refused to stand for the national anthem, which he called a stupid song.
Rabbi Cohen opposed academic studies on ultra-Orthodox women and the use of smartphones. He also repeatedly condemned the entry of ultra-Orthodox men into the job market.
You have to say 'I'm miserable because I work,' he said at an event for Ultra-Orthodox workers in 2018. When a person brings a son, he should aspire to be one of the greats of Israel.
The first figure whose position is expected to be strengthened now in the party is Israel's Chief Rabbi Yitzhak Yosef, son of Rabbi Ovadia Yosef. Another figure who is expected to strengthen his position is Rabbi Shlomo Amar.