Read Time:
1 Minute, 59 Second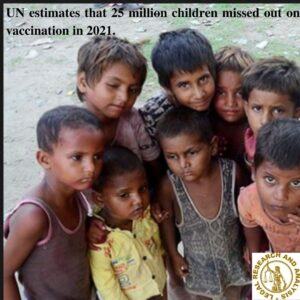 Official data released on Friday by UN Agencies indicates the maximum steady decline in childhood vaccination percentages in approximately 30 years, with 25 million infants skipping out on lifesaving shots by 2021.
The World Health Organization (WHO) and UN Children's Fund (UNICEF) figures show the percentage of children who did receive three doses of the vaccine.
It shows that between 2019 and 2021, the percentage of children who received a dosage of diphtheria, tetanus, and pertussis (DTP3) vaccines – a marker for immunization coverage within and across countries – fell five points to 81 percent.
Last year, 25 million children missed DTP doses due to routine immunization services, which is two million more than in 2020 and six million more than in 2019.
"This demonstrates the increasing number of children in danger from disastrous but preventable illnesses," said the UN Agencies in a statement.
Many factors contributed to the decline, including an increase in the number of children living in dispute and fragile settings, where access to immunization is frequently difficult.
Increased misrepresentation on social media, as well as COVID-19-related problems such as provider and distribution network disruptions, resource diversion, and containment indicators that restricted access to vaccines, all played a role.
"This is a red flag for children's health." We are going to witness the most significant sustained decline in childhood immunization in a generation. "The repercussions will be assessed in lives," said UNICEF Executive Director Catherine Russell.
The WHO and UNICEF have warned that appropriate project management will be necessary to accomplish universal coverage and prevent outbreaks. Inadequate vaccination coverage has already resulted in preventable outbreaks of measles and polio in the last year, highlighting the critical role of immunization in keeping children, adolescents, adults, and societies healthy.

WHO and UNICEF are collaborating with Gavi, the Vaccine Alliance, and other partners to implement the Global Immunization Agenda 2030 (IA2030), a strategic plan for all countries and pertinent global partners to achieve set goals on disease prevention through immunization and vaccine delivery to everyone, everywhere, at any age.
"The Alliance's priority must be to assist countries in maintaining, restoring, and strengthening routine immunization while executing ambitious COVID-19 vaccination strategies, not through vaccines but also tailored mechanical stability for the health systems that will manage them," said Dr. Seth Berkley, CEO of Gavi, the Vaccine Alliance.