Read Time:
6 Minute, 13 Second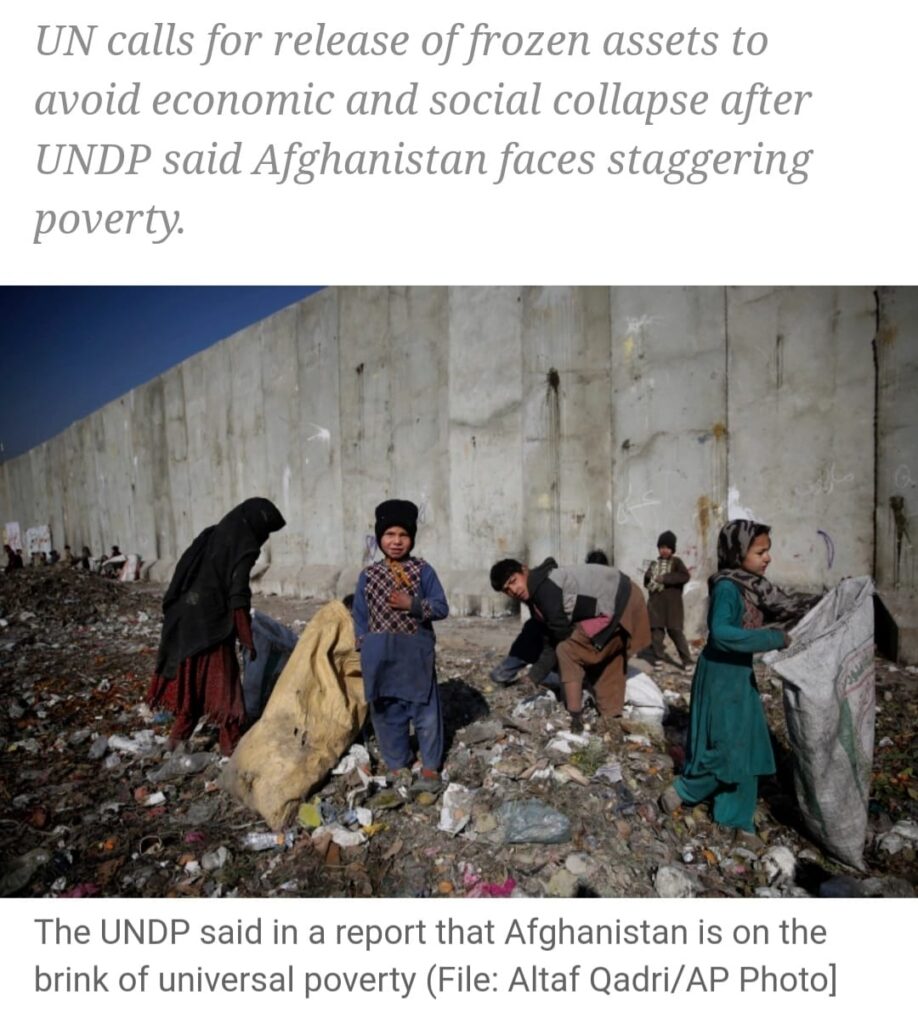 The United Nations has warned that Afghanistan is at risk of "total breakdown" of the international community does not find a way to keep money flowing into Afghanistan despite concerns over the Taliban government.
The United Nations Development Programme (UNDP) said in a report released on Thursday that about 97 percent of Afghanistan's population may sink below the poverty line unless the country's political and economic crises are addressed.
Nearly $10bn of Afghanistan's central bank assets are currently frozen overseas and considered key leverage over the new administration.
But the UN special envoy on Afghanistan Deborah Lyons told the Security Council on Thursday that a way needed to be found to get the money into the country "to prevent a total breakdown of the economy and social order" noting that Afghanistan was facing a storm of crises including a plunging currency, a sharp rise in prices for food and fuel and a lack of cash at private banks. The authorities also do not have the funds to pay salaries, she said.
"The economy must be allowed to breathe for a few more months, giving the Taliban a chance to demonstrate flexibility and a genuine will to do things differently this time, notably from human rights, gender, and counterterrorism perspective," Lyons told the 15-member Council, saying safeguards could be devised to ensure the funds were not misused.
Foreign donors led by the United States provided more than 75 percent of the public expenditure for the Afghanistan government that crumbled as the US withdrew its troops after 20 years in the country.
President Joe Biden's administration has said it is open to donating humanitarian aid but says that any direct economic lifeline, including unfreezing the central bank assets, will be contingent on Taliban actions including allowing safe passage to people to leave. The first civilian flight out of Kabul – carrying more than 100 passengers – landed in Qatar on Thursday
The International Monetary Fund has also blocked the Taliban from accessing some $440m in new emergency reserves.
"The Taliban seeks international legitimacy and support. Our message is simple: any legitimacy and support will have to be earned," senior US diplomat Jeffrey DeLaurentis told the Security Council.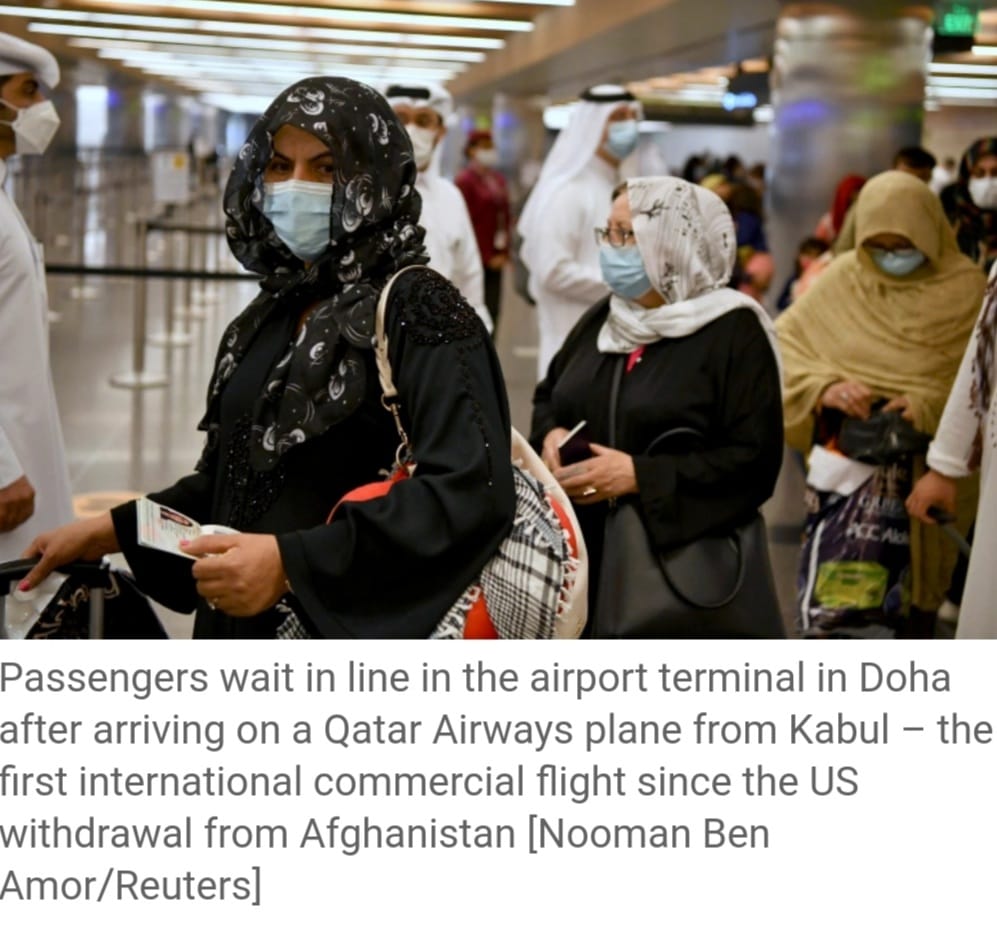 Russia and China, which have offered millions in emergency aid to the country, have both argued for the release of Afghanistan's frozen assets.
"These assets belong to Afghanistan and should be used for Afghanistan, not as leverage for threats or restraints," China's Deputy UN Ambassador Geng Shuang said.
Afghanistan's UN Ambassador Ghulam Isaczai, who was appointed by the US-backed government that collapsed as the Taliban advanced, urged the Security Council to "withhold any recognition of any government in Afghanistan unless it's truly inclusive and formed on the basis of the free will of the people."
'Dire situation'
Al Jazeera's Charles Stratford, reporting from the capital Kabul, said 18 million people rely on humanitarian aid on a daily basis in Afghanistan, from a population of 38 million people.
"It's a dire situation. There have been convoys coming across from Pakistan and we know that some NGOs have been using airports in other cities, like Mazar-e-Sharif, to try to get aid in," he said.
"We know there are ongoing discussions within the UN on how to increase the amount of aid.
"But of course, there are some very real problems, like the political situation: there are many Taliban officials in this interim government that are on a black list, one of whom, the interim interior minister, is on the terror watch list – so the issue is how to deal with that on an international political level."
Astrid Sletten from the Norwegian Refugee Council told Al Jazeera: "It's not just the conflict, it's the perfect storm."
"More than half a million people have already fled drought-affected areas and they are at imminent risk of starvation and freezing to death for the upcoming winter.
She said that the Taliban has allowed her organization to bring back female staff to work.
"This is a disaster and the international community needs to step up and support not only humanitarian action but also lift or ease the sanctions," she said from Kabul.
'Credible allegations'
The Taliban announced what it said was an interim government on Tuesday, which included no women and several ministers on UN sanctions lists.
Lyons said there were "credible allegations" that the Taliban has carried out reprisal killings of security forces despite promises of amnesty.
She also voiced concern over what she said was the rising harassment of the UN's Afghan staff, although she said the Taliban had largely respected the world organization's premises.
Taliban leaders have said they will respect women's rights in accordance with Islamic law, without elaborating.
When the group was previously in power between 1996 and 2001, women were not allowed to work and girls were banned from school. Women had to cover themselves and a male relative had to accompany them when they left home.
Lyons said the UN was receiving increasing reports of women again being subjected to such curbs.
"They have limited girls' access to education in some regions and dismantled the Department of Women's Affairs across Afghanistan," she added.
The UN is planning a pledging conference on Monday for humanitarian assistance, although without the Taliban government, which has not been recognized by any country.
The appeals for support come despite widespread concerns over an interim government the Taliban named on Tuesday that includes no women and several ministers on UN watchlists over terrorism allegations.
Malala Yousafzai, who as a 15-year-old, was shot in the head by Pakistan's branch of the Taliban because of her advocacy for girls' education, told the Security Council she was hearing growing cases of Afghan girls and female teachers being told to stay home.
The Nobel laureate urged global powers to send a "clear and open message" to the Taliban that any working relationship is contingent on girls' education.
"Speaking with one voice for girls' education can compel the Taliban to make real concessions. This is vital not only for Afghan women and girls themselves but for long-term security in the region and our world," she said.
References
https://www.aljazeera.com/news/2021/9/10/un-warns-afghanistan-at-risk-of-total-breakdown
Note: Every article published on this section is extracted from several most genuine authentic sources on our daily life who brings us qualitative LR&A honors the spirit of Journalism of these global giants of News Broadcasting across the globe and outer space, some of them Are, HUFFPOST, Aljazeera, New York Times, CNBC, wall street journals, Reuters, google news, Wikipedia, the Hindu, USA Today, Financial Times, Times Magazines, United Nation Journals, BBC, National Geographic, animal planet, History Tv, Fox network etc. Legal research & Analysis recommends all users kindly do read the original contents published by these mainstream media giants, simply click the link of the headline of the post you want to read also share with your friends quality information do not pay attention to unverified sources of News, fake news, news that can cause harm public at large are considered as fake news, LRA promotes the awareness regarding the spreading of fake news, or news without any genuine source of platform, kindly follow the instruction and help community flourished.