Read Time:
1 Minute, 19 Second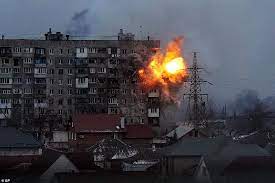 EYEWITNESS
"Like the Middle Ages, only with bombs": inside the sieges of Mariupol and Kharkiv
Russian-speaking cities expected Putin's mercy. Instead he is destroying them
Nearly four weeks ago, people gathered to drink coffee and smoke shisha in the hipster bars and cafes around a kitsch ice-rink in the centre of Mariupol, a Russian-speaking industrial city in eastern Ukraine. Despite reports that war was imminent, few believed them. For years, One of those who thought Putin might be the saviour of eastern Ukraine was an 83-year-old, whose six-month-old great-granddaughter has had to drink melted snow because Russian bombardments have cut off the city's water supply. There is no power supply or heat, either. The baby's family has been huddling together for weeks in dark, freezing cellars, going above ground only occasionally to cook on bonfires of discarded furniture among wrecked buildings. They saw dead bodies strewn on the streets. "It was like life in the Middle Ages, only with bombs falling," said Liubov Belichenko, 27, the baby's mother.