Read Time:
2 Minute, 29 Second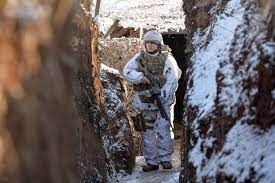 Russia-Ukraine live updates: Ukrainian president says Russia targeting him, his family
Volodymyr Zelenskyy said his family is now in hiding.
Russia's military launched a long-feared invasion of Ukraine early Thursday, attacking its ex-Soviet neighbor from multiple directions despite warnings of dire consequences from the United States and the international community.
Thursday's attacks followed weeks of escalating tensions in the region. In a fiery, hourlong speech on Monday, Russian President Vladimir Putin announced he was recognizing the independence of two Russia-backed separatist areas in eastern Ukraine's Donbas region: the self-proclaimed People's Republics of Donetsk and Luhansk.
Russia has blamed Ukraine for stoking the crisis and reiterated its demands to NATO that Ukraine pledges to never join the transatlantic defense alliance.
Zelinsky says 137 people were killed in the invasion, families in hiding
Ukraine defense minister warns Russia planning another wave of attacks
Chernobyl taken by Russian forces, Ukraine says; facilities operating 'safely and securely'
Biden authorizes 'additional strong sanctions against Russia
US official says this is 'initial phases of a large-scale invasion'
Here's how the news is developing. All times Eastern.
EU approves 'massive' sanctions targeting Russia
European Union leaders approved a new package of severe sanctions targeting Russia for its invasion of Ukraine.
"Now we have to meet the moment; we will hold the Kremlin accountable," European Commission President Ursula von der Leyen said during a late-night press conference.
The "massive" sanctions will have "maximum impact on the Russian economy and the political elite" by targeting the financial, energy, and transportation sectors, she said.
Financial sanctions targeting 70% of the Russian banking market and "key state-owned companies," including defense, will "increase Russia's borrowing costs, raise inflation, and gradually erode Russia's industrial base," von der Leyen said.
Additional sanctions include an export ban targeting the oil market and a ban on the sale of spare aircraft parts and equipment to Russian airlines. Under a visa policy, diplomats and other groups will no longer have privileged access to the EU, she said.
Canada also extended sanctions targeting Russia in the wake of the invasion, including restrictions on 58 additional Russian individuals and entities, sanctioning members of the Russian Security Council, and restricting exports to Russia.
"Today, we woke up to a changing world," Prime Minister Justin Trudeau said. "Russia has launched a brutal and unprovoked attack on the sovereignty of Ukraine — a country of more than 40 million people who have sought nothing but peace and freedom. Canada understands what is at stake. We know that the people of Ukraine, in fighting for their lives and their sovereignty, are fighting for us, too. They are fighting for democracy, and we stand with them."