Read Time:
2 Minute, 14 Second
Students across Florida staged school walkouts in response to legislation — dubbed the "Don't Say Gay" bill — that would prohibit discussing sexual orientation and gender identity in the state's primary schools.
Proponents of the measure, which is officially titled the Parents Education Rights bill, have contended that it would give parents more discretion over what their children can learn in school, and they say LGBTQ issues are "not age-appropriate" for the age group.
Students waving rainbow picket signs and shouting "We say gay!" in walkouts across the state — in Tampa, Orlando, Tallahassee and other cities — rejected the assertions.
"The language and the supporters of the bill and the rhetoric around the bill really shows what this bill is, and it's an attempt to hurt queer people like me," said Flagler Palm Coast High School senior Jack Petocz, who organized the statewide protests on social media and led his school's protest in Palm Coast.
After the rally, Petocz said he was called into his principal's office and suspended "indefinitely." Petocz said he was punished for distributing 200 pride flags for the rally after having been advised not to do so by the principal.
"I believe this attempt to threaten me and remove me from campus is riddled with homophobia and bigotry," said Petocz, who is gay. "You're silencing a queer student standing up for what he believes in, in his rights, and you're disciplining him for challenging you on the allowance of pride flags in a gay rally? It's ridiculous. It truly is.
"And I think that they were just they were upset that I was organizing this to begin with, and they just used this as a crutch to go ahead and remove me from campus," he added.
Flagler Palm Coast High School did not immediately respond to a request for comment.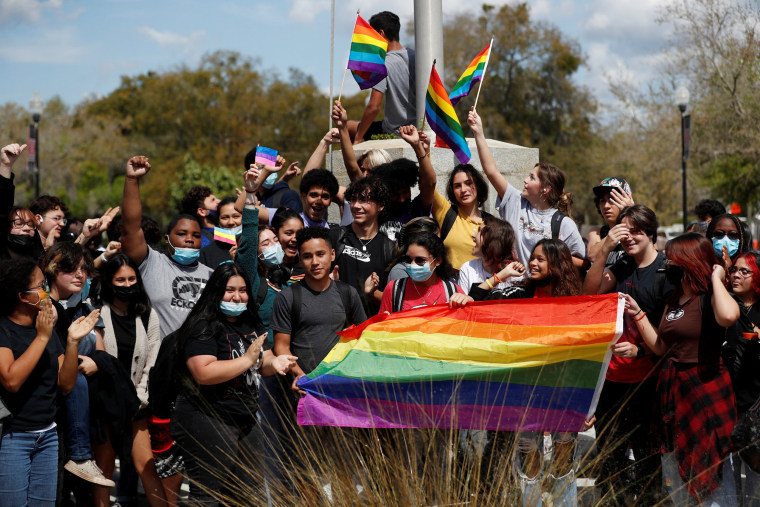 The protests are in reaction to weeks of national outrage over the measure, which has grabbed the attention of international newspapers, Hollywood actors and the White House. The measure's opponents contend that the bill would be detrimental to the mental health of the state's LGBTQ children and teachers, preventing them from openly talking about themselves and their families.
Rep. Joe Harding, the Republican who introduced the bill in January, has repeatedly said the bill would not prohibit students from talking about their LGBTQ families or bar classroom discussions about LGBTQ history, including events like the 2016 attack on the Pulse nightclub, a gay club in Orlando.