Read Time:
2 Minute, 47 Second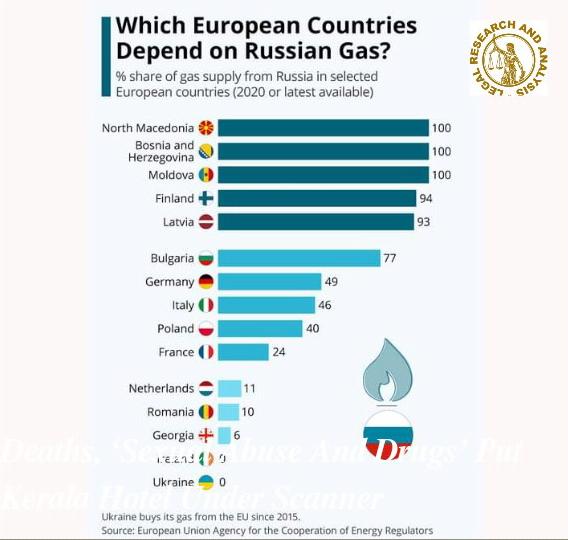 Which European countries are most at risk for having their energy supply compromised in the case of a Russian gas freeze or embargo?
The United States is working on plans to open up alternative avenues for natural gas to arrive in Europe should Russia cut off its supply in a standoff with Western powers over Ukraine. As fears concerning a Russian invasion of the country persist, new sanctions against President Vladimir Putin personally or his country could trigger an energy crisis due to much of Europe's reliance on Russian gas, which arrives on the continent via pipelines.
According to Reuters, possible alternative gas suppliers include Qatar, among others. After a similar warning from U.S. President Joe Biden on Tuesday, U.K. Prime Minister Boris Johnson said Wednesday that he wasn't ruling out sanctions against Putin either.
Data from the European Union Agency for the Cooperation of Energy Regulators shows which countries' energy supply would be most in jeopardy in the case of a Russian gas freeze. Among the continent's major economies, Germany imports around half of its gas from Russia, while France only obtains a quarter of its supply from the country. According to the latest available data, it is relying more heavily on Norway. Italy would also be among the most impacted major economies at a 46% reliance on Russian gas.
The U.K., on the other hand, draws half its gas supply from domestic sources and imports mostly from Norway and Qatar. Gas used in Spain also comes from different locations, the biggest trade partners being Algeria and the United States.
Some smaller countries in Europe rely exclusively on Russian gas, namely North Macedonia, Bosnia, and Herzegovina, and Moldova. Dependence also exceeded 90% of the gas supply in Finland and Latvia. It stood at 89% in Serbia as per the latest available data.
Russian gas makes up around a third of all-natural gas used in Europe. Prominent transportation routes include the Yamal pipeline, which runs through Belarus and Poland with a capacity of 33 billion cubic meters per year, and the more powerful North Stream pipeline through the Baltic Sea, which can transport 55 billion cubic meters per year. 40 more annual cubic meters can be piped via Ukraine and 31.5 more via Turkey, according to The Economist.
Nord Stream 2 under fire
The Nord Stream pipeline, which ends in Germany, has become infamous because the route is supposed to double in capacity with the construction of a second pipeline—Nord Stream 2. Even before the current crisis, the project was heavily criticized for creating more dependence on Russian gas. As the new addition was nearing the start of its operation, those critics might feel vindicated that Russian leverage via gas pipelines has come back to negative attention. Despite the continued reliance on its Eastern neighbor, experts believe that Europe is actually able to remedy up to two-thirds of the gas quantity supplied by Russia if the tap was indeed turned off. This could happen via increased use of pipeline connections from Norway, the U.K. and North Africa as well as through the use of imported and regasified LNG.