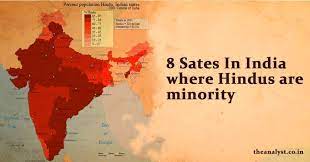 The Centre has told the Supreme Court that states can
consider granting Hindus the 'minority' status if the
community is not in a majority within their jurisdictions.
So for instance, if Hindus are in minority in a state like
Mizoram, they should be able to establish and
administer educational institutions of their choice in
keeping with the rights guaranteed to minorities by the
Constitution, as per the Centre.
The Union government has put the onus on states and
Union territories (UTs) to grant minority status to
Hindus where their numbers are less than those of other
communities.
Submitting an affidavit on Sunday evening, the Union
ministry of minority affairs informed the Supreme Court
that while the central government has notified six
communities, namely Christians, Sikhs, Muslims,
Buddhists, Parsis and Jains, as minorities as the national
level, it is open for states and UTs to notify Hindus as a
religious or linguistic minority where they are less in
number.
The Centre's affidavit maintained that notification of
any community specific to a state as a minority comes
under the purview of the state concerned.
"The state
governments can also declare a religious or linguistic
community as a 'minority community' within the state,
"
said the Union government.