Read Time:
1 Minute, 36 Second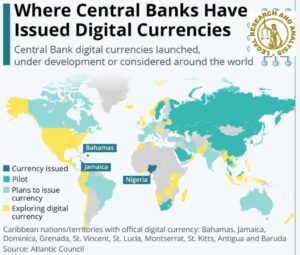 Although the value of Bitcoin is declining, a new approach to cryptocurrency is gaining traction around the world.
Central bank digital currencies (CBDCs), like traditional currencies, are controlled by governments and thus represent the polar opposite of the concept of decentralized, untraceable Bitcoins. Several small countries, including Nigeria, have initiated central bank digital currencies, with several larger countries poised to follow suit.
According to the Atlantic Council's Central Bank Digital Currency Tracker, CBDCs were first introduced in Caribbean countries such as the Bahamas, Grenada, Dominica, and Saint Lucia. When the Bahamas' Sand Dollar was introduced in 2019, It became the world's first central bank digital currency, paving the way for widespread adoption among the region's small nations.
The Chinese digital Yuan pilot project hit the headlines in April 2019, but it has not progressed since. China, like Nigeria, has a strong digital and mobile payment infrastructure. Many people in both countries skipped card payments and went directly from cash to digital financing options.
Another reason why some governments support official virtual currencies is data collection. Due to the prevalence of cashless transactions and tight government surveillance, Chinese administrators already have access to a wealth of payment data.
This understanding of how people spend money will only develop with the introduction of the digital Yuan, despite the fact that the country's central bank has stated that it will limit the chain of custody and create "controllable anonymity."
Russia, Thailand, Malaysia, South Korea, Sweden, the United Arab Emirates, and Saudi Arabia are among the other countries participating in the CBDC pilot program. It's unclear which program will get an appropriate launch next.
The source reported concrete plans to launch a CBDC in Canada, Australia, Brazil, and India, among other places. The digital Euro is also in the works, with a pilot scheme scheduled for 2023 in involved nations (as seen in our chart).