Read Time:
1 Minute, 12 Second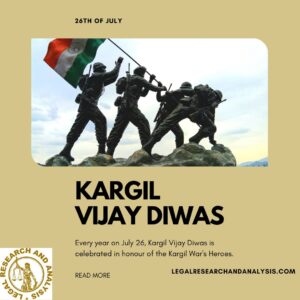 Every year, this day is commemorated in honor of the many Indian warriors who lost their lives in battle. Let's examine the background, meaning, and traditions associated with this day.
KARGIL VIJAY DIVAS 2022: HISTORY & RELEVANCY
Numerous armed conflicts occurred following the Indo-Pak War of 1971. Both countries conducted nuclear tests in 1998. To alleviate the tension, the two countries pledged to find a peaceful solution to the Kashmir issue when they signed the Lahore Declaration in 1999.
Operation Badr, a Pakistani invasion into Indian territory over the Line of Control, had the goal of severing connections between Kashmir and Ladakh. In addition, the conflict compelled India to resolve the Kashmir issue.
The Kargil district saw fighting between May and July 1999. At the time, Pakistan's army chief, General Pervez Musharraf, was thought to be the mastermind behind the conflict. By securing key positions, Pakistan captured several important locations in Indian-controlled territories
The second stage of the war had India retaliate by seizing key transportation lines, while the third and final phase saw India win the conflict with the aid of the Indian Air Force.
Heroes of the Kargil War are honored during the Kargil Vijay Divas. India as a whole observes this day. Every year, the Indian prime minister honors the troops at Amar Jawan Jyoti, which is close to the India Gate, in New Delhi.