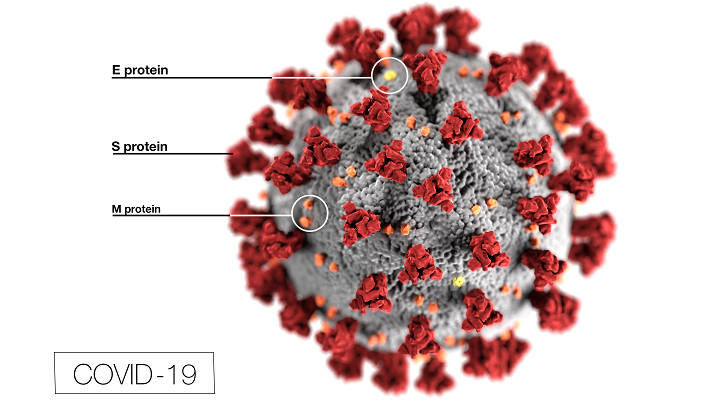 IMPACT OF COVID-19 IN INDIA: AN AWFUL HISTORY STILL IN THE MAKING"
ABSTRACT
Jha Pranav Kumar[1]
"If we need to really unravel the problem, we need to collaborate, create collectives, and take solutions at scale"-Ravi Venkatesan
The intervention of virus or flu is nothing new to the world, it had left unprecedented famine or disaster wherever spread. History says whenever people have tried to play with the nature; it has retaliated in its worst form. Till they realize its adverse effect, things go out of control and curse the human civilisation making it hell to survive resulting breathless days and nights. Unfortunately, the truth of any human being is that, until things go above head it is taken lightly and presumed to be non-perpetual. It's high time when people must realize that we all should stand with the principle of "Vasudev Kutumbakam" that means that the whole world is one single family. It is a time for international unity, not playing politics with public health. As it has become unambiguous that WHO (World Health Organization) has affirmed COVID-19 to be a pandemic. More than 200 nations are making out to contain the multiplicity of the disease and consequent human life losses with social distancing by way of lockdowns. Our nation has developed a common consensus to combat the pandemic with unbeatable measures keeping concern with global approaches and guidelines from the Ministry of Health and Family Welfare, and the Ministry of Home Affairs. In the unifying fortitude of involvement, the Government is appealing with all citizens to battle the virus. The country's infrastructure is united to support all containment methods while ensuring safety and sustenance of lives of all social strata. Policy, plans and announcements from stakeholders in all essential sectors such as Railways, Civil Aviation, Transport and Finance specify the vigilance to collaboratively combat the pandemic. This article focuses on the impact of COVID-19 on Society and International relationship. Where everyone is on the same table of death and can only survive by support of public at large by maintaining social distancing and following the prescribed guidelines.
Key Words- Pandemic, COVID-19, Lockdown, Impact, Society, International Relation.
INTRODUCTION
Let us understand the word 'pandemic' with the basics; a disease is 'endemic' if it's common to a certain area. So, according to the Centers for Disease Control and Prevention (CDC), the amount of a particular disease that's usually present in a community that's referred to as the endemic level, when that level spikes up, you get an 'epidemic', an outbreak across a region or country or may be even multiple countries. The Ebola outbreak in West Africa 2013 was an epidemic. But, a pandemic that's when an epidemic goes global. It's a whole new disease that we don't really have immunity to fight. It's crossing borders and continents, spreading quickly from person to person, infecting a large number of people resulting high death toll. Therefore, the word 'Pandemic' is said to be a disease prevalent over a whole country or the world. That's why WHO (World Health Organization) has confirmed COVID-19 to be a 'pandemic'. The prevailing virus nomenclated as 'Coronavirus,' has led to a massive outbreak throughout the globe. The coronavirus has been wreaking havoc throughout the globe since the start of the year. We haven't experienced a pandemic of this magnitude since the Spanish Flu a century ago.
'Coronaviruses' are the family of RNA viruses in the Nidovirales order. This virus is a significant viral pathogens in human and animals causing life threatening disease. The term "Coronavirus" having prefix- 'Corona' has been derived from a Latin word for 'Crown'. It was named for crown like appearances of virus as shown below in Fig. 1.



The virus has four classifications- Alfa, Beta, Gamma and Delta. And human coronaviruses are alpha and beta coronaviruses which we often talk about. These are medium-sized virus that envelops a positive-stranded RNA and they are mostly very large viral RNA genome known.
Hosts, Reservoirs and Infected Animals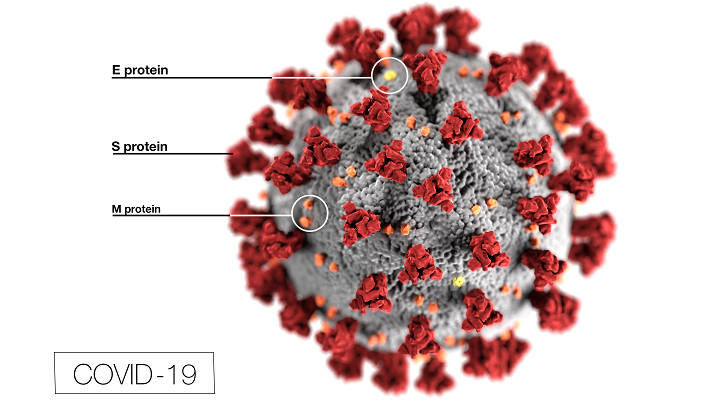 Coronaviruses infect both birds and mammals,
Bats are said to be hosts to the largest number of viral genotypes of coronavirus. So, they don't necessarily get infected by the virus as their immune system is able to suppress these viruses and just transmit to other birds and mammals. Epidemics can occur when viruses transmit from one species to another which can shockingly acquire mutations in proteins on their envelop that allow viruses to bind the cell and affect other cells more easily. They develop new abilities to infect cells of other species.
Human-coronaviruses are causes of both respiratory and gastrointestinal tract infections. And these viruses are relatively common causes of illness in humans and it's estimated to account for 5-10 % of all adults' respiratory tract infections anywhere from "common cold" to pneumonia and Acute Respiratory Distress Syndrome (ARDS). So, there are wide varieties of signs and symptoms of coronaviruses. Some coronaviruses can even cause GI i.e. gastrointestinal infections symptoms including diarrhoea. So, when mutations occur the virus can be significant causes of epidemics as entirely new species can be developed from it. We have been seeing plethora of cases in the recent past where transmission of one species to another has led to increase the outbreak of the virus thereby enhancing mortality rate. One report demonstrated five cases of 2019-nCoV that appeared to be transmitted by asymptomatic patients
CORONAVIRUSES: HISTORY OF INFECTIONS
Severe Acute Respiratory Syndrome (SARS) – 2002/2003
It seems to be started in Guangdong (Province of China) and is itself a Beta-coronavirus and is said to be in a category of lineage B- Coronavirus. It was believed that this particular coronavirus had been transmitted from bats to civets and all the way to humans. This led to a worldwide outbreak recorded as earliest February 2003 and it seems to have lasted until July 2003. Resources say there were more than 8000 total cases, 774 deaths, fatality rate of approx 9.6%.
Middle East Respiratory Syndrome (MERS) – 2012
This started in Saudi Arabia and it quickly spread to several countries. It itself is a Beta-coronavirus as well. And what seems to occur here is this virus was said to be transmitted from camels to humans. So, either by eating or exposure or by drinking camel milk they have been infected. Study says more than 2400 cases, 858 deaths, and fatality rate of ~34.4% which is certainly very high.
2019 Novel Coronavirus (2019-nCOV) – 2019
The newest one which has come on the scene is expected to occur in December, 2019. This occurred in Wuhan, Hubei (Province of China) of more than 11 million people getting affected with "Pneumonia of Unknown Cause". It was observed that there was an animal market in Wuhan that seems to be an epicentre for this outbreak leading the seventh coronavirus to cause illness in humans. Unlike SARS & MERS it is itself a Novel Beta-coronavirus sharing approximately 80% sequence homology with SARS. Now, a question arises regarding its source of transmission. Some early evidence suggests that it was transmitted from snakes, but more likely from bats to human. As of now human to human transmission is demonstrated in around 210 Countries and Territories around the world having reported a total of 16,525,454 confirmed cases of the coronavirus (COVID-19) and a death toll of 653,970 deaths[3] (till 27th July, 2020). Fig. 2 represents the outline throughout the world. While India reported around 1,479,277 confirmed cases having death toll of around 33,437 cases.[4] Like other coronaviruses, it can cause respiratory and gastrointestinal infections. Due to its ability the viral proteins allow binding to respiratory and gastrointestinal cells which can lead to variable respiratory and possible gastrointestinal symptoms. As a result of which World Health Organization had declared a public health emergency on January 30, 2020. The virus has been unstoppably affecting various health care workers and family members of patients. One report demonstrated five cases of 2019-nCoV that appeared to be transmitted by asymptomatic patients. The review in the "Journal of Travel Medicine" was institute that the estimated mean R0 for COVID-19 around 3.28, with a median of 2.79 and IQR of 1.16, which was noticeably higher than the WHO estimation at 1.95[5].


Fig 2: Representation of distribution of cases throughout the world[6] (till 27th July,2020)
IMPACT OF THE PANDEMIC ON INDIAN SOCIETY
The best part of the Indian society is that they have accepted the challenge and are very well aware of the consequences of the non compliance of the guidelines. They have understood the value of life and thereby reaming self quarantine wherever they are had become the last resort to combat with the contamination of the virus. And with such a huge population it is way more difficult to control rather unimaginable without the support of the public at large. It was a very smart step of the government to take such an initiative to announce nation wise lockdown at the early footing of the virus as a result of which in terms of most affected country, India lies at 11th position [7]. Where the highly affected being USA really needs to have a strict implementation of rules to reduce the death toll.
In India when the 1st case was reported in Kerala on 30th January, 2020 and the cases were gradually increasing people were carefree then. However, after an announcement of 14 hour janata curfew on 22nd march, prior to lockdown things started to gets serious after-then as on that day the citizens took part in the curfew by just staying at home. From their balcony, doorways or windows they clapped and rang bells in appreciation for the person delivering essential services. 21 day i.e. (25th March – 14th April) of National lockdown was announced by the Government. On 25th March, the first day of the lockdown, almost all services and factories were pendant[8].
Some of the restrictions were imposed on the citizens such as- People were banned from stepping out of their homes, most of the services and shops were clogged except pharmacies, hospitals, banks, grocery shops and other fundamental services, apart from those commercial and private establishments were shut down and allowed to only work-from-home. For students it might sound fun initially on suspension of all educational, training, research institutions however they were made to join zoom classes and do assignment from home. So that no public gathering may take place all places of worship were closed. All non-essential public and private transport were said to take rest. All sorts of all social, political, sports, entertainment, academic, cultural, religious activities were hanged up.
As a result of which people started to get panic resulting to rush buy of materials from the shop[9], and accordingly many were arrested[10] in violation of the home quarantine. In mean while, isolation wards and quarantine centres started to take their pace to moderate the prevailing situation. To ease the tension for the real warriors who were battling against the pandemic and saving lives of plethora of victims, on 5th April citizens all over India cheered and reflected solidarity with the health workers, police and other fellow worker in that regard by switching off their lights, and lighting candles, flashlight etc. for them for 9 minutes at 9 pm. Positively towards the end of the 1st session of lockdown , the intensification of COVID-19 had considerably declined, from a rate of doubling every three days before lockdown to one of doubling every eight days.[11] However, the lockdown was extended from 15th April to 3rd May as setting free was not a smart choice to be made. Conversely a conditional relaxation was promised after 20th April onwards. After having an empirical approach of the affected areas on 16th April, lockdown areas were classified as "red zone", representing the presence of infection hotspots, "orange zone" representing some infection, and "green zone" with no infections[12]. After such a long time some relaxation was given to the citizens especially for them lying in green zone. On 25th April, small retail shops were permitted to open with half the staff maintaining social distancing norms.[13] And on 29th April, the Ministry of Home Affairs notified guidelines for the states to permit inter-state movement of the trapped persons like students and tourists far from home[14]. Furthermore, additional extension was announced from 4th May to 17th May in which the Government of India strategically split the country into 3 zones: red zones (130 districts), orange zones (284 districts) and green zones (319 districts)[15].
IMPACT OF THE PANDEMIC: NATIONAL & INTERNATIONAL RELATIONSHIP
It's unambiguous that now everyone is sharing a common platform, and combating to save the humanity from the pandemic. It has certainly created an adverse impact on the public at large. Various public policies had to be reframed and make viable to the affected community. Public policies shall take account of laws, rules, regulations, judgments, case studies, government programs, etc. And in case of COVID-19 it's a matter of public safety and Sustenance of livelihood. A chief objective of government is to protect the well-being of its people, most crucially and visibly at the time of emergencies such as the recent outbreak of the coronavirus.
INTERNATIONAL PERSPECTIVE
At International level also the battle is on active mode and on a global platform all are co-ordinating with each other to come out from this grave situation. So, be it formation of H1 drug i.e. hydroxychloroquine or PPE kit, all are disseminated keeping a paramount consideration to save the human race. Certainly, this is not the time to play game of politics so all are optimistically to taking it on a serious note. Positively the International Monetary Fund has $50 billion available in rapid-disbursing emergency financing to help countries suffering from the virus. Not only that the IMF has announced immediate debt relief for 25 poor countries to help them free up funds to fight the coronavirus pandemic. Subsequently, the World Bank announced that it would roll out USD 160 billion in emergency aids over 15 months to help countries suffering by the virus, including USD 14 billion in debt repayments from 76 deprived countries to other governments[16]. As a trans-boundary crisis, COVID-19 reflects a paramount challenge to public leaders and their policy advisors, who are likely to perform key functions like taking decisive action, handling overwhelming amounts of data, constructing critical decisions regarding resource allocations, and coordinating with stakeholders. WHO COVID-19 Incident Management Team is functioning personally with partners across all levels to provide sustenance to countries, fortify technical and operational networking and collaboration, and support operational coordination of the global response.
NATIONAL PERSPECTIVE
Approach of Indian Government : Indian government has affirmatively launched various policies and programs with help of Ministry of Health and Family Welfare to slow down the spread of the virus, as a result of which the situation has not become worst yet.
Three intersecting sets of legal regimes.
First, at the central level, the government has invoked the National Disaster Management Act, 2005[18]. Section 10 of the NDMA authorizes the central authority to issue guidelines and directions to the several state governments with respect to addressing disasters. The Authority's Guidelines[19] issued on 24th March 2020, and supplemented by various addenda from time to time – required a closure of government offices, commercial establishments, (with certain exceptions), industrial establishments, transport services, hospitality services, places of worship, large gatherings, and so on.
Secondly, several state governments have invoked the Epidemic Diseases Act, 1897[20] a legislation that grants to the states formally unlimited powers to prevent the outbreak or spread of an epidemic.
These Regulations intersect more closely with the third legal regime, which separates Section 144[21] orders passed by individual magistrates/Commissioners of Police.
Apart from that Ministry of Health and Family Welfare has maintained transparency in resources at the time of outbreak. Some of its cogent steps are-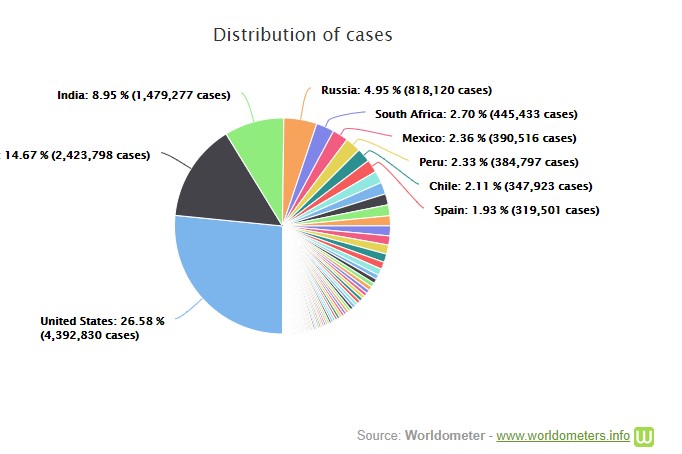 Moreover, through a video conference on March 25, leaders of the world's major economies (G-20) stated that they were devoted to restore confidence, preserve financial stability and revive growth. They said they were firm to resolve disruptions to global supply chains and pleaded finance ministers and central banks to synchronize regularly with international organizations to widen an action plan in response to the pandemic[30].
SUGGESTIONS
Some of the paramount steps government should entertain to fight against the pandemic-
Firstly effective communication, can act as a main pillar of crisis governance.
Secondly, adopting a whole-of-society approach shall be significant in this crisis.
Finally, implementing evidence-based strategies dependent on historical in addition to current data is vital.
Fig. 3 Illustration of Whole-Of-Society Approach
The diagram above in Fig. 3 depicts the whole-of-society approach[17]. It is illustrated by the three circles in the central point of the diagram: government, civil society, and business. The pyramids within each of the circles correspond to the levels within each sector (including sub national, local government, and community). The nine circles in the region of the disaster management continuum of readiness, response, and recovery symbolize nine key essential services).
CONCLUSION
We all are well aware of the fact that there is no straight jacket formula to swing the magic wand and cure the pandemic all of a sudden. There can be no ideal solution to the same still research experiments are going on by our scientists throughout the world. We know the impact of the virus is getting worst day by day. And in context to India empirical approach suggests that if the statistics continue to show a relatively low infection rate, then India will have helped lead the way in containing coronavirus. And the same rule applies throughout the world. We all just need to have the situational awareness through dissemination of basic information. All together we can reduce the pandemic spread by curtailing interactions with the symptomatic patient moreover help in diminishing susceptibility towards public at large. Above all some things cannot be ignored that this is the high time we must understand that nature is retaliating in its worst form. And we all are given time to collect our shit together and understand the meaning of sustainability. And I am quite sure that we shall stand strong and develop physical as well as mental immunity to combat from any such unprecedented pandemic. However, this lock-down has certainly gives everyone a space to realize his potential in various facets. Lastly, we all pray the Almighty to help us to come out from this pandemic and ease the state of affairs as soon as possible.
[1] STUDENT, B.A.LL.B 4TH YEAR, DEPT. OF LAW, ALIGARH MUSLIM UNIVERSITY, CENTRE MURSHIDABAD, WEST BENGAL
[2] Source- ALISSA ECKERT, DAN HIGGINS/CDC https://www.statnews.com/2020/02/11/disease-caused-by-the-novel-coronavirus-has-name-covid-19/ viewed on 26th April,2020
[3] https://www.worldometers.info/coronavirus/countries-where-coronavirus-has-spread/ viewed on 15th May,2020
[4] https://www.mohfw.gov.in/ viewed on 15th May,2020
[5] Journal of Travel Medicine, Volume 27, Issue 2, March 2020, taaa021, https://doi.org/10.1093/jtm/taaa021 viewed on 28th April, 2020
[6] https://www.worldometers.info/coronavirus/coronavirus-cases/ viewed on 15th May, 2020
[7] https://www.worldometers.info/coronavirus/ viewed on 16th May
[8] Singh, Karan Deep; Goel, Vindu; Kumar, Hari; Gettleman, Jeffrey (25 March 2020). "India, Day 1: World's Largest Coronavirus Lockdown Begins". The New York Times. ISSN 0362-4331.
[9] Covid-19: People flock to wholesale markets in UP, West Bengal amid lockdown, ANI, 24 March 2020
[10] Day 1 of coronavirus lockdown: India registers 101 new cases, 3 deaths; Govt says working to deliver essential services". India Today
[11] Gupta, Shekhar (18 April 2020). "Covid hasn't gone viral in India yet, but some in the world & at home can't accept the truth". ThePrint. Retrieved 2 May 2020.
[12]India coronavirus: All major cities named Covid-19 'red zone' hotspots". BBC. 16 April 2020.
[13] Aleem, Zeeshan (25 April 2020). "India takes a small step toward relaxing its strict lockdown". Vox.
[14] MHA allows movement of migrants, tourists, students stranded at various places". Livemint. 29 April 2020. Retrieved 29 April 2020
[15] Thacker, Teena (1 May 2020). "Centre issues state-wise division of Covid-19 red, orange & green zones". The Economic Times
[16] https://www.indiatoday.in/world/story/coronavirus-pandemic-imf-approves-debt-relief-for-25-poor-countries-1666865-2020-04-14 viewed on 29th April, 2020
[17] https://www.who.int/influenza/preparedness/pandemic/2009-0808_wos_pandemic_readiness_final.pdf viewed on 29th April, 2020
[18] https://ndma.gov.in/images/covid/MHAorder240320.pdf viewed on 28th April, 2020
[19] https://ndma.gov.in/images/covid/Guidelines.pdf viewed on 28th April, 2020
[20] https://indiacode.nic.in/bitstream/123456789/10469/1/the_epidemic_diseases_act%2C_1897.pdf viewed on 28th April, 2020
[21] https://twitter.com/TheLeaflet_in/status/1241681267633967105/photo/1 viewed on 28th April, 2020
[22]https://www.mohfw.gov.in/pdf/AdvisoryagainstsprayingofdisinfectantonpeopleforCOVID19managementFinal.pdf viewed on 28th April, 2020
[23] https://www.mohfw.gov.in/pdf/MedicalOxygenCylinder.pdf viewed on 28th April, 2020
[24] https://www.mohfw.gov.in/pdf/RevisedGuidelinesforDialysisofCOVID19Patients.pdf viewed on 28th April, 2020
[25] https://www.mohfw.gov.in/pdf/ImmunityBoostingAYUSHAdvisory.pdf viewed on 28th April, 2020
[26]https://www.mohfw.gov.in/pdf/FAQPradhanMantriGaribKalyanPackageInsuranceSchemeforHealthWorkersFightingCOVID19.pdf viewed on 28th April, 2020
[27] https://www.mohfw.gov.in/pdf/90542653311584546120quartineguidelines.pdf viewed on 28th April, 2020
[28] https://www.mohfw.gov.in/pdf/63948609501585568987wastesguidelines.pdf viewed on 28th April, 2020
[29] https://www.mohfw.gov.in/pdf/218927g.pdf viewed on 28th April, 2020
[30]https://tribune.com.pk/story/2186955/6-public-policy-pandemic/ viewed on 28th April, 2020
---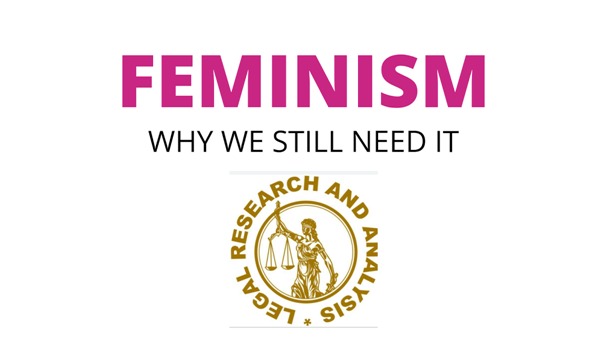 FEMINISM- WHY DO WE STILL NEED IT?
On 26th August 1970, fifty thousand feminists took to the street across America. On a full fifty years after the passage of the 19th amendments granted women the right to vote, 50,000 feminists paraded down New York city's fifth avenue with linked arms blocking major thoroughfare during rush hour.
A one-day strike for equality. After those early years, feminism has brought about huge changes in society. In the United States and Europe, more female graduates than male. The female college graduate stands to about 56%. Nearly half of doctors in developed countries are women, and by the beginning of 2019, more than seventy nations have had female leaders. But the goal of winning full equality remains cagey. Throughout the world, women hold merely less than a quarter of the national legislatures, i.e 24.3%, and women and men have the same guaranteed legal rights in just eight countries viz, Belgium, Canada, France, Denmark, Iceland, Luxembourg, Latvia. It's been more than a century since Newzealand granted women the right to vote. And still to this day the movement is fighting for the right of women around the world.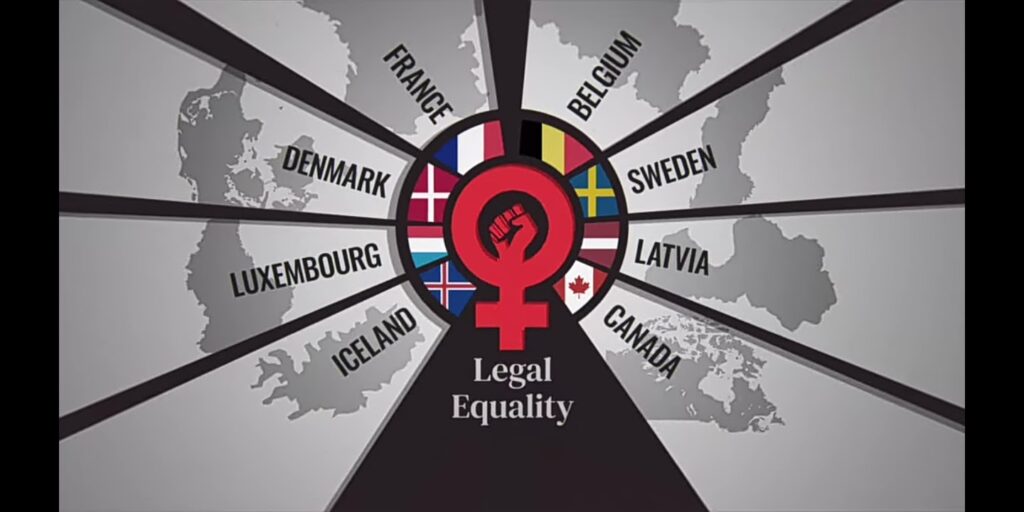 Pic via Netflix.
Feminism in literal meaning can be defined as " the belief that women should be allowed the same rights, power, and opportunities as men". Why is it still an issue, and how much further do they have to go?
During 1943, world war two at its height this was the war in which women held responsibilities in military positions with an equal footing with men submitting to the same discipline, earning the same pay. World war two dramatically changes women's role in society. Instead of cutting dresses, women stamps out the patterns of airplane parts. Instead of just baking cakes, women would go cooking gears for making airplanes.
With the men away fighting on the frontlines, women took the traditionally male jobs at home. They work as engineers and mechanics… Building weapons..ships..and planes..drove buses, trains, and fire engines… And serve in the land army..bringing in the harvest. And as loggers knew as lumberjills. But when women are encouraged to focus on their domestic duties. By the 1950s as popular TV program "leave it to Beaver " make clear, a woman's place is once again in the home, taking care of their family. With world war two firmly in the past, in 1960 average American is married by the age of 20. Banks could deny issuing credit cards to them without their husbands' signature. Professionally fewer than four percent of lawyers and only seven percent of doctors were women. If any woman employee gets pregnant, it is perfectly legal to fire them. and the pay gap in the United States of America, a woman doing equal work is paid only 60 cents compared to a man 1$. At the beginning of the 1960s when the modern feminist movement begins trying to change all that, especially after the introduction of a revolutionary little tablet, "the birth control pill". For the first time in human history, women have an easy, discreet, and reliable method of contraception. The pill rapidly takes off in the U.S, Australia, and the U.K. By 1962, 1.2 million American women were using it.
Now women could choose to put off having children and instead focus on getting an education and essentially their own careers. But when they do, they quickly discover that traditional expectations are hard to shake. The then President of the United States reportedly said " we want to be sure that women are used as effectively as they can to provide a better life for our people, in addition to meeting their primary responsibility which is in the home".
Contrary to this some women beg to differ. According to the writer & activist Betty Friedan, "there is a terrible contempt for women implicit in this glorified insistence that women's fulfillment is motherhood and only motherhood. Betty Friedan published "The Feminine Mystique" in 1963, it reveals the silent unhappiness of many American housewives and reassures women who desire more than marriage and motherhood that they are not alone, a spark that ignites a new wave of feminism, not just in America, but across the western world.
THE TIME IS RIPE FOR A REVOLUTION
As America grapples with the civil rights movement, women begin speaking out for their rights as well. THE CIVIL RIGHTS ACT OF 1964 is signed at the White House by President Jhonson.
"..It shall be an unlawful employment practice… to discriminate against any individual… because of race, color, religion, sex, or national origin."
Feminists lobby to add the word "Sex" to the Civil Rights Act of 1964, and at the last minute, they succeed. "This Civil rights Act is a challenge to all of us… to go to work in our communities and our states, in our homes and hearts… to eliminate the last vestiges of injustice."
The Civil Rights Act makes it illegal for a woman to be passed over for a job or fired simply because she is a woman.
So, equality at last? Not so fast. For some men change isn't so easy.
Companies have to produce training videos to help them adjust to women in the workplace.
It soon becomes clear that, if women are to change the culture, they'll have to organize. Feminism for women's liberation is launched to support their demands for total freedom, economically, politically, socially. In 1966 NOW the national organization for women was born.
NOW's the goal? Quote "to break through the silken curtain of prejudice and discrimination."
But many critics insist that women are already equal to men, so what's all the fuss about?
In 1968, Indira Gandhi became the Prime Minister Of one of the largest population in the Pacific. A woman can now control the destinies of over 500 million people or influence the fashion that million wear.
Sheila Scott,
Record-breaking solo pilot. But nowadays, not even the sky is limit.
The first girl in space Valentina Tereshkova. A woman in charge of millions, bank manager Margaret Reid of Edinburgh.
The truth is the above examples are exceptions that prove the rule, and even they are not necessarily allowed on the same stage as men. That female bank manager is running a ladies branch.
Throughout the '60s the feminist movement continues to gain momentum and the miss America pageant proves a ripe target for protest. In 1968, demonstrators unfurled a banner inside the pageant.
Outside, they crown their own Miss America… " a sheep."
And they set up a Freedom Trash Can for "instruments of female torture": wigs, makeup, curlers, Playboy magazines, and bras. Nothing is set on fire but the media outlets later dismiss the protest as feminists burning their bras. The myth sticks to this day.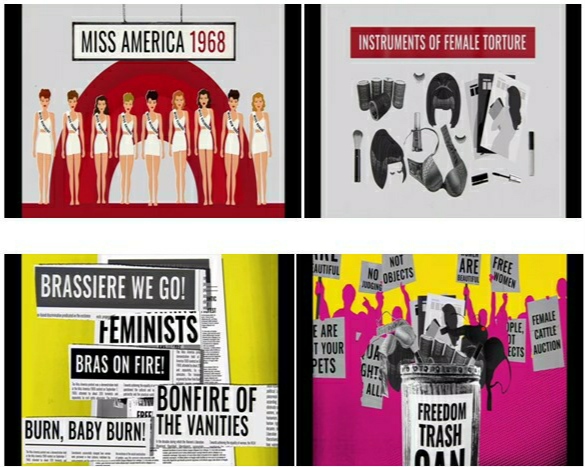 Pic Credit- Netflix
Meanwhile across the Atlantic British women take up the fight. It was in 1968 that Ford's machinists first went on strike. In Dagenham, England, female machinists bring the Ford factory to a standstill, striking for equal pay. They said that a company grading scheme, introduced in 1967, discriminated against them. They won both their cases and the promise of legislation, which will become the UK's Equal Pay Act.
THE PAY GAP 1970, UNITED STATES OF AMERICA.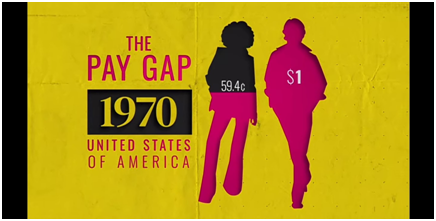 Pic credit- Netflix.
In the United States, equal pay has been enshrined in law since 1963, but women working full-time are still making 40% Less than men. 59.4Cents for every $1 earned by men for the same duration, By the 1970s, American feminists realized that they'll have to do more than protest in the streets. They need to run for office.
"We are going to be running ourselves and electing ourselves so that it will not take 50 years to get 50 women in the US Senate." Betty Friedan Founding member National Women's Political Caucus.
In 1972, there were only two women in the US Senate and 13 in the House… making up just three percent of Congress. That same year, Congresswoman Shirley Chisholm became the second woman and the first African American to run for a major party's presidential nomination. "It is time that other peoples in America, besides white males, run for the highest office in this land." Congresswoman Shirley Chisholm is one of the biggest supporters of a controversial proposal, one that will enshrine women's rights in the US Constitution, "Equality of rights under the law shall not be denied or abridged by the United States or by any State on account of sex.
Feminists have been pushing for the law since 1923, but now they finally momentum and the organization to put it to a vote in congress. The debate is fierce. "The hysteria created by bra-burning and the other freak antics is not a justification for the action taken by the House of Representatives."- Myra Wolfgang, LABOR LEADER.
But in a huge victory for feminists, the proposal passes. Now, if two-thirds of the states ratify it within ten years, the Equal rights Amendment will be added to the U.S Constitution. But despite their political progress, American feminists are lagging behind their counterparts in other nations when it comes to electing a woman to the top job.
Sri Lanka is the first nation to elect a female leader… Sirimavo Bandaranaike, in 1960.
In 1966, Indira Gandhi begins the first of four terms as prime minister of India.
Golda Meir took charge of Israel in 1969.
Margaret Thatcher became the first prime minister of the United Kingdom in 1979.
In America, the 1970s does see progress in the form of a raft of new laws guaranteeing women equal access to education, to bank credit lines, as well as the right to terminate an unwanted pregnancy.
1972 IX OF THE EDUCATION AMENDMENTS
1974 EQUAL CREDIT OPPORTUNITY ACT
1973 ROE V. WADE (MAKES ABORTION LEGAL)
By the end of the 1970s, more women enrolled in higher education than men. On TV, Mary Tyler Moore's independent career woman reflects feminism's gains in the workplace. But as women begin to infiltrate male-dominated. Careers, it's clear sexist ideas are not just held by men. The boys-club culture in the executive boardroom isn't much better.
THE PAY GAP 1979, UNITED STATES OF AMERICA.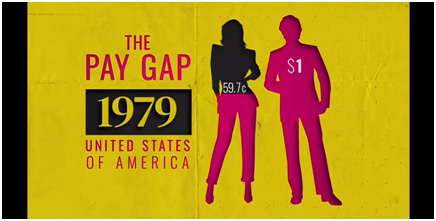 Pic via -Netflix
As for the paycheck of regular women, they're actually less than they were 20 years earlier 59.7Cents for every 1$ as compared to men. Still, for two decades, the modern feminist movement has been on a roll.. Until perhaps inevitably, a backlash sets in. The 1980s see Ronald Regan sweep to power on a promise to bring back traditional family values.
"Restoring the American dream requires a return to spiritual and moral values."- Ronald Regan
Many conservatives believe that women are already granted equal rights under the law. There's no need to change the constitution. By the 1982 deadline, the Equal Rights Amendment has been ratified by 35 states, three short of the two-thirds required, and it fails. Defeated it falls off the political agenda for decades. In America, feminism starts to be considered passe. After elections in 1988 exit polls show that only 18% of women would call themselves strong feminists. And in 1990, that number dropped to 14%. Despite the backlash against feminism. '90s pop culture celebrates strong women, from Thelma & Louise to the women-only line up of the Lilith Fair festival. And the decade does see American women elevated to high-profile positions. But it's most often because they're appointed by a man. By 1998, just 11% of congress was female.
THE PAY GAP 1998, UNITED STATES OF AMERICA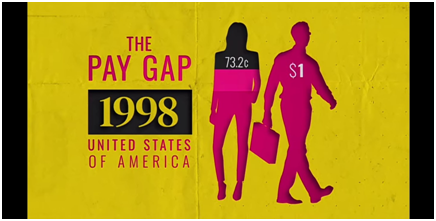 Pic credits- Netflix
And while that persistent pay gap does start to narrow, 73.2Cents for every 1$ earned by men, it's far short of equality.
But that's not what reignites feminism in the new millennium. What does is the internet. Just as Betty Friedan reassured '60s housewives that they were not alone, the internet allows women to share their stories and experiences beyond their immediate communities. And a new, more inclusive brand of feminism embracing women with diverse racial and cultural identities. Long-buried stories of minority women are highlighted in movies like Hidden figures, about the black women behind America's race to space. "I never thought I could dream to be a rocket scientist. When I found out it was true I was like… I was angry, I was like, somebody just stole a dream from me, somebody just stole an option from me. They lied to me."- TARAJI P. HENSON, actor Hidden figures.
Now, feminism develops a truly global outlook. "Quality education for girls is not just learning books, passing exams, and getting jobs. It is empowerment, freedom, nourishment."- MALALA YOUSAFZAI, Activist and Nobel Peace Prize Laureate.
Post-Soviet Russia,
In Post-soviet Russia dramatic protests of the feminist punk collective Pussy Riot go viral. Especially when they met with harsh reprisals.

In Europe
In Europe, the activist group Femen uses the Internet to spread their naked appeal for equality.

"We're a bunch of angry women who choose their strategy, Feminism strategy, to take their tops and to write on their body that was for so long objectified."- INNA SHEVCHENKO, Femen.
But while the internet has given a new voice to feminists, it's also emboldened their detractors. Social media trolling is particularly vicious against women. "I've used the Internet for brilliant things, but I have had rape threats, I have had huge swarms of, uh, trolls all attacking me at once, um, it's very tiring. it's very time-consuming. "- JESS PHILLIPS, UK Member of Parliament. As feminists around the world continue to fight for equality, it becomes clear how much work needs to be done in far-flung places, where women are still treated as second-class citizens.
Around a quarter of girls in the developing world do not attend school.
Each year, 15 million girls around the world are married before the age of 18. That's 41,000 every day, or one every two seconds. And there are 18 countries, as of 2015, where husbands can legally prevent their wives from working.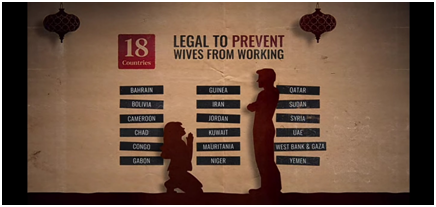 Pic credit, Netflix
In 2016 Hillary Clinton came closer to winning the American Presidency than any woman has before.
"I know we have still not shattered that highest and hardest glass ceiling, but someday, someone will, and hopefully sooner than we might think right now." – Hillary Clinton, 2016 Presidential runner-up. Her narrow defeat energizes Feminism inspiring millions to converge on the streets of Washington and around the world.

A few years later a tidal wave of new female representatives is sworn into Congress. The House becomes 24% female, the Senate 25%. And by early 2020, the Equal Rights Amendment is back in the headlines, as Virginia becomes the 38th state to ratify it. If the original deadline can be overturned Congress may yet finally adopt the amendment nearly 100 years after it was first proposed.
"… and the ERA would help ensure equal pay for women."-ALYSSA MILANO, Actor & Activist.
THE PAY GAP 2019, UNITED STATES OF AMERICA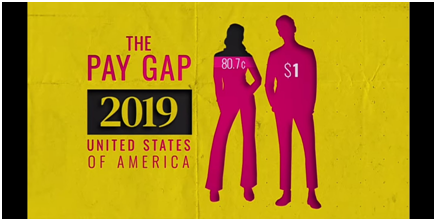 It's getting better, but that stubborn pay gap is still there. 80.7Cents for every 1$ earned by men. And if nothing changes it will take another 40 years for women to receive equal pay for equal work.
Clearly, as a movement, Feminism is far from done… and won't be until everyone has the same opportunity, the same freedom, and the same human rights.
---
LIVE-IN RELATIONSHIP IN INDIA: A SOCIO – LEGAL ANALYSIS

Introduction
Nothing is constant except change in the material world. In the past few years Indian society has undergone sea change in its living pattern. India is a country of culture and tradition. Marriage of a man and woman is considered the most sacred relationship. However, now-a-days couples are entering into pre-marital sex and live-in relationships. In live-in relationship couples without being married, live together under the same roof. In India, according to marriage laws, relationship between unrelated couple of a male and female is considered to be legal only when marriage has taken place and all other sort of relationships are deemed to be illegal. But, the Supreme Court through judicial pronouncement has included live-in relationship under Article 21 of the Indian Constitution. The Apex court ruled that a man and woman even without getting married can live together if they wish to. This may be regarded as immoral by the society but is not illegal.
In different countries across the world live-in relationship is recognized by statute law such as United States, Scotland, France, Canada, Australia, Ireland, Philippines. But in India such kind of relationship is under criticism and not accepted by society at large as because it lacks legal recognition.
Causes of Live-in Relationship
In India the traditional society might have stigmatized non-marital live-in relationships but the increasing number of live-in couples indicates a degree of acceptance. The rationale for the couples to enter into live-in relationship is to examine affinity between partners before getting married. It is easy to walk-in and walk-out of live-in relationship as compared to marriage. The other factors are cases in which couple gives priority to the career rather than marriage, in many cases marriage is not supported by family due to inter-religion, inter-caste and age difference. Whatever may be the cause but it is transparent that couples prefer to enter into live-in relationship over marriage.
Law On Live-in Relationship In India
In India, there is no statutory law to envelop the matter of live-in relationship and to address the rights and duties of live-in partners.
Only in 2005, Protection of women from Domestic Violence Act, 2005 appears to have included live-in relationship by extending rights to an aggrieved female who is living with a male in a relationship in the nature of marriage. Even though live-in relationship is not particularly defined in the Act but by virtue of the definition of 'Domestic Violence' under section 2(f) of the PWDV Act, 2005, the courts interpreted the expression 'relationship in the nature of marriage' as live-in relationship.
Section 125 of Criminal Procedure Code provides for maintenance of wives, children and parents and the same has also been extended to women in live-in relations through Judicial decisions. The National Commission For Women and the Malimath Committee have recommended the Government to make suitable changes in the law to entitle women in live-in relations to get maintenance from her partner if he chooses to dump her. It suggested that the scope of section 125 of the Criminal Procedure Code, under which a wife, legitimate or illegitimate child and parents are entitled to get maintenance from a man, to include woman in live-in relation[1].
Judiciary On Live-in Relationship
It is said that law is a social phenomenon. Since law is a social phenomenon, it has to take note of the changing needs of the people[2]. When the concept of live-in relationship started to be accepted by new generation of Indian society, then it demands for its meaning in the eyes of law. The Hon'ble Supreme Court and the High Courts in catena of decisions have tried to explain the concept of live-in relationship. In S.Khushboo vs. Kanniammal & Anr[3], the Supreme Court held that live-in relationship falls within the ambit of right to life under Article 21 of the Indian Constitution. There is no law that prohibits pre-marital relationships.
In Payal Sharma vs. Superintendent, Nari Niketan[4] the Allahabad High Court opined that a man and a woman even without getting married can live together if they wish to. The apex court in Madan Mohan Singh vs. Rajni Kant[5] held that if a man and woman are living together for a long time as husband and wife though never married, there would be presumption of marriage and their children could not be called illegitimate[6].
In D.Velusamy vs. D.Patchaiammal[7] the Supreme Court opined that 'relationship in the nature of marriage' is akin to a Common Law Marriage. Common Law Marriage requires that although not being formally married[8]:-
The couple must hold themselves out to society as being akin to spouses;
They must be of legal age to marry;
Or otherwise qualified to enter into a legal marriage, including being unmarried;
Or, voluntarily cohabited and held themselves out to the world as being akin to spouses for a significant period of time.
Hence, the Court concluded that live-in relationship outside the scope of Common Law Marriage will not amount to a 'relationship in the nature of marriage'.
In Indra sarma vs. V.K.V. Sarma[9] held that when a woman is aware that the man with whom she is having live-in relations, has already a legally-wedded wife is not entitled to any relief. Such cases does not fall under the ambit of 'relationship in the nature of marriage'. Hence the court excluded women who are in live-in relationship other than a 'relationship in the nature of marriage' from the benefits of PWDV ACT, 2005.
The Indian Judiciary through judicial pronouncement has rendered justice to those females who are victim of live-in relationships. As of now, there is no specific legislation governing matters such as succession, maintenance, guardianship, adoption with respect to live-in relationship. By interpretation of the Protection of women from Domestic Violence Act, 2005, the guidelines given by Indian judiciary on different judgments can only be accepted for the term 'relationship in the nature of marriage'.
In Indra sarma case, the court made it clear that all live-in relationships are not relationship in the nature of marriage. There exist live-in relations which are not in the nature of marriage. Live-in relationship is a wider concept than that of relationship in the nature of marriage.
In our country we have instances of married woman living with her lover leaving her husband and also persons living in extra-marital relationship sometimes approach courts as live-in couple especially when the aggrieved party was kept unaware of the married status of the other. Truly speaking, in all live-in relationship, women will be victim is not necessary. It may also so happen that male partners may be victim in live-in relationships. There are also instances of same sex couple living in live-in relationship.
Even though the Supreme Court and the High Courts, granted legality to live-in relationship, yet there are many vital issues which must be addressed properly so as to form a comprehensive law dealing with the challenges of live-in relationship.
---
[1] Available on https://m.hindustantimes.com>india last accessed on 15th August,2020 at 3.30 P.M.
[2] SRA, Rosedar, (2016), Jurisprudence, Lexis Nexis, Gurgaon, Haryana, p.11
[3] Crl. App. No. 913/2010, arising out of SLP (Crl) No. 4010 of 2008, MANU/SC/0310/2010
[4] AIR 2001 All 254
[5] 2010 VOL.9 SCC 209
[6] Available at https://www.scconline.com last accessed on 16th August,2020 at 8.15 A.M
[7] AIR 2011 SC 479
[8] Available at www.legalservices.com last accessed on 16th August, 2020 at 9.00 A.M
[9] AIR 2014 SC 309
---
CASESTUDY : VISHAKA & OTHERS V. State of Rajasthan
By: Sristy Patel
VISHAKA & ORS V. STATE OF RAJASTHAN is a landmark case, decided by supreme court, which deals with the Sexual harassment of women at workplace. This case is decided by bench of judges of: CJI, Sujata V. Manohar, B.N Kirpal. Sexual harassment is any form of unwelcomed sexual behaviour that's offensive, undignified, humiliating or intimidating. This can be either in a way of written or spoken, and also may result into physical and can happen in person or online.
FACTS OF THE CASE
A 50 year old social worker/activist named Bhawari who used to live in a village of Rajasthan and worked under social development program at rural level organized by State government, was gang raped by Ramkaran Gujjar and his five friends in front of his husband just because she wanted to stop the marriage of Ramkaran Gujjar's daughter who was merely less than one year old, it means she was just infant.
In hope of justice she filed a case against Ramkaran Gujjar & his friends in court, but Trial Court held all the accused people not guilty, because other authorities like doctors and police denied her condition. A male doctor at the main primary care centre refused the test, and the doctor in Jaipur just confirmed her age without mentioning that she was raped in her medical report. Even women constable at the police station continuously taunted her whole midnight, and after that, police asked her to leave 'lehnga' as an evidence of that incident & go back.
This decision of the court led, collective group of women & non- governmental organization motivated to file a petition in supreme court. In their petition, they demanded justice for Bhawari Devi and take action against sexual harassment at workplace.
ISSUE OF THE CASE
Should policies be introduced to end sexual harassment of women at workplace ?
JUDGEMENT
Chief justice J.S Verma has conveyed the judgement of Vishakha's case as a representative of Justice Sujata Manihar and Justice B.N Kripal. The court observed that the fundamental rights under Article 14(2), 19(3)(1)(g) and 21(4) of the constitution of India provides every profession, trade or occupation should provide safe working environment to the employees. It hampered the right to life and the right to live a dignified life. The basic requirement was that there should be the availability of safe working environment at workplace.
The supreme court held that, women have fundamental right towards the freedom of sexual harassment at workplace, and put forward various important guidelines for the sexual harassment of women at workplace.
Guidelines were as following:
It is the Duty of the employer to provide rules and regulations regarding protection of women from sexual harassment in code of conduct of company.
It is duty of the employer to establish a committee to be known as the "complaint committee". And committee must have a women employed at senior level.
Disciplinary action should be taken against the violation and the victim's interest should be protected.
Women employees should be made aware of their rights.
Before 1997, any aggrieved women of sexual harassment at workplace used to lodge complaints under section 354 and 509 of Indian Penal Code, 1860. Later as per mentioned decision in case of Vishkha, the grievance committee has the actual authority and legal status.
After judgement of Vishakha's case, and after several formats of bill on 10 November 2010, The bill of protection of women from sexual harassment has been passed. Matter of fact is that bill not only provides protection to women employees at workplace, but also who enters as a volunteer, apatis, daily wage labor. Students in college residence, patients in hospitals and research scholar in research centre were also included. Vishaka directions are still in work for fine implementation as a mechanism to solve these problem.
Central department of personnel and training (DOPT) issued new guidelines related to sexual harassment of women at workplace (prohibition and protection) Act, 2013.
KEY FACTS
According to the new guidelines issued by the central government, women at the workplace will receive brief details about the implementation of the atrocities of the act and number of cases to be dealt with will also included.
All ministries, department and authorities shall form it's a part of the annual report.
According to new guidelines of the Sexual Harassment Of Women At Work Place act 2019 redressal of grievance must be within 30 days and in special circumstances period can be extended to 90 days from the date of receipt of the complaint.
It must be monitored by the officials that the complainant must not be harassed in any manner after making the complaint.
If the victim feels that she is being harassed after the complaint, then there must be an option by which she can complain to head of the organization.
Within 15 days, after the receipt of the complaint, the concerned officer must provide remedy to the victim.
Monthly progress report by all ministries / department must be submitted to ministry of women and child development.
According to Maneka Sanjay Gandhi, women and child development ministry will always work on the issues related to safety of women at workplace.
SEXUAL HARASSMENT AT WORK PLACE
Sexual harassment at workplace means, unwanted direct or indirect sexual contact, comment, or conduct against female co-worker. The supreme court of India defined 'sexual harassment at workplace' in case of Visakha v. state of Rajasthan.
Any type of disapproved, sexually determined behaviour (direct or under pressure) physical contact or offer, request or request for indulgence, obscene and indecent remarks, obscene literature or other unpleasant physical, verbal or non-verbal conduct of a sexual nature is included in definition of sexual harassment.
LAW PROVIDES HOW TO DEAL WITH SEXUAL HARASSMENT AT WORKPLACE
Until 2013, sexual harassment at the workplace was not a special crime category.
The Indian Penal Code, 1860, was referred for the cases related to the sexual harassment of work place and there was no separate section for the same.
In Indian Penal Code, 1860, sexual harassment was defined and punished under section 354, of Indian Penal Code.
Vishaka guidelines for sexual harassment at workplace
In the year 1997, supreme court in case of Vishaka v. state of Rajasthan, recognized the defect in Indian Penal Code and detected the way of tackle for the same and gave a historic decision.
Sexual harassment of women at workplace (protection and prevention) Act, 2013, came into effect on 9 December 2013.
In line with its name, its objective clarifies as prevention and prohibition against sexual harassment and in case of its violation, it also works to provide redress to the victim. This act would abide by almost all guidelines given in the vishaka case. It also contain other provision like : providing civil court power of gathering evidence to complaint's committee.
---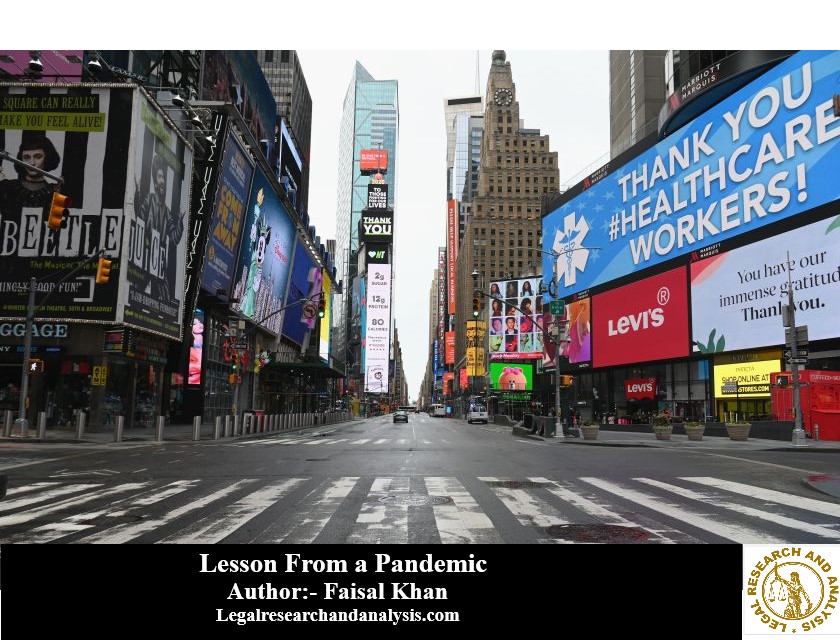 Opinion/Columnist
The grim reality of a global pandemic is only assuaged by the shallow interconnectedness of the internet. The paradoxical duality that couldn't be more on the nose.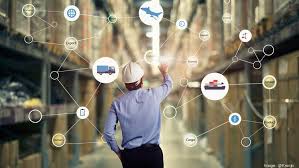 Courtesy;- THE BUSINESS JOURNALS
2020 will be remembered as the year the earth stood still. Millions were displaced, disconnected, devastated, depressed, and dead. Every day more people died than on 9/11 and even more were left disoriented as to what may come next. The blightening toll that SARS-COV-2 took on the world reverberated through the entire globe, crushing everyone and everything under its menacing force. No one predicted this. We were busy articulating the dangers of right-wing populism and the apocalyptic nature of climate change. We cut down carbon gases and argued over the inactive leaders who had signed the Paris deal but nobody said anything about not eating bats, did they?
Of course they did. Epidemiologists and other health experts have been warning about the next potential outbreak for years now. But who was going to listen to a bunch of Faucis when an evil-head leader of the biggest nuclear state threatened to incite wars.
The COVID disaster hit like any other disaster— Unannounced in foresight but inevitable in hindsight. We were all caught unguarded. You can't blame anyone in particular for a pandemic (Unless you want to vent your anger towards China, the ineffective assistance of WHO or that particular bat-consuming jerk who started it all; the patient zero). You simply cannot. China was as distraught as the rest of us. They concealed what they could hoping it would die down. The WHO prioritised minimising people's utter panic over honestly communicating the severity of the situation. Ultimately they failed in both. International organizations downplayed the gravity of COVID until it was widely understood that it not only affects the old and the weak but almost everyone. The fear ensued. Organisations were in shambles. Businesses disrupted or even terminated. People's hopes were crushed. The world, as we know it, stopped in an unprecedented manner. The neck-breaking speed at which the planet was running for the first time threatened to actually break our necks
The Faucis of the world popped up in prominence, united and determined, to save the world from this biological Armageddon. The rules were simple. For a global pandemic that killed millions it had a fairly simple guidebook. Wash your hands. Wear a mask. Maintain social distancing. Elementary stuff. Except people don't like being told what to do. Even if it saves them funeral costs of their grandmas. On top of this nuisance, bigger problems piled on. Countless lost their jobs. People had to shut their business. Daily wage earners experienced hell on earth.
It only gets worse from here
In India, millions of migrant workers were displaced due to harsh and mismanaged lockdowns implemented by the Modi government. In Europe, right-wing parties latched onto the travel restrictions to flame xenophobia and shut its borders from the worst-hit victims of the pandemic; the refugees. In Brazil, Bolsonaro's militarized government displaced and tortured thousands of Indigenous people in his path to genocide. In Mexico, the inefficiency of the govt has led to a surge in the activities of the cartel.
The examples are abundant and the point of sharing them is not to induce hopelessness but to realise how flimsy and fragile our societal structures are.
One viral outbreak and blood spills on the street.
The clash of civilisations
How do you combat a disease that no one from our lifetime has seen before? How do you stop a virus that could kill millions if not billions without destroying the economy? Simply put, you cannot. Something has to be sacrificed and people's lives were too hefty a price. So the leaders unanimously accepted the loss of a few currency notes in favor of saving us. All well and good except neither the people were willing to lose their freedom nor the Govt accepted the constantly depleting economy and thus came the compromise. We adjusted to this new world. We stopped going out and hoped for normalcy while the govt promised to incentivize staying at home.
The problem at large is beyond a single outbreak or a momentary pandemic. The question is: Can we all get along? Can we all objectively identify the problem and work together to solve it instead of identifying a group of people as the enemy and creating a rift among us. That's what made the occurrence of this pandemic so much more disastrous. Most of the first nations are still riding on the populist wave that has decorated much of the political landscape of this decade. Donald Trump in his sacred pursuit of isolationism and 'America first' policy has widened the gap between the first, second, third and fourth world states. Europe is closing its borders. Third world nationalists are no further either. When the world truly needed visionary and responsible leaders who would unite us in solidarity, all we got were leaders who harboured conflict among the citizens and fueled the "us vs. them" narrative that rather than prepare us for a calamity threw us straight under the storm and pulverised any hope for unity when we needed it the most.
The neoliberal space of global politics has simultaneously equalized the playing field as based on merit and hierarchized the structure in which people can govern themselves, viz, the rule of democracy. Capitalists, when elected in power, think their citizens to be employees rather than citizens who can be fired at will. The vulgarity of power sheds its skin in times of crisis and unravels the oppressive system that remains relatively hidden in times of 'business as usual'. Well, there is no 'business as usual' when there are no businesses and people have nothing but time and anger in their hands (and the quarantine provided ample of both).
A rehearsal for the future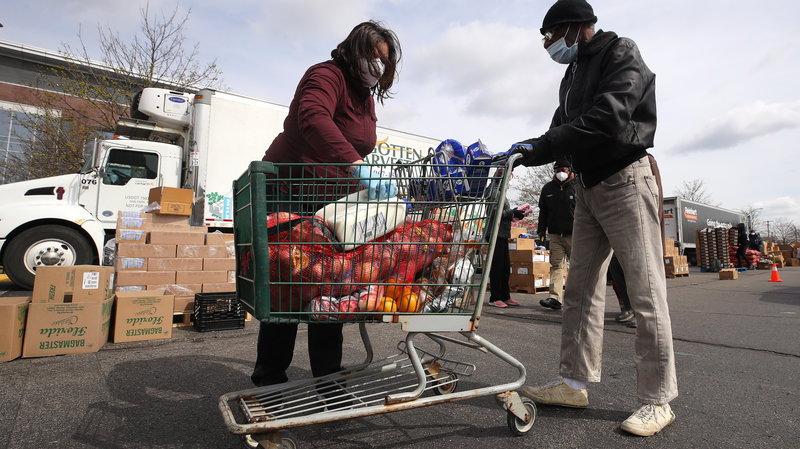 G20 leaders virtually meet to discuss measures to contain COVID-19 (TheGuardian, 2020)
Experts warn of a crisis and leaders ignore it. What could be more clichéd than this. Yet, a story told a thousand times is still not as effective as one day of crisis experienced first hand. What we have seen this year is cumulative disregard for science and reason and what we may learn from this is that a situation that could have been handled way better than it was with instruments of control in our hand (Health care machinery) has bursted into a mayhem. What will happen when a crisis that is far away from human control strikes us? What happens when the climate crisis emerges out of school textbooks and materializes in all its hellish glory? How would the leaders of the world that couldn't convince the masses to wear a mask react? Philosopher and cultural theorist, Slavoj Žižek has commented that "COVID-19 pandemic is a dress rehearsal for future crises" If this year has taught us anything it is that we just don't know what the future holds for us. And whatever it will be, we are in really bad shape to deal with it.
The situation at home
When we were told by our governments to stay at home. Some of us rejoiced while some were left in dismay. What do you mean we cannot go out? Thou shalt not command social animals to not be social. But who wants a million dead grandmas so we obliged and restricted our social impulses only to be told that the death toll is increasing every day. The ones rejoicing, the introverts and co., found ourselves engaging in activities that were left in our never ending to-do lists or learning a new hobby or resolving conflicts with our family & friends long left ignored. Sleepy-eyed-pyjama-wearing meetings in the comfort of our homes replaced the cumbersome suit-and-tie physical meetings that could have been an email anyway. OTT platforms exploded and almost murdered the collective experience we call cinema. Almost. The biological demon also brought some cousins with it, psychological ones. Luckily for us, we are living the 2020 pandemic and not the 1918 one for we have the diving gift of interconnectedness via the internet. We are living in an age where connectivity is overwhelming but the desire to connect has only diminished.
The pandemic separated us from each other but gave us bountiful opportunities to have conversations we knew we needed the most. It gave us time to reflect on ourselves and those around us. We realised that nothing could replace the sound of clamouring laughter of old friends reminiscing over old days or the physical experience of being with a thousand people screaming the verses of their favourite band at a concert. Or just the possibility of hanging out among other strangers, even if we didn't actually visit those places. We know we need to have it even if we don't need it rather than need it and don't have it. Nothing will ever replace the innate human need and pleasure of socializing.
Dawn of new hope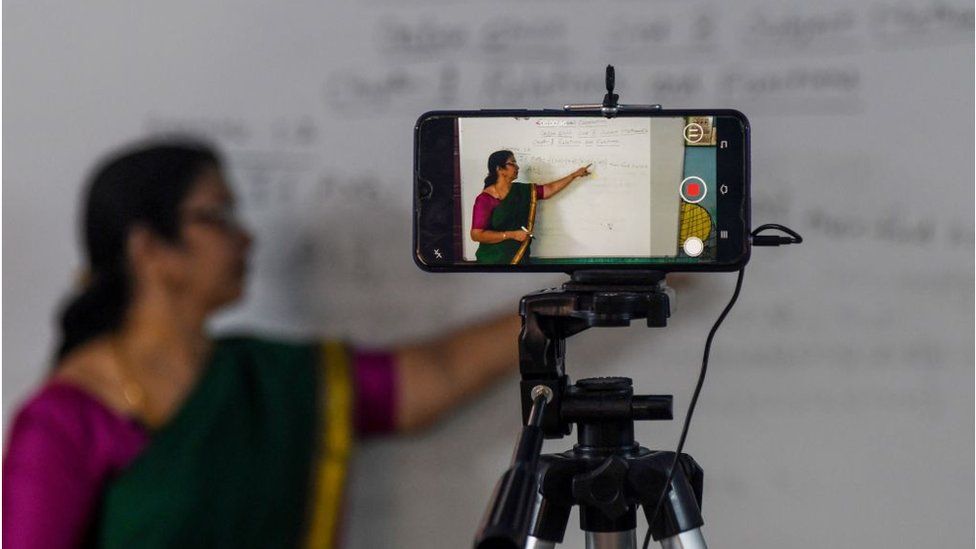 courtesy:- Getty images
No matter how much we prepare ourselves for the future, crisis will strike, unannounced and unforeseen. What may change is the nature of the crisis. When the world thought the future would be space travel and flying cars, we got the internet. When we were preparing (not) for global warming, we got Coronavirus. Pandemic 2020 will be remembered for the ineffectiveness of the system we trusted and the leaders we looked upon. Its narratives will be told over and over as a cautionary tale for our future kins. The leaders who betrayed us. The institutions who failed us. The common masses who made utter mockery of common sense. Everything will be read and reread and storified again. The paradoxical duality of our situation is that we live in the most connected era humans have ever been in and yet we couldn't be more disconnected. What better time to reflect on ourselves in particular and the society in general when isolation is mandated and seclusion is celebrated. This pandemic is a lesson in modernity, etched in eternity.