Read Time:
3 Minute, 37 Second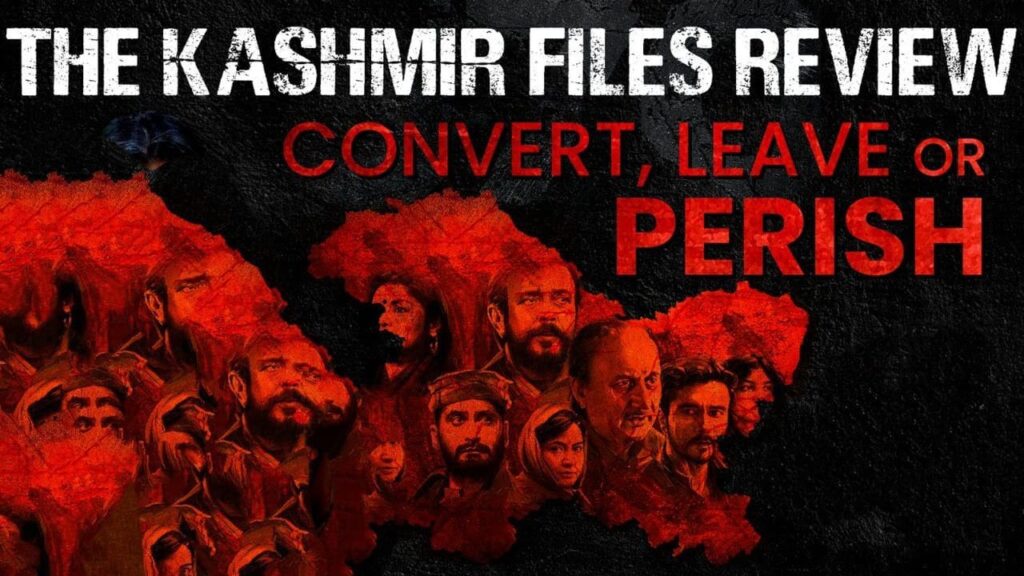 Kashmir Files…. there is only one file…. Our hearts and minds are burdened with hundreds of such files!
Will Kashmir Files be able to open the eyes of air-conditioned Hindus? A review!
A Kashmiri Hindu woman is surrounded by Muslim jihadis…. The bloody paw of a Muslim jihadi tears off the clothes of that Hindu woman… The open back of that Hindu woman is visible…. She collects the rags A Hindu woman who is gang-raped by Muslim jihadists makes her lie down on her comfort-sheen… and the saw machine breaks that woman into two with impunity… A 5-year-old elder brother seeing the noise outside asks his 2-year-old younger brother to stay at home and comes out… then he is caught by the Muslim jihadi and he is also shot in the forehead …. he is killed. Doesn't even tell… A woman has rice stained with blood on her palms… that blood belongs to her husband and the jihadi Muslim present in front forces her to eat the same rice… a cleric whom Muslims jihadi Asks what should be done with the infidels, then that cleric spits on that infidel woman. Sultan Alauddin Khilji of Kaazi asks his Qazi what should be the treatment of the infidels under Islamic rule, then Qazi replies there is no right to live… Allah Ta'ala and our prophet have given a death sentence for the pagans. There is no difference between today's Muslim and the mentality of the first Muslim who entered India with a sword… This was not mentioned in the Kashmir Files, but still many things we're told by the Kashmir Files on which it was once discussed. There was no discussion in the country…
These which I have written above are some scenes from Kashmir Files which are based on true events… The slogans in the film are… We want azaadi… without Kashmiri Hindus with Kashmiri Hindu women. It is the mentality of a jihadi Muslim that he always considers himself a bigger man than any infidel… (Kirmani, the historian of Tipu Sultan's court writes in his book that when he reached Coorg, he saw that the Kafir men there. They were very cold but their women were thirsty…. This means the historian wanted to tell that now we have come jihadis, now we will quench the thirst… this is the Islamic Jihadi mentality of thousands of years which has been visible from time to time)
I don't understand why Muslims are opposing this film. This film does not expose Islam, whereas the real thing is that whatever happened in Kashmir, its foundation is only and only the teachings of Islam and Quran but the filmmaker did not dare to mention it. I may be reviewing too harshly. But this truth should be told….. by hiding the truth such Hindus are born who are easy to mislead in the name of deluding Ganga Jamuni. The allegation on the film that it instigates against Muslims is false. The film did not expose the politicians who were Muslims and who opened the gates of Ghazwa-e-Hind in Kashmir.
Watching this movie will cry out to all those people… who live in their own world in air-conditioned rooms… whose life starts with burger breakfast in the morning… lunch pizza in the afternoon and dinner in a five-star hotel happens in… and unfortunately most of the Hindu is living in such conditioned world whenever someone in his neighborhood will raise the slogan of jihad… when a maulana will speak on loudspeaker from mosque… we want freedom for Hindu men. Without Hindu women… then that air-conditioned Hindu will lose his sleep. Bajrang used to work for the Dal.
The film also has a major drawback that the film has been made for intellectuals.. A typical village man will not understand this film. There is a scene in the film…. Radhika Menon, a JNU professor asks a Hindu student who was the biggest leader of Kashmir. So he answers Sheikh Abdullah…. then Radhika Menon tells him no…. Hindu king Lalitaditya Muktapid ruled most of India and Asia up to the Caspian Sea. That Hindu student gets so impressed that then every anti-Hindu thing of Radhika Menon is considered to be true…. This is a way of brainwashing.