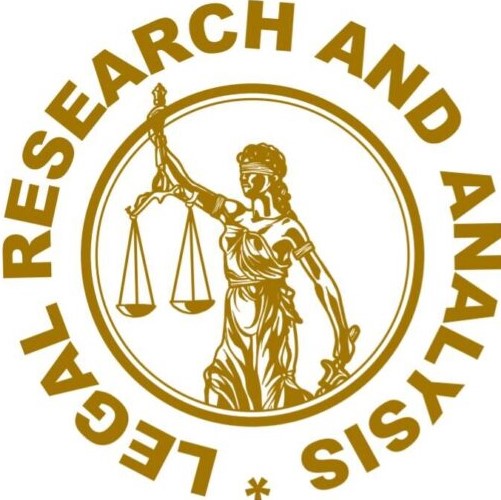 Legal Research and analysis is the premier and leading International Legal portal focused on law and government. It provides access to an extensive and fast-growing online library of free legal resources for use by legal professionals, students, consumers, and businesses.
The Legal Research and Analysis. This website has been created to ensure the paramount consideration i.e. to uncover the technicalities of law and develop a proper understanding of the currently debated issues more simply. Moreover, having a multidisciplinary approach backed with logical deduction, this website concentrates on the true and genuine way to enhance our readers' minds' cognitive faculty. We hope to become a cogent reason to stay connected with us.
Moreover, the idea behind creating this Platform was to provide a stage to enhance the writing skills of intellectual minds and help them to develop original ideas, articles, research papers, available to everyone and impart legal knowledge with daily updates from around the world of law, about the latest news, all laws being in forced new developments in the legal field.
The mission is to provide comprehensive and easy-to-understand legal information to users and make such information easy to find on the Internet. Visitors to Legal research and analysis.com will find a wide range of features that include lawyers directory, Discussion forum, legal advice, codes and cases, Web search utilities, mailing lists, Articles, and more.
We have a team of meritorious professionals, which includes an experienced and highly talented legal team. We attract the best and brightest attorneys in the industry and conduct continuous training in accordance with the codes of professional conduct and ethics. We keep them abreast with the latest law, amendments, and happenings in the legal industry through continuing education and training. We allocate a dedicated team to each client to ensure quality, efficiency & stability. They are well conversant and fully trained in the Global Legal System particularly in India and many others and with the various technology-driven tools required in the industry.
Pre-Arbitration and post-award research
Tracking Federal or State legislation
Case law research and analysis
Analyzing Acts/Statute/Legislations, Orders, rules, regulations, provisions, etc.
Treaties, Conventions, International Agreements, Protocols, etc.
Arguments Transcript & Deposition Summarization
Legal Data Searching and Analyzing
Any other legal areas not covered as above.