LRA Remote Journalism Program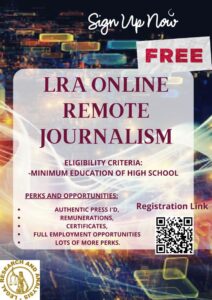 About the Program:
Legal Research and Analysis has a good opportunity for you.
Now anyone with a minimum education of high school can become a journalist while being online, yeah, that's right, Legal Research and Analysis presents,
Remote Journalism is an opportunity to discover Journalism and serve the man kinds one of the most ever devised mechanisms to aware the masses via technological ways. In modern days, you and we all have a smartphone in our pocket and mostly stay online searching, reading, and sharing information.
So, this is why Legal Research and Analysis have started this campaign to enrol eligible ones and build up a massive hub of reliable and autonomous source of journalists, who works remotely wherever they may be living or residing, all encouraged to start using their inner talent of presenting the truth in front of masses, living independently roaming around may be from anywhere across the entire globe, we're seeking virtual, or remote journalists from all the 193 United Nations recognize countries including the Bahamas, and British Indian waters.
Join our ever-growing community of virtual/remote journalists, we act as an umbrella for all those who wish to report for the sake of press freedom.
Perks and Opportunities:
Authentic press I'D
Remunerations,
Certificates,
Full employment Opportunities,
Lots more perks.
Eligibility Requirement:
He/ She must be 18 years or older.
He/She must be a minimum educational qualification that is 10th/10 + 2 pass/graduate or post-graduation from a recognized institution.
He/She should also be of a good moral character, and should not be a party to any criminal conduct.
Registration Form Link: https://forms.gle/DB9RJqx6ZJwiaXyS7