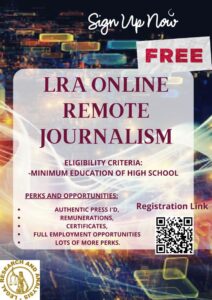 Remote Journalism: A New Era of Storytelling
In today's fast-paced, digital world, journalism has taken on a new form, and Legal Research and Analysis are at the forefront of this change. The organization is proud to announce a new campaign to recruit remote journalists from all 193 United Nations-recognized countries, including the Bahamas and British Indian waters.
Remote journalism offers a unique opportunity for anyone with a minimum education of high school to discover the world of journalism and serve the masses through the use of technology. With the widespread availability of smartphones and internet access, journalists can now work from anywhere in the world, reporting on local and global events with their unique perspectives.
Joining Legal Research and Analysis as a remote journalist comes with numerous perks and opportunities, including an authentic press ID, remunerations, certificates, full employment opportunities, and more. The eligibility requirements for this position include being 18 years or older, having a minimum educational qualification of 10th/10 + 2 pass/graduate or post-graduation from a recognized institution, and being of good moral character with no history of criminal conduct.
Join our ever-growing community of virtual journalists and take the first step towards a fulfilling and impactful career. Legal Research and Analysis act as an umbrella for all those who wish to report for the sake of press freedom.
For more information or to apply for this exciting opportunity, please contact Legal Research and Analysis today.
Registration Form Link: https://forms.gle/DB9RJqx6ZJwiaXyS7