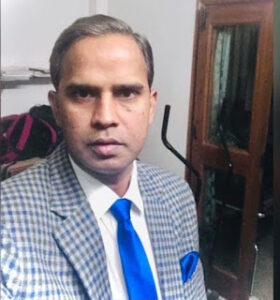 Senior Public Prosecutor
GOVT. OF NCT, Delhi
Sh. A.T.Ansari is a Senior Public Prosecutor, Govt. of NCT of Delhi. He has 25 years of experience at the bar, 5 years as an advocate at Delhi High Court, and 20 years as a Public Prosecutor with Govt. of NCT of Delhi.
He was one of the main Public Prosecutors who conducted the trial of the Nirbhaya Rape Case and secured capital punishment for all the accused persons. 
Sh. A.T.Ansari was appointed as the first Public Prosecutor in India's first Fast Track Court constituted in Delhi pursuant to the direction of Hon'ble SC post Nirbhaya case. He has extensive experience in conducting prosecution of rape cases at fast track court. 
He also secured the conviction of Mahmood Farooqui, 'Peepli Live' film director, an accused in a rape case. Later Delhi High Court overturned the trial court's conviction. He has also been Special Public Prosecutor in several most sensitive and high-profile cases. 
He also fought the most gruesome rape and murder case of an 82-year-old widow at her residence in South Delhi in 2014 with her domestic help. As Special Public Prosecutor he is still conducting the trial of the Batla House Encounter case, India's most controversial police encounter case, and the Uphaar Cinema Fire Tragedy case pertaining to the tampering of evidence. Sh. A.T.Ansari did his B.A.(Hon.), LL.B, and  LL.M (International Laws ) from  AMU, Aligarh,(U.P.), India.
We are proud to have such an eminent personality on our Advisory Board.
---