Assam and Meghalaya held a Chief Minister level meeting in Guwahati to settle the border issue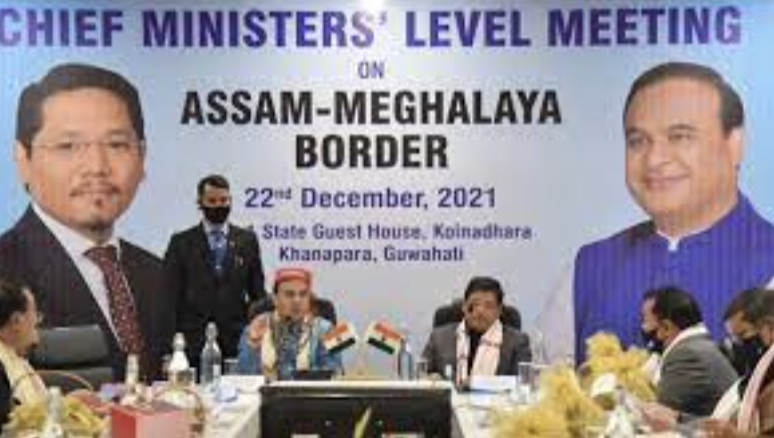 I. Introduction
The boundary dispute between Assam and Meghalaya has been a long-standing issue that has yet
to be addressed. Both sides claim control of some territories along the boundary between the two
states. This has resulted in several confrontations and tensions among the people that live in
these areas. The major source of contention is a lack of clarity about boundary delineation, which
has resulted in overlapping claims and uncertainty.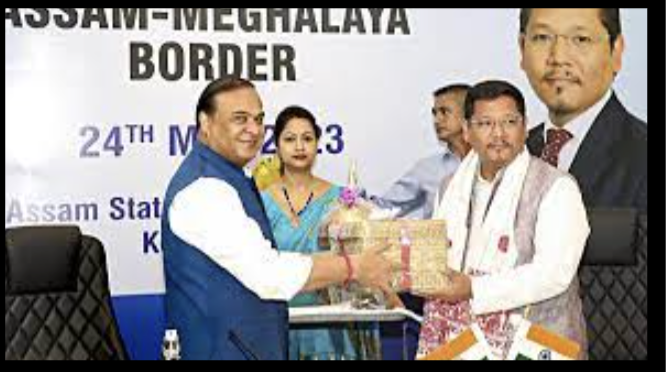 Furthermore, cultural and linguistic identities diverge between the two states, complicating issues even further. Despite the attempts of both state governments to address this matter, it remains unsolved and a source of stress and strife in the region. It is important for both sides to come together and find a peaceful solution that takes into account the concerns and aspirations of all stakeholders involved. Only then can we hope to achieve lasting peace and stability in this region.

The Chief Minister level conference between Assam and Meghalaya in Guwahati was a critical
step towards settling the two states' long-standing border issue. This conference allowed both
parties to come together and participate in productive discourse in order to find a peaceful
solution that takes into consideration the needs and ambitions of all stakeholders concerned. This
summit is crucial because it marks a critical milestone in efforts to foster long-term peace and stability in the area.
Both Assam and Meghalaya have showed their commitment to finding a mutually acceptable solution to this issue by cooperating and seeking common ground. Moving forward, it will be important for all parties involved to continue engaging in open and honest dialogue, with the goal of building trust and fostering greater cooperation. Only through sustained efforts can we hope to achieve a lasting peace that benefits everyone in this region.

II. History of the border dispute between Assam and Meghalaya
The boundary dispute between Assam and Meghalaya dates back to 1972, when Meghalaya
became an independent state. The disagreement revolves around the demarcation of the two
states' borders, with both sides claiming sovereignty of specific territory. This has resulted in
regular clashes between the two border villages, resulting in loss of life and property. Despite
several attempts by both state administrations to fix the problem, no long-term solution has been
discovered.
The presence of many ethnic groups and tribes in the region complicates matters
even further, each with their own set of interests and demands. To handle this difficult issue, all
parties must come together and engage in constructive discourse. This will require a willingness
to listen to each other's concerns and perspectives, as well as a commitment to finding mutually
acceptable solutions.

Previous attempts to fix the problem have met with opposition and discouragement, but we must
not lose faith. Instead, even when it is challenging, we must maintain open and honest
communication. We also need to be willing to make concessions and admit our own prejudices
and limits. It is critical to remember that while conflict is an inevitable component of human
contact, it does not have to result in violence or devastation.
We can create a more just and equitable society for everybody by working together and respecting each other's dignity and rights. Let us commit to the difficult task of building bridges rather than barriers and finding common ground rather than reflecting on our differences.

The constant political tension and uncertainty have created a sense of fear and division among
communities on both sides of the border. Businesses have been impacted as well, with trade
restrictions and increased security measures causing delays and added costs. However, it is
important to remember that the border issue is not just about politics and economics. It affects real people with families, hopes, and dreams.
We must prioritise compassion and understanding in our approach to this complex issue. This means listening to the voices of those most affected by the border policies, including immigrants, refugees, and indigenous communities. It also means recognising the interconnectedness of our world and the importance of collaboration across borders to address global challenges such as climate change and public health crises.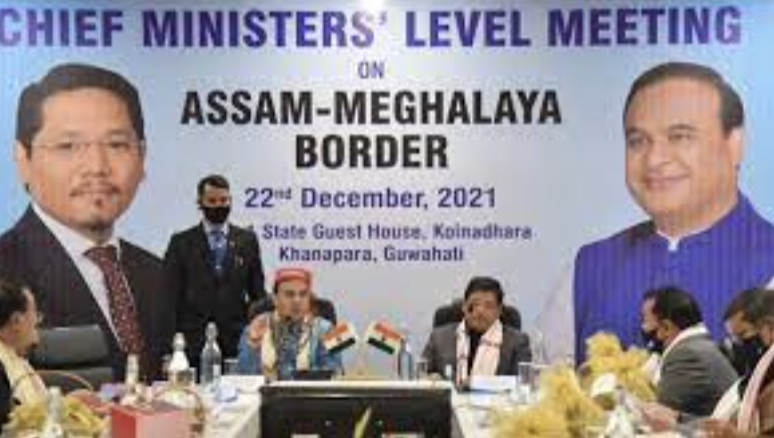 III. Meeting held between countries
The meeting's date, time, and place have yet to be confirmed, but it is likely to focus on critical
regional concerns such as economic development, security, and cross-border commerce. The
summit will allow leaders to exchange best practices and discuss strategies to increase
partnerships and cooperation. It is also an opportunity for participants to form relationships and
promote understanding within their local groups.
Aside from the Chief Minister level meeting, there will be a number of side events and talks spanning from cultural interaction to environmental sustainability. These events will allow civil society groups, business leaders, and other stakeholders to interact with government officials and share their thoughts on critical issues confronting the area. Overall, the Chief Minister level meeting represents an important step towards building a more integrated and collaborative future for our shared border regions.
Attendees and their roles at the Chief Minister level meeting may vary, but all share a common
goal of promoting economic growth and development in the region. Representatives from
various industries, including agriculture, manufacturing, and technology, are likely to attend in
order to advocate for policies that support their respective sectors. Non-profit organizations and
community groups may also participate to voice their concerns about social issues such as
education and healthcare. Additionally, academic institutions and research organizations may be
present to offer expertise on topics such as innovation and sustainability.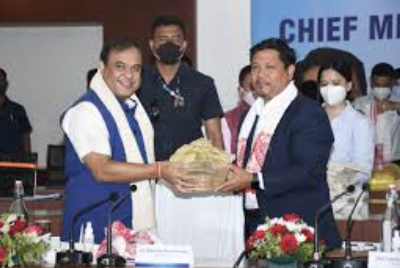 IV. Public reaction
The people of Assam and Meghalaya have been overwhelmingly favourable in response to the
gathering. Many residents have expressed gratitude for the efforts being made to better their
villages' economic and social situations. There is confidence that this gathering will result in
substantial improvements in infrastructure, education, healthcare, and employment prospects.

There are, however, worries about the possible damage on the environment and indigenous
traditions. Some have advocated for more community consultation and openness in decision-
making processes. Overall, it is apparent that the people of Assam and Meghalaya have a strong
desire for change and growth, and it is up to us as leaders to ensure that their voices are heard
and their needs are satisfied. We can create a better future for everyone in our shared border
regions by collaborating with all stakeholders.

Political leaders and professionals have differing perspectives on the outcomes of such
coordinated endeavours. Some claim that cross-border cooperation is necessary for economic
progress and stability, while others contend that it might lead to a loss of sovereignty and cultural
identity. However, there is no doubting that in today's interconnected world; cross-border
collaboration is becoming increasingly crucial.
It has the potential to improve infrastructure, boost trade, and promote peace and security. To make it work, leaders must be prepared to listen to all parties' issues and establish common ground. They must also be willing to devote time and money to fostering relationships and trust among neighbouring communities. Finally, the success of cross-border collaboration is determined by those involver's commitment and determination.
Future implications of the resolution on the regional level could be significant. By fostering
cross-border collaboration, we can create stronger and more resilient communities that are better
equipped to face the challenges of the future. This could lead to increased economic growth,
improved social cohesion, and a greater sense of shared identity among neighbouring regions.

Additionally, cross-border collaboration can help to break down barriers and reduce tensions
between neighbouring communities, paving the way for more peaceful and stable relationships in
the long term. However, achieving these goals will require sustained effort and investment from
all parties involved. Governments, businesses, and civil society organisations must work together
to create the necessary infrastructure and support networks for cross-border collaboration to
thrive. Ultimately, the success of these efforts will depend on our ability to overcome our
differences and work together towards a common vision for a brighter future for all.

V. Conclusion
Significance of the resolution of the Assam-Meghalaya border issue .In conclusion, it is clear
that the resolution of the Assam-Meghalaya border issue is a significant step towards promoting
peace and stability in the region. The successful negotiation of this longstanding dispute is a
testament to the power of diplomacy and cooperation between neighbouring states. It also
highlights the importance of recognising and respecting cultural differences while working
towards a common goal.
Moving forward, it will be essential for all parties involved to continue to build upon this progress and maintain open lines of communication. Ultimately, the success of these efforts will depend on our ability to put aside our differences and work together towards a brighter future for all. By doing so, we can create a more harmonious and prosperous society that benefits everyone.

In conclusion, effective communication is crucial for achieving our shared goals and aspirations.
We must prioritise listening to each other and finding common ground, even when we disagree. It's important to recognise that diversity of thought and perspective can be strength, not a weakness. Moving forward, we should continue to invest in programs and initiatives that
promote dialogue and understanding across different communities.
Additionally, we must hold ourselves accountable for upholding the values of
respect and empathy in all of our interactions. By working together with an open mind and a
willingness to compromise, we can build a more inclusive and equitable society for generations
to come.
Please follow and like us: