Breaking Barriers: The Path for Women's Right to Education.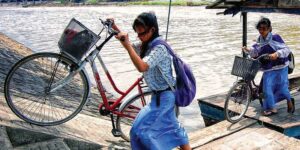 Education is the basic human right that every individual has from birth irrespective of nationality, sex, colour, or religion. Education is not only just learning things instead it is the definite path to empower individuals in different aspects of life and opens a way to access other human rights.
Nelson Mandela well said that "Education is the most powerful weapon which an individual can use to change the world." Men and women are like two wheels of a cart, if one of them is broken, then how will the cart work properly? In the same way, if women are uneducated then how society will progress?
If Girls are Educated
It is said that woman is the first teacher and the home is the first school of a child, likewise, if a man is educated, only he is educated and if a woman is educated, then her entire family will be educated. Women and girls have suffered discrimination and are still suffering the gender gap in silence in various fields of life like education, opportunities, and jobs, which started from their childhood.
According to a UN report, educating women is the only, surest, and most effective way to improve the lives and health of families and society. If girls are educated they are probably going to get employment, make money, and provide goods and services which boost the economy of a nation, less child mortality or female infanticide, lead healthy and productive lives, and a reduction in child marriage. According to the World Bank, investing in the education of women might boost GDP by as much as 10%.
Why Women's Rights are Not Negotiable
Educating women is the fastest and surest way to change the family, society, and even the world. There are various reasons which make women's right to education non-negotiable and some are given below
Educating women might boost the nation's GDP as they are going to make money or produces goods and services.
Out of 163 Million illiterate, about 63% are female, and educating them will increase the literacy rate.
Reduction in female infanticide, child mortality, and child marriage and leading healthy and productive lives.
Across the world, women are not represented equally as men in every scenario in life whether it is in jobs or political involvement. Educating them will not only make them capable of such involvement but also give them opportunities to do their best in life.
Education empowers them to make their own choices, and are less likely to face discrimination in life.
Education makes them aware of their other human rights like the right to privacy, health, freedom, etc.
Barriers to the Women's Education
The Right to Education is not just a mere right, it is a human right inherent from birth irrespective of sex, culture, nation, colour, and religion. This is the right of every single woman to freely access education, but some barriers kept a girl from education and these are –
Even girls have free access to education but the need for other supplies is expensive.
The mindset of parents about the evil and corrupt society.
Gender inequality which girls face from their birth.
The socio-cultural factor of various religions does not allow women to go outside the home.
Child marriages and early pregnancies stop them to take education.
The mindset of a parent in rural areas is that after her marriage her husband will be her legal guardian and it is his duty to take care of her, so why education is necessary. Such a mindset is not harmful only to that girl but also affects the society and nation.
Ways to improve girls' education
For the betterment of society, educating women is very necessary but still, they are facing various problems in silence. To overcome such a problem, the following are some suggestions which can create a better atmosphere –
Promoting awareness about the value of education.
The mindset of parents about girls, education, and rights should be changed.
Stop child marriage, sexual harassment, female infanticide, and violence.
Improve the educational system.
Provide equal opportunities in different aspects of life.
Conclusion
Women have a lot of capabilities but over the year their capabilities have been suppressed in different ways and opportunities have been taken from them. If we want that all this should not happen in the future, women must be educated, and education is not necessary for women but it is also very important for those who consider themselves better than them.

Please follow and like us: