ONGC and Oil India: Faced with Competition from Chinese Company Sinopec because of excessive delays and bureaucracy on the part of the Indian Side.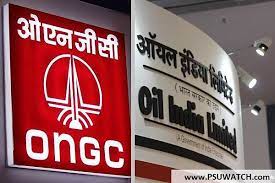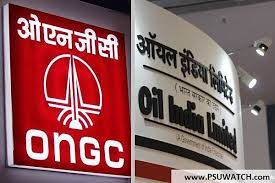 BACKDROP OF THE EVENT
The Indian government has several public sector undertakings (PSUs) for varied purposes which include oil, gas, power, petroleum, electricity, Steel, aviation, aircraft, and minerals.
One of the most important ones is ONGC which is primarily concerned with the extraction of oil and natural gas. ONGC has an international arm named as ONGC Videsh which is required to prospect for oil and gas acreages outside India, including exploration, development and production of oil and gas.
Accordingly, the ONGC made a proposition to buy half of the shares held by Tullow, Africa Oil Corp., and Total Energies SE in Kenya's Loki char oilfield. The same was readily accepted by the board of OVL while noting that IOC shall be asked to partner up in this deal.
Negotiations between OVL and IOC went on for a long time to decide the specifics of the partnership however, IOC withdrew due to its financial troubles and consequently oil India Corporation had been named as the replacement for IOC.
The chaotic circumstances and inordinate delay in the finalisation of the deal gave the Chinese firm China Petroleum & Chemical Corporation (Sinopec) an opportunity to steal the deal and the same has been done with intense rigour.
Tullow Oil Plc had initially found India to be the right choice because of the astounding similarity between Kenya's project and Barmer fields in Rajasthan which would have resulted in efficiency and synergy. The Chinese have garnered considerable reach in the continent of Africa and they will use it to their advantage.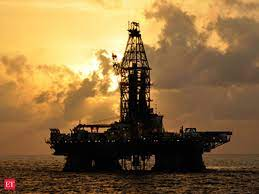 VARIOUS UNDERTAKINGS OF ONGC VIDESH LTD(OVL) WORLDWIDE AND THE CONSEQUENT IMPACT
ONGC Videsh Limited (OVL), the international subsidiary of the Oil and Natural Gas Corporation (ONGC), has been involved in several crucial projects worldwide, making a significant impact on India's energy security and economic growth.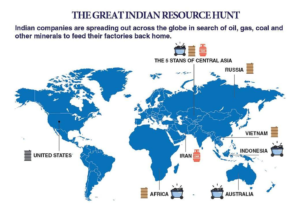 One notable project undertaken by ONGC Videsh is the Greater Nile Oil Project in Sudan. OVL holds a stake in the consortium that operates oilfields in the Muglad Basin and exports the produced crude oil through pipelines.
This project has not only helped India secure a consistent supply of crude oil but has also strengthened bilateral relations between India and Sudan. Another important project led by ONGC Videsh is the Sakhalin-I project in Russia. OVL has a stake in this consortium, which explores and produces oil and gas reserves off the coast of Sakhalin Island.
The project has been instrumental in enhancing India's energy portfolio and diversifying its sources of hydrocarbons. ONGC Videsh has also ventured into the exploration and production of oil and gas in various other countries, including Vietnam, Myanmar, and Venezuela, among others. These projects have enabled India to access new reserves, expand its energy footprint globally, and reduce its dependence on volatile international oil markets.
The importance of ONGC Videsh's projects extends beyond energy security. These ventures also promote technological collaboration, knowledge transfer, and capacity building, fostering economic cooperation between India and the host countries.
Additionally, ONGC Videsh's overseas investments contribute to India's foreign exchange earnings and have a positive impact on the nation's balance of payments. In summary, ONGC Videsh's projects have played a crucial role in ensuring India's energy security, diversifying its energy sources, and strengthening its global presence. These endeavours have not only provided access to hydrocarbon reserves but have also fostered economic cooperation and contributed to India's overall growth and development.
INORDINATE DELAY IN APPROVALS HAS BEEN THE MOST DEVASTATING CAUSE OF FAILURE FOR ONGC VIDESH LTD ON MULTIPLE FRONTS
Delays in approvals can indeed have a negative impact on the success of projects undertaken by ONGC Videsh Limited (OVL). Here are some ways in which delays in approvals affect ONGC Videsh: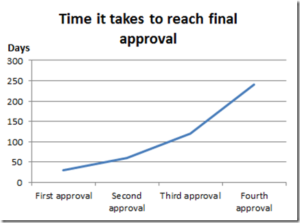 1. Project Timelines: Delays in obtaining necessary approvals lead to project timelines being extended significantly. This results in increased project costs, as resources and equipment may need to be mobilized for longer durations. Moreover, delays impact the overall project schedule, affecting production targets and revenue generation.
2. Cost Overruns: Extended project timelines due to approval delays result in cost overruns. Additional expenses are incurred in terms of increased operational and maintenance costs, prolonged contractual commitments, and inflationary pressures. This has a direct impact on the financial viability and profitability of OVL's projects.
3. Opportunity Loss: Delays in approvals cause OVL to miss out on lucrative investment opportunities. In the highly competitive global energy market, delays give an advantage to other companies that are more agile in securing projects and contracts. This results in missed opportunities to acquire strategic assets, explore new reserves, and expand OVL's presence in key regions.
4. Regulatory Uncertainty: Approval delays create a sense of regulatory uncertainty for OVL and its stakeholders. Uncertainty regarding project approvals, permits, and licenses make it challenging to plan and execute projects effectively. It also impacts the company's reputation and investor confidence, potentially affecting future investments and partnerships.
5. Relationship Strain: Delays in approvals strain the relationships between OVL and host governments, partners, and stakeholders. Such delays are perceived as a lack of commitment or confidence in the project, leading to strained negotiations and potential conflicts. Building and maintaining strong relationships with host governments and partners are crucial for successful international ventures.
To mitigate the impact of approval delays, OVL shall engage in proactive stakeholder management, establish transparent communication channels with regulatory authorities, and actively participate in dialogue with host governments to streamline approval processes. Additionally, fostering strong diplomatic relations between India and host countries can help create a favourable environment for approvals and project execution.
THE WAY FORWARD
The instant scenario is just another reminder that unless we find a way to streamline the approval process and grant immediate approvals ONGC will be left toothless as the fierce competition today makes it imperative that immediate decisions be taken.
One of the prominent reasons that enabled China to grow by leaps and bounds both internally and in other countries is its efficient approval process. Also, the debate goes on that China has been able to do it because they have a communist set-up is fair but it does not mean a democracy cannot have an efficient mechanism for approvals.
Countries such as Germany have been able to thrive in the competitive market with their magnificent approval mechanisms despite being a democracy. Lastly, we must have a long-term policy regarding whether we intend to arm OVL with the necessary weapons to fight and thrive in the international arena.
Please follow and like us: