DIVULGING HUMAN RIGHTS VIOLATION- AN ANALYSIS OF UNTOUCHABILITY PRACTICE IN INDIA
ABSTRACT
Human rights are the foremost and inborn rights of all humans that cannot be repudiated by any individual regardless of background. The abolition of Untouchability is one of the fundamental human rights. This article depicts the divulging practice of untouchability in India which was abolished by GOI in 1955.
Article 17 of the Indian Constitution enlightens the abolition of untouchability and made its practice in any form, forbidden. In addition, the author incorporated several Indian laws and regulations governing untouchability.
The object of the article is to highlight the dark side of the Indian caste system and its brief history; explore and explicate various current and impending issues connecting to untouchability; disclose the detrimental effect of untouchability on lower caste people; examine novel approaches to control untouchability.
The author focused on various landmark cases of untouchability in India. The author also imparted suggestions to control and regulate the practice of untouchability in India along with the penalties stipulated by the Indian government for doing so.
GENESIS OF UNTOUCHABILITY IN INDIA
To comprehend the historical backdrop of untouchability, understanding the term Dalit is chief. Dalits are the lowest-ranking members of India's caste system. They are typically street sweepers and manual scavengers. They were considered shabby and treated like slaves by members of the upper caste, such as Brahmins and Kshatriyas.
They are prohibited from entering the temple and are considered a sin. They are not permitted to acquire water from upper-caste users' water sources such as bore well, reservoirs and so on. They are not allowed to touch or use vessels belonging to the upper caste. In schools, Dalit children should sit on the floor and not equally on the table with children of higher castes.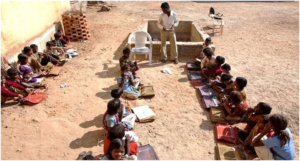 INDIA'S CASTE SYSTEM
Manusmriti, which acknowledges that the caste system in India is based on order and regularity of state, is regarded as the ancient Hindu religion's authoritative book.
The four main castes that Hindus belong to are Brahmins, who were primarily intellectuals and teachers; Kshatriyas, who were warriors and rulers; Vaishyas, or traders; Shudras, who did all menial work and came from Brahma's feet. Based on occupation, India had approximately 25,000 sub-castes and 3,000 castes.
Casteism is a mental illness rather than a mental state. To achieve high socio-economic status, people should treat others equally, regardless of caste.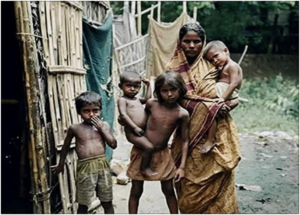 UNTOUCHABILITY – BANE TO SOCIETY
Despite its prohibition in the constitution, untouchability persists among people in both rural and urban India. Even when Indians work or live abroad, caste prejudices persist because caste segregation is so ingrained in Indian society. To end untouchability, Mahatma Gandhi frequently found himself among the Harijans and referred to himself as an untouchable.
Albeit the Untouchability (Offenses) Act of 1955 naturally restricted untouchability, it still exists in specific structures in private social cooperations as well as in the public realm. The most prominent company named Apple made its policies on training, hiring, and employee conduct, prohibiting caste-based discrimination and harassment. Lower caste or economically backward individuals are permitted to take a stone and transform it into a divine being sculpture, but they can't go to a temple. The oppression of lower caste people by society is implied by this quote.
LAWS RELATED TO UNTOUCHABILITY IN INDIA
In India Untouchability was legitimately abolished, and the Anti-Untouchability Act of 1955 foreshadowed its practice in any structure/form. After the Anti-Untouchability Act of 1955, the "Protection of Civil Rights Act of 1955″ was passed in 1976, to make it more stringent and effective. In addition, the Indian government enacted the " SC/ST Prevention and Atrocities Act, 1989″
Article 6 of the ICERD 1, 1965, assures effective protection and remedy against any acts of racial discrimination that violate his human rights and fundamental freedoms in violation of this convention.
The Indian constitution's Article 17 discusses the abolition of untouchability and any form of its practice. According to Article 46 of the Indian Constitution2, the State should improve the educational and economic interests of the weaker section of the people, especially for the Scheduled Castes and Scheduled Tribes, with particular care.
Article 7 of ICCPR3 restricts the utilization of torture, cruel, inhuman or degrading treatment or punishment against people. Article 9 of the ICCPR guarantees a person's right to freedom, safety,
and freedom from arbitrary arrest and detention. The right to equal legal protection is guaranteed by Article 26 of the ICCPR, which also prohibits all forms of discrimination. According to Article 7 of the International Covenant on Economic, Social, and Cultural Rights4, everyone has the right to just and favourable working conditions, such as fair wages and equal pay for equal work.
LANDMARK CASES CONCERNING UNTOUCHABILITY IN INDIA
The Rajasthan High Court's decision in Jai Singh v. Union of India5 and the Madras High Court's decision in Devrajiah v. B. Padmana6 defined untouchability and stated that the phrase "Untouchability" in article 17 of the Indian constitution is enclosed in inverted commas, indicating that it should not be interpreted literally or grammatically.
In the People Union for Democratic Rights v. Union of India7 case, the court stated that all citizens are entitled to protection from the practice of untouchability from both the state and private individuals under articles 15 and 17. In the case of The State of Karnataka v. Appa Balu Ingale8, the court stated that the goal of Article 17 is to reclaim the ethical and moral roots that society has lost as a result of its blind and ritualistic adherence to cultural norms.
SUGGESTIONS
If everyone in India wants to get rid of the idea of untouchability, they should all take the steps listed below.
AWARENESS: Educate the children and youngsters about the right to education and equality. The government also should take more initiatives to arrange accommodation and food for economically backward students.
ACCOMMODATION FACILITY: Bad housing conditions not only affect their health but also affect their morality. So Dalits and Harijans should be given ample housing facilities.
JOB OPPORTUNITIES: Indian law grants privileges to Dalits, Harijans, and SC/ST individuals for their low standard of living. Instead of relying on government privileges, they should educate themselves to fit the job.
CASTE SYSTEM: The caste system is the stepping stone for untouchability. It would be ideal to abolish the caste system, but doing so is difficult.
BROTHERHOOD: Unity and equality may result from a feeling of brotherhood among individuals.
---
1 International Convention on the Elimination of All Forms of Racial Discrimination, 1965
2 Indian Constitution, 1950
3 International Covenant on Civil and political rights, 1976
4 International Covenant on Economic, Social, and Cultural Rights, 1966
5 AIR 1993 Raj 177
6 AIR 1958 Kant 84
7 1982 AIR 1473
8 AIR 1993 SC 1126
Please follow and like us: