MEGHALAYA WATCH OUT! PLIGHTS IN THE GUISE OF INDIGENOUS RIGHTS.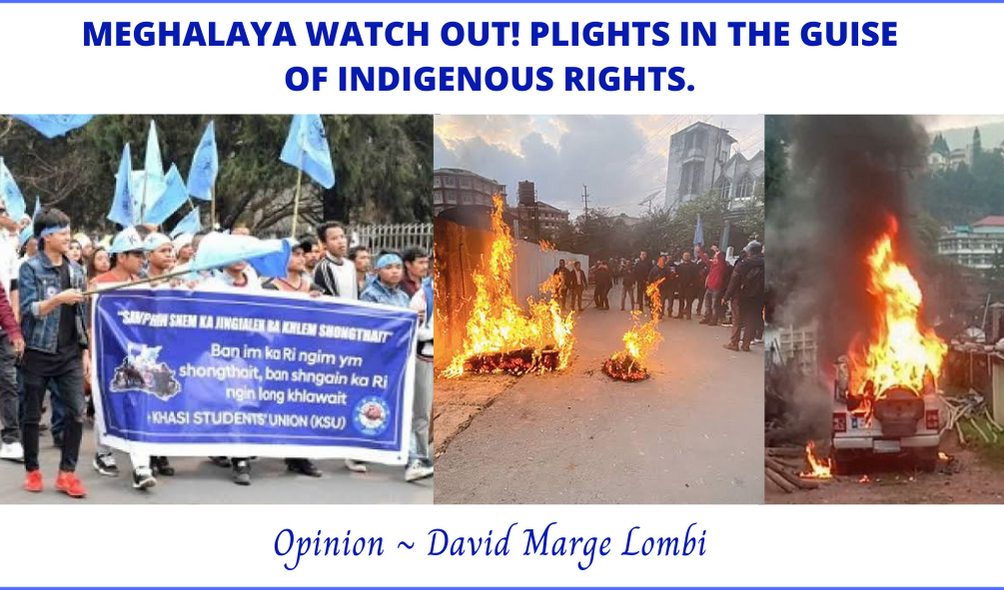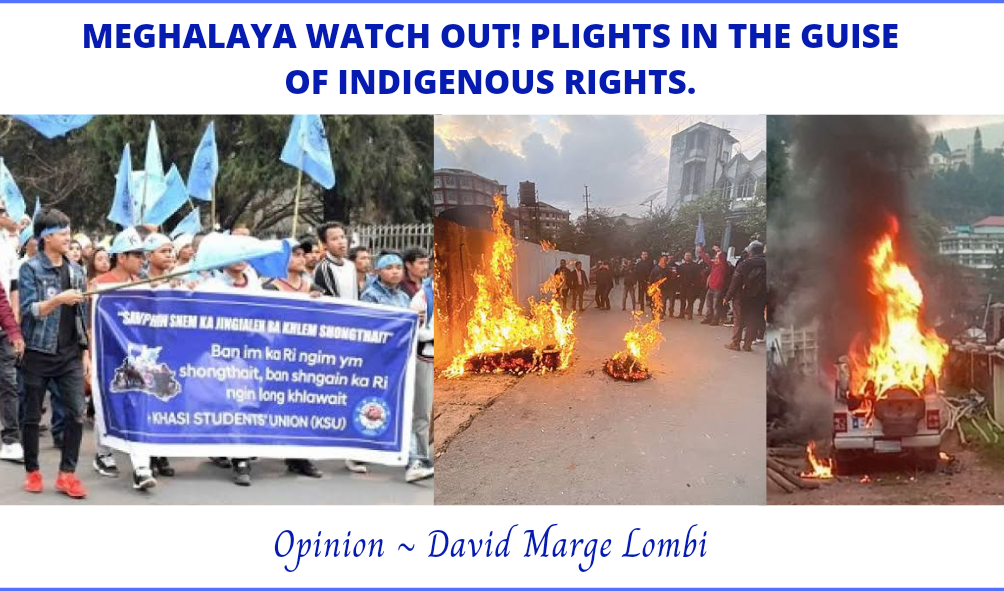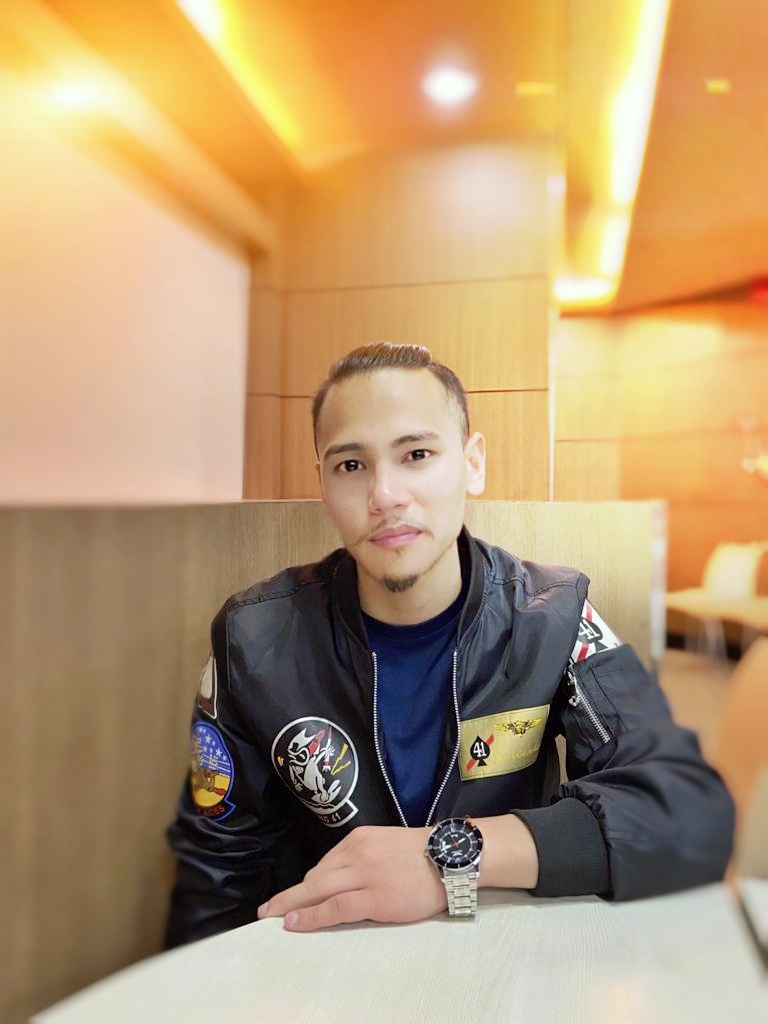 ---
"When dictators and tyrants seek to destroy the freedoms of men, their first target is the legal profession and through it the rule of law." ——Leon Jaworski
GENESIS.
Shillong which is at present the capital city of Meghalaya was established in 1874 as the headquarters of the erstwhile Assam Province. Meghalaya was carved out of Assam in 1970.[1] After the proper separation of the aforementioned two States, issues of indigenous identity, culture, and rights that remained suppressed earlier became subjects of irreconcilable conflict.
Since 1985, the State and the non-State actors in Meghalaya have been demanding ILP. The State has witnessed ethnic riots and communal violence in 1979, 1984, 1987, 1992. There were curfews for a whole year. Since then, many non-tribals had left Shillong.
Then somehow only, Meghalaya witnessed a peaceful situation for almost two decades. But then again, Anti-CAA agitation across the Northeast led to protests in Meghalaya also. Now, this was vigorously coupled with the demand for implementation of ILP too. These movements resulted in friction between tribals and non-tribals. Eventually igniting the fire of native vs outsiders.
THE ENEMY IS IN THE HOME.
In this era of globalisation, when we call ourselves global citizens first, and then countrymen, how can we isolate ourselves against the world by a mere boundary which only exists in our minds. Today Meghalaya should not get deceived by the false gospel preached by the anarchists disguised as prophets.
Several non-State actors like students' union, pressure group, civil society organisation, and militant have always worked hand in glove to create huge unrest in an otherwise peaceful State "Meghalaya". And they do so by misleading the young-spirited minds and indigenous people with their false gospel which is nothing but a xenophobic lie against non-natives in Meghalaya.
The young-spirited minds and the indigenous people of Meghalaya have always trusted, accepted, and followed their call in every walk. They have always believed them to be their right voice, but less do they know, the greatest threat to the peace, harmony, and fertility of Meghalaya have always been these anarchists who hide amidst them disguised in a cloak of legitimacy.
WHEN POWER RULE OVER THE LAW.
These non-State actors who disguise themselves in the cloak of legitimacy, have always rained plights in the guise of indigenous rights. The list of their infamous commissions which have always harmed the lives of both, the natives and non-natives in Meghalaya, shall lead on to infinity, but to mention them all, my paper is way too limited today.
Every time that these "non-State" actors who I better mention as "anarchists", come down in the open streets of Meghalaya, it's not very difficult to trace them. Their marks shall be the strong mob with placards of racial slurs, huge smoke of the fire, voices echoing threats, and pulling down shutters in the entire town.
Their every pursuit has always started with coming on the street, then leading to curfews and shutdowns of the internet, eventually ending with losses to life and properties of both, natives and non-natives living in an otherwise peaceful State "Meghalaya". Vandalizing properties of all kinds from private, public, to the government, and killing of humans have always been the mark and trend of these anarchists.
THE BEWILDERED GOVT. FAILS IN ITS COURSE.
I don't believe that Meghalaya is a failed State, which many people believe. All it lacks is a competent and efficient government that can guarantee equal protection to the rights and liberties of all sections of people.
But sadly, amidst such a state of anarchy, the incompetent Govt. of Meghalaya led by Conrad Sangma remains calm with minimal intervention. This government invariably fails in its course to tackle down such high handed anarchists who are the actual threats to the Rule of Law, and the rights of the indigenous people of Meghalaya.
Today Meghalaya needs to keep a close eye on this incompetent Government too. Because, if State and non-State actors club their dictatorial interests together, the interests of the citizens shall be cornered to the shore at an instance.
MEGHALAYA MUST BE REMINDED.
The rights and identities of indigenous people is a matter of concern. It is a concern not just in Meghalaya, instead worldwide. The topic is often debated on international platforms. All that we require is an intellect and a humane course, we must fight the good fight being sane. Meghalaya must immediately abort the culture of the entire community chasing behind the another, merely because some State or non-State actors have tagged them as alien to the region.
While I stand in solidarity with the fight to promote & preserve indigenous people's interests, I can never go along the pathetic way in which our issues are addressed by incompetent advocates. Our fights for our rights are often made weak by the trouble mongers disguised as advocates of indigenous people.
These trouble mongers in Meghalaya must learn that everywhere someone is always a minority or a majority. Where will they hide, while it's someone else's turn to chase them out.
---
Opinion Disclaimer: The views and opinions expressed in this piece are personal of the author, and do not necessarily reflect the official policy or position of the team "Legal Research & Analysis".
---
Please follow and like us: