Exploring the Resurgence of Paganism: History, Beliefs, and Practices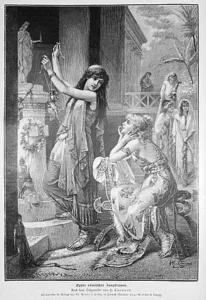 Paganism is a diverse and complex spiritual and religious tradition that has been practised by various cultures and societies throughout history.
Although the term "pagan" originally referred to non-Christian religions in Europe, it has since been adopted by practitioners of various pre-Christian, non-Abrahamic, or non-monotheistic religions from around the world.
One of the key features of pagan religions is their polytheistic or animistic nature. Most pagan traditions involve the worship of multiple deities or spirits, often associated with natural phenomena such as the sun, moon, stars, or elements. Pagan gods and goddesses are often seen as personifications of different aspects of nature or human experience and may be celebrated through rituals, offerings, or other forms of devotion.
Another important aspect of paganism is its connection to nature and the cycles of the seasons. Many pagan religions place a strong emphasis on the interconnection of all living beings and the natural world and may include practices such as ritual magic, divination, or ancestor veneration. Seasonal festivals, such as the solstices and equinoxes, are often celebrated as important times of transition and renewal.
Paganism's History, Beliefs and Practices
Paganism can encompass a wide range of beliefs and practices, from the reconstruction of ancient religions such as Hellenism or Norse paganism to modern neo-pagan movements like Wicca, Druidry, or eclectic paganism. Each pagan tradition has its own unique history, mythology, and set of practices, and may be influenced by various cultural, philosophical, or spiritual traditions.
One of the strengths of paganism is its adaptability and flexibility. Many pagan traditions are characterized by a willingness to incorporate new ideas and practices, and to evolve over time. This has allowed pagan religions to survive and thrive in different historical and cultural contexts, and to continue to be relevant to modern practitioners.
However, paganism has also faced challenges throughout history, including persecution and marginalization by dominant religious or political authorities. In some cases, pagan traditions have been suppressed or eradicated, and their followers have been forced to practice in secret or assimilate into other cultures. Today, many pagans continue to face discrimination and misunderstanding from mainstream society.
Despite these challenges, paganism has continued to grow in popularity and visibility in recent years. This can be attributed to a variety of factors, including increased religious diversity, the internet and social media, environmental concerns, and personal empowerment. The resurgence of pagan traditions has led to greater awareness and appreciation of non-Christian religions and has helped to promote greater acceptance and tolerance of different spiritual paths.
In conclusion, paganism is a complex and multifaceted spiritual tradition that has been practised by various cultures and societies throughout history. Its polytheistic or animistic nature, connection to nature, and adaptability have allowed it to survive and evolve over time, and to continue to be relevant to modern practitioners. While paganism has faced challenges and persecution throughout history, its resurgence in popularity and visibility in recent years has helped to promote greater understanding and acceptance of non-Christian religions and to encourage the exploration of alternative spiritual paths.
Paganism has experienced a resurgence in popularity in recent years, particularly in Western countries such as the United States, Canada, and the United Kingdom. There are several reasons why this might be the case:
Increased Religious Diversity: As Western societies become more diverse, there is a growing awareness and acceptance of non-Christian religions, including pagan traditions. This has led to a greater interest in exploring alternative spiritual paths.
Internet and Social Media: The internet and social media have made it easier for pagans to connect with each other and share information about their practices. This has helped to build a sense of community among practitioners and has made pagan traditions more visible to the general public.
Environmental Concerns: Many pagan traditions emphasize the importance of nature and the environment, which resonates with people who are concerned about climate change and other environmental issues.
Personal Empowerment: Paganism often emphasizes personal empowerment and encourages individuals to take an active role in shaping their own spiritual path. This can be appealing to people who are looking for a more individualized approach to spirituality.
Pop Culture: Pagan themes and imagery are often featured in popular cultures, such as in movies, TV shows, and music. This exposure has helped to make pagan traditions more accessible and has generated interest among people who may not have been familiar with them otherwise.
Overall, the rise of paganism can be attributed to a combination of cultural, social, and personal factors that have led to a growing interest in alternative spiritual paths.
Please follow and like us: