Right to Shelter, Right to Livelihood in Joshimath, Uttarakhand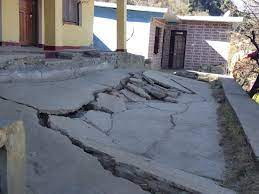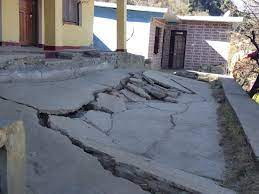 The Problem of Joshimath – Joshimath, a small town in the Chamoli district of Uttarakhand, is situated at an altitude of 1800 meters in the lap of the Himalayas, whose a population is about 23000. Shri Badrinath Temple is about 45 km from here.
It is said that this city is situated on land made of sedimentary rocks from landslides about 100 years ago, which is unsuitable land for construction works. Due to this, any kind of construction work was banned in this area. According to the Seismic zonation map of India, the Joshimath area has been placed in Zone-V, Zone-V includes areas with extremely high risk. 1*
This Joshimath area is currently facing the brunt of cracks, land-subsidence. For the first time on October 2021, cracks were seen in Gandhinagar of Joshimath, since then till now cracks and land subsidence are going on here continuously.
Uttarakhand State Disaster Management Authority_ (Uttrakhand state disaster management authority) also published a report in September 2022 stating that whatever construction work is going on in Joshimath, it is being done in an unplanned manner, which can be extremely dangerous. .2*
Cause of Landslide:
1. Tapovan Hydroelectric Project_ which started in 2006, one of its tunnels passes under Joshimath, on 24 December 2009, during construction, the aquifer was punctured by equipment there, due to which a large amount of groundwater came out of the ground.
Started coming to Geologists MP J Bisht and Piyush Rautela published a paper in 2010 (Disaster looms large over Joshimath) stating that this Tapovan project could change the geography of Joshimath.3*
2. The Supreme Court banned the construction of Helan Marwari Bypass Road Geologist Naveen Juyal_ who was a member of the High Power Committee had suggested that this road should not be built until its geotechnical feasibility study is done because explosives are often used to build such a road. is used to.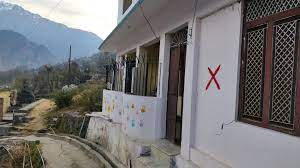 Study of various committee
1. MC Mishra Committee 1976,_ had suggested that because this area is very raw, the stones here should not be tampered with, do not dig here carelessly, not use explosives, and there should be a solution for drainage. 4*
2. Wadia Institute of Himalayan Geology_ 2006, it was found in this report that Joshimath can see a huge landslide.5*
3. In 2013, the Supreme Court formed a committee that studied the hydropower project and suggested that this area is not suitable for such schemes, but the government did not agree and the construction work continued.
4. Joshimath Bachao Sangharsh Samiti_ is a group that has been continuously opposing NTPC since 2004 ISRO recently observed a landslide of 5.4 cm from 27 December 2023 to 8 January 2023.
Violation of public rights– Governments have always used Joshimath only for their own benefit, and never thought about the local people, the local people always had to pay for all this, which violated their rights.
Because there was no direct violation of the rights of the local people in this area, neither any human rights-related organization did anything nor did any report related to the violation of rights made.
All this is not only a matter of Joshimath, but it was also seen in Tehri Dam Water Project, Beas River Project, etc. People had to leave their places forcibly or say so under compulsion. The following rights of the people there were violated-
Rights and Constitution
1. Right to shelter– Home residence is an important capital for any person, in which he feels most secure, and sometimes that home residence is your very old ancestral property, due to which our attachment is more towards it.
Till January 7, 2023, cracks have appeared in 561 houses in Joshimath and are being marked and demolished by the government, and compensation is also being given to the people as relief, but the local people say that this compensation is not enough. is less.
Article 19 (1) (e) and Article-21 of the Constitution of India give shelter and the right to settle anywhere in India, but the government in this way rejects the reports of all the committees without prior approval of its authority. There is a need to avoid starting such construction work of a study which causes repeated inconvenience to the local people there.
During this landslide, there were many families whose economic condition was not good, they had to face a lot of sorrow, but it did not matter to anyone because it was all an indirect violation of human rights, which was not directly applicable to anyone. Showed.
2. Right to earn livelihood_ In Joshimath, people are engaged in many activities, some do business, and some do small jobs, because this place was very important from the point of view of tourism, then most of the employees came from the field of tourism, as in this area.
Many hotels had become restaurants that were providing employment to the local people. Due to frequent landslides, cracks started appearing in the hotels, due to which this business came to a standstill and an economic crisis also started arising in front of the people.
3. Right to Sustainable Development– Indian Constitution through Article 21 ensures to give a safe and danger-free environment for all the citizens, since at present the development work in Joshimath is being done in an uncontrolled manner, which is affecting the local People's lives and property are in constant danger. The reason for all these irregularities has been the governments which have always neglected the local public.
Conclusion
Governments have never accepted any committee or report, but the present or whatever government is formed in the future, they should take special care while doing construction work in such sensitive areas or take any decision only after a systematic study. The construction work should start so that people do not have to face the problem of rehabilitation again and again and their lives keep on improving.
---
*Sources used*
Website of seismic zonation map of India
2. Uttrakhand state disaster management authority
3. Disaster looms large over Joshimath
4. Report of M.C.Mishra committee, 1976
5. Report of Wadia Institute of Himalayan Geology, 2006
6. ABP news
Please follow and like us: