S. M. Marjina Sultana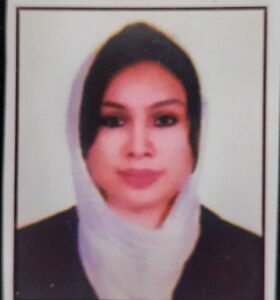 S. M. Marjina Sultana, currently pursuing a Ph.D. from Aligarh Muslim University. Before enrolling in her Ph.D., She was teaching as an assistant professor at Indraprastha Law College, Greater Noida.
She had 3 years of teaching experience from the same college. She also taught at various law coaching centers namely, Herald Law Academy, Sangam Vihar, Delhi, Suprema Lex Legal Academy, Haridwar, Uttarakhand, and National Coaching Academy, Aligarh, Uttar Pradesh.
She has attended and presented papers at various National and International Seminars and Conferences organized by various reputed universities and institutes namely, Nani Palkhiwala Arbitration Centre, New Delhi; Law Mantra (Think Beyond Others) in Collaboration with The Indian Law Institute, New Delhi; Rajiv Gandhi National University of Law, Punjab; National Law University and Judicial Academy – Assam; Maharashtra National Law University – Nagpur; Maharashtra National Law University – Aurangabad; DCCPR – Govt. of Delhi, Faculty Of Law, Jamia Millia Islamia, New Delhi; Faculty of Law, University Of Lucknow, Uttar Pradesh; Indraprastha Law College, Greater Noida.
Her article "Criminalisation of Instant Triple Talaq and Empowerment of Muslim Women: A Critical Appraisal" in Published in Law Mantra Quarterly Online Journal – ISSN 2321-6417.
She had been practicing in the High Court of Manipur under MD. Rabi Khan, is also a member of the Bar Council of Manipur, Waqf Board Manipur (Secretary), and Human Rights Council Manipur.
She had Internship experiences at the Supreme Court of India Under Senior Advocate J.S. Attri, Delhi Legal Services Authority, New Delhi, Saakar Outreach (Grc-Sk), New Delhi.
She participates in various women's organizations, socio-economic organizations, development organizations, and student associations as an advisor, a panelist in a Web Talk, writing articles for magazines and press, delivering speeches in programs, etc.
---