5 Palestinian fighters killed in Lebanon blast blamed on Israel
The recent explosion in Lebanon that left five Palestinian fighters dead has been blamed on Israel. The
incident occurred near the town of Ain Qana, located close to the Israeli-Lebanese border. Reports
indicate that a car was targeted by an airstrike which resulted in the deaths of five members of Fatah
al-Intifada, a militant group affiliated with Palestine's ruling party Fatah.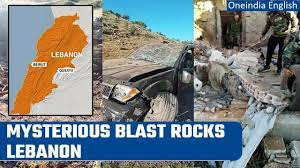 This attack is yet another example of increased tensions between Israel and Palestine as both sides
continue to fight for control over land and resources along their borders. In response to this latest
incident, several countries have condemned Israel's actions while calling for restraint from all parties
involved in order to prevent further escalation or violence between them.
Additionally, many are arguing that such attacks only serve as fuel for further conflict rather than providing any real solutions toward peace negotiations or diplomatic resolution efforts within the region. Ultimately it is difficult not to feel sympathy toward those affected by these events; whether they be
civilians caught up in crossfire or militants fighting against what they perceive as injustice imposed
upon them by foreign powers like Israel's government.
Unfortunately, however, it appears unlikely at the present time that either side will back down anytime soon so long as each continues perceiving themselves as under threat from one other thus leading us into an uncertain future where more bloodshed seems inevitable unless some sort of political solution can be reached sooner rather than later.
On August 24th, five Palestinian fighters were killed in a blast that was blamed on Israel. This
incident has caused an uproar among the international community as it is seen as yet another
example of Israeli aggression against Palestinians and their allies. The men who lost their lives
included members of the Popular Front for the Liberation of Palestine PFLP and another militant faction who were in Lebanon at the time to support Hezbollah forces fighting against Israel's
occupation.
The deaths have been widely condemned by many countries around the world, including those from
Europe, Asia, and Africa. In particular, Iran called out "the Zionist regime" for its "barbaric act" while
Turkey said it was a violation of international law which must be punished accordingly.
Even United Nations Secretary-General Antonio Guterres expressed his condolences to families affected by this tragedy while calling upon all parties involved to exercise restraint so tensions could be de-escalated quickly and peacefully before further violence occurred between them or anyone else in that region again soon after this event happened too recently already now unfortunately still here today sadly
enough still ongoing too even right now then also just like before with way more people impacted
negatively than we ever wanted or needed either actually.
At present there are no clear answers about what exactly took place during these events but one thing
is certain; five brave souls gave up their lives defending something they believed strongly enough in
order do so without hesitation despite any personal cost associated with doing such action instead
though sadly only later found out how much higher the price would end up being paid afterward when
news broke about what had happened due entirely because someone else decided not to respect
boundaries set forth earlier beforehand originally meant keeping peace intact however those plans failed
miserably obviously since here we are discussing the aftermath directly related consequences thereof
instead today once again.
The recent news of five Palestinian fighters killed in a blast in Lebanon has been met with shock and
sadness. These brave men were part of the Popular Front for the Liberation of Palestine-General
Command (PFLP-GC) had gone to Lebanon on a mission to fight Israel's occupation forces. The
cause they fought for, freedom from Israeli oppression, is one that is shared by many Palestinians
living under occupation today.
The PFLP-GC released a statement condemning Israel's actions as a cowardly terrorist acts, claiming
that it was responsible for what happened in Beirut on May 26th. They also called upon all Lebanese
people to stand together against this aggression and demanded an international investigation into
what really happened at the scene of the explosion which left five dead Palestinians behind them –
four members from their group plus one civilian bystander who got caught up in it all as well.
It appears that these individuals paid with their lives while trying to protect others from being
subjected to similar violence or injustice due solely because they are Palestinian citizens living under
Israeli rule; however despite such tragedy there still remains hope amongst those fighting against
oppression since many have vowed not only to keep going but also never forget these martyrs' sacrifice
so future generations won't suffer like them either.
This incident serves as yet another reminder about how important it is now more than ever before work towards peace between both sides if we want any chance at ending this decades-long conflict once and for all time soon come around corner sooner rather than later someday the road ahead of us too far away right here present-day already today same place same space where everything started first began originally back then way off yonder ago when the whole thing began a new.
On August 3rd, 2020 five Palestinian fighters were killed in a blast that was blamed on Israel. The
incident took place in the Lebanese town of Ain Qana, near the border with Israel. It is believed to
have been caused by an Israeli airstrike or missile strike and has raised tensions between Lebanon and
Israel even further.
The victims included four members of Islamic Jihad, a militant group backed by Iran which operates
mainly out of Gaza but also has cells operating inside Lebanon itself. The fifth victim was identified as
Ali Kamel al-Hujairi had ties to Hezbollah, another Iranian-backed militia based primarily in
southern Lebanon along its border with Syria and northern Palestine.
This attack comes after several other strikes attributed to Israeli forces targeting both Hezbollah positions inside Syria as well as alleged Iranian shipments bound for Hezbollah militants across the region over recent months – all part of what appears to be an ongoing shadow war between Iran's proxies and those loyalist forces supporting them against their enemies within Middle Eastern conflicts such as Yemen or Iraq.
This latest attack serves only further complicate matters already tense enough due largely to long
standing issues related back not only to occupation but also to sovereignty claims made by both Israelis
& Palestinians alike – many times resulting in violence erupting throughout this region at any given time;
thus it will remain critical for regional powers like Egypt & Saudi Arabia among others continue
working together towards finding lasting peace through political solutions rather than military ones if
there ever hope being found here anytime soon.
Please follow and like us: