While peeping into history, Pakistan's senior journalist, Hamid Mir has analyzed the impact of the 'India Card'. Hamid says that previously Fatima Jinnah, sister of Muhammad Ali Jinnah was declared an Indian agent by FM Ayub Khan and Sheikh Mujibur Rehman had been nicknamed as an Indian agent by General Yahya Khan.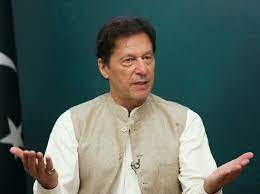 The Sharif brothers are playing the "India card" to the hilt against former prime minister Imran Khan, which could prove fatal as it aims to destroy Khan's Pakistan Tehreek-e-Insaf (PTI) and its leader who has also taken a direct course towards the powerful army led by general Asim Munir.
Imran and his supporters will be put on trial by army courts for violating the Official Secrets Act.
In a risky development, the army chief announced that the Pakistan army act and official secret act of 1952, which have provisions for the punishment including the death penalty, life in prison, etc., have been used to begin trials against planners, predators, instigators, abettors, and conspirators.
The army act will be used to prosecute Imran Khan's followers since they participated in attacks on military targets and soldiers on May 9. Imran Khan will also go on trial in the army for inciting his supporters to use violence, which carries a potential life sentence or death penalty.
India card could make Imran Khan unpopular with the general public
Now that Imran is receiving plaudits in Indian media, Shahbaz Sharif's administration and his brother, former PM Nawaz Sharif, appear determined to teach him a lesson. The Sahriff brothers seek to turn the May 9 violence into the 9/11 attacks, which might put Imran's political career in jeopardy or possibly put his life in peril. Hamid Mir, a distinguished journalist from Pakistan, examined the historical context while analysing the 'India Card'.
Hamid claims that Sheikh Mujibur Rehman and Fatima Jinnah, the sister of Muhammad Ali Jinnah, had previously been referred to as "Indian agents" by General Yahya Khan and FM Ayub Khan, respectively. Similar accusations were made against Benazir Bhutto and Nawaz Sharif by supporters of General Musharraf and General Zia, respectively. Currently, new propaganda has many PTI leaders on edge, and some of them are quitting politics and even the party.
It is becoming clear from the tweets of retired Indian Army Major Gaurav Arya that Imran Khan is trying to appease India. Almost all Pakistani TV channels showed a video clip of Indian journalist Sushant Sareen. Imran Khan was his dream, according to Sareen, because he devastated Pakistan. The Pakistani establishment's new "Indian agent" is Imran Khan.
At risk is the army's reputation as a "protector" of people.
In accordance with Article 245 of the constitution, the army has been summoned in the provinces of Punjab and Khyber-Pakhtunkhwa as well as in Islamabad, the federal capital. According to experts, Pakistan has been dominated by army generals through three coups (1958–1971; 1977–1988; and 1999–2008). Army held sway in both domestic and international affairs, projecting itself as the "saviour" of the common people, whose faith was recently shaken when Imran Khan questioned the army's uncontested, sole authority and even meddled in general transfers and postings while he was prime minister, which resulted in a confrontation with senior generals.
Khan had severe issues with his "mentor," General Qamar Bajwa, and played a key role in Munir, the current army chief, being removed from his position as head of the ISI. The fact that Imran's supporters have attacked military facilities and the home of an army commander may now prove to be the icing on the cake for Imran. It may not be possible for the judiciary, even the supreme court, to intervene to provide relief to individuals who will be condemned by army tribunals because the army chief has ordered that the instigators will be tried under the Army official secret act.
Pakistan's unrest is not helpful for India.
Analysts believe that the army will undoubtedly reassert its dominance over civic administration, which will serve as evidence of the futility of challenging its power. Imran Khan will be cited as an example of daring to do so and suffering the same fate as other prominent politicians in this country: the end of his life or political career.
When the army takes over, terror attacks in the Kashmir Valley would increase because the ISI may carry out retaliatory attacks to keep the situation heated up for its own selfish interests and the consumption of Pakistanis. The removal of Imran's party (PTI), a significant political force, will compel other parties to follow suit and praise the army, which may once again have the power to impose "anti-India rhetoric."
scepticism over democracy's future
The direct conflict between the Shariff government and President Arif Alvi, a former PTI activist and supporter of Imran, as well as the supreme court has left Pakistan in a mess, with no chance for democracy to survive. The Chief Justice of the Supreme Court, Umar Ata Bandial, who had his authority reduced by parliamentary legislation, has come under direct attack from the Shariff government.
The government has defied SC's directions and referred to Bandial as an Imran Khan follower and well-wisher. President Alvi obstructed the legislation that was approved by the legislature and subtly expressed his support for Imran.
Please follow and like us: