AFGHANISTAN: WOMEN'S FIGHT FOR RIGHTS
Afghanistan, popularly known as a 'graveyard of empires' has historically been home to various people and has witnessed numerous military campaigns. It was notoriously a difficult country to govern. Empire after empire, nation after nation has failed to pacify what was earlier the modern territory of Afghanistan.
But the situation today seems quite different. As the United States reduced its military presence in Afghanistan, the Taliban remained strong on the battlefield, and a massive question mark hung over the fate of Afghan women and their rights. The Taliban are a predominantly Pashtun, Islamic fundamentalist group that returned to power in Afghanistan in the year 2021 after waging a twenty-year insurgency.
As the Taliban took power, the situation for women and girls in Afghanistan deteriorated drastically. It only took a few months for the primarily male Islamists to impose unprecedented limits on women's and girls' self-determination.
Despite their initial vows to preserve women's rights under Sharia law, the Taliban issued laws that limit women and girls from practising their fundamental rights to free expression, liberty, and education.
Afghans who take to the streets to demand their rights face threats, incarceration, and torture. Before 2021, it was difficult for a woman to openly pursue an alternative life vision, such as independence or homosexuality, but now it is completely impossible.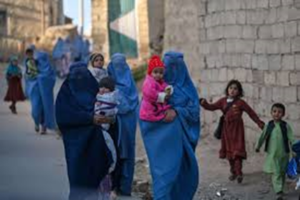 The Taliban established a series of decrees and rules that violate women's and girls' human rights, notably the right to freedom of movement. Women are not permitted to utilise public transportation without being accompanied by a male relative, usually called a mahram. In general, they are only permitted to leave their home for urgent reasons and must do so while wearing complete veils.
Women who violate the dress rules put their male relatives at risk of imprisonment. The country's humanitarian catastrophe is having an especially severe impact on families with many children. To prevent starvation, an increasing number of parents are turning to the patriarchal practice of marrying off their young daughters in exchange for a dowry.
Also, some families are forcing their girls to marry young in order to safeguard them from being compelled to marry a Taliban soldier. Islamists force families to give them their unmarried daughters as wives on a regular basis.
Some families seek to marry off their daughter to a Talib in order to get familial protection. Nonetheless, one of the Taliban's first political measures was to prohibit girls from attending secondary education in several regions. Without an education, females are more likely to be abused, mistreated, or married off early. Their chances of furthering their education or getting a solid career subsequently vanish. Young Afghan women's possibilities to attend university are likewise severely limited.
They may only attend seminars if their university provides gender-segregated education. The Taliban, via harassing tactics like clothing regulations and mobility restrictions, as well as gender-specific violence, is fostering an environment of fear that discourages and obstructs young women from pursuing an education. If they object, they are ejected from their classes.
Since the Taliban regained power most of the women who had gone out to work are now staying at home, some are allowed to go to work, but only in the company of a male relative, and others were simply fired. The Taliban have intimidated journalists and limited press freedoms, resulting in the shutdown of almost 200 news organisations.
The demise of prior government entities as well as the change of the legal system to the religious-based Sharia system has curtailed the safeguards previously accessible to women and girls. As a result, there has been an upsurge in allegations of domestic violence and forced marriages.
There is no trustworthy structure to which domestic abuse victims could resort. Courts and prosecution divisions that previously investigated and adjudicated incidents of gender-based violence remained closed. Women who reported spousal violence were both penalised by Taliban authority and community-level dispute resolution procedures.
Since the Taliban took control in 2021, Afghan women have been at the forefront of the struggle against Taliban persecution. They have been peacefully demonstrating equality, their rights, justice, and peace. And they continue to protest despite the Taliban's horrific beatings, arrests, imprisonments, and abductions.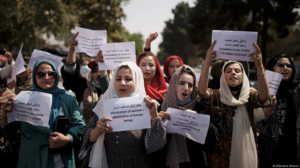 Only a deliberate, long-term process of safeguarding Afghan women's rights and hopes, and holding the Taliban and others in Afghanistan accountable for them, can provide a future that permits the country to develop and includes access to credible participation in the international community.
Otherwise, Afghanistan would abandon the accomplishments made at such a tremendous cost by so many, and Afghan women will endure and struggle once more under the gloomy sky of cruel control, a darkness that engulfs the entire country and casts a shadow of disgrace on the international world.
Please follow and like us: