Applications of Nudge Theory in the Real World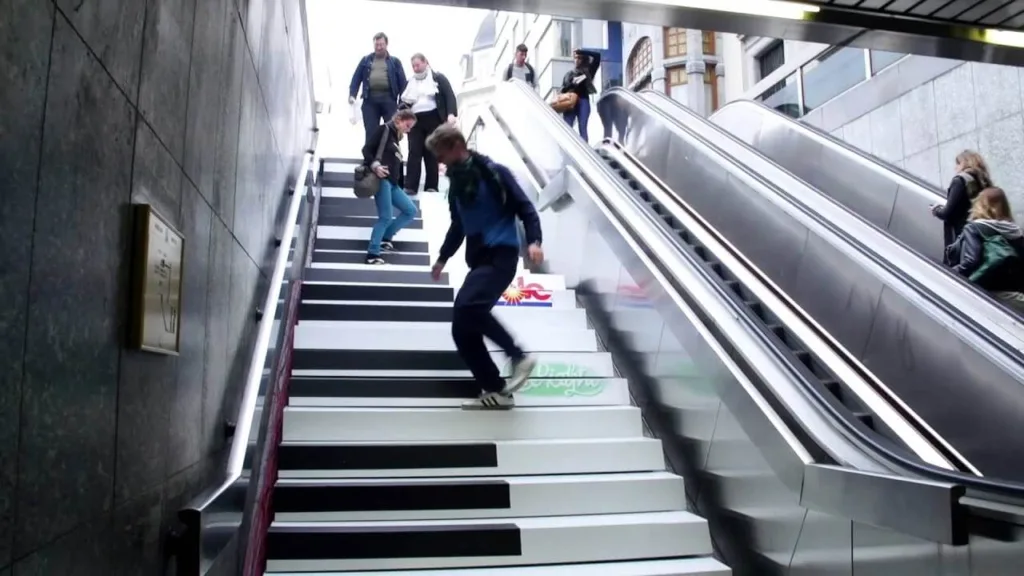 Abstract:
Over the past few decades, the Nudge theory has received wider attention from both
policymakers and researchers. Nudging is one of the strategies from behavioural economics
that aims to influence the behaviour of an individual by changing the environment. Behavioural
economics is the study of psychology as it relates to the economic decision-making process of
individuals and institutions. Behaviour economics is influenced by bounded rationality,
the architecture of choices, cognitive biases, and herd mentality. The paper sheds light on the
importance of the Nudge Theory and its applications in the real world. The paper also aims to explain its applicability with examples in every field. It has further focused on the importance of
Nudging. This paper also provides recommendations related to the implementation of Nudge
Theory at the end of the paper.
Keywords: Nudge Theory, Economics, Behavior, Nudge, Choice.
Objectives:
To study the existence of Nudge Theory in the Real world.
To suggest recommendations for the improvement of the Nudge Theory.
Introduction:
We are living in an ideal world where people always try to make optimal decisions that provide
them with the greatest benefit and satisfaction. In economics, rational choice theory explains
that when humans are given various options under the conditions of scarcity, they would
choose the option that maximizes their individual satisfaction. This theory assumes that
people, given their preferences and constraints, are capable of making rational decisions by
effectively weighing the costs and benefits of each option available to them. The final decision
made will be the best choice for the individual. The rational person has self-control and is
unmoved by emotions and external factors and, hence, knows what is best for himself. The
behavioural economics explains that humans are not rational and are incapable of making good decisions.
Nudge theory was named and popularized by the 2008 book, 'Nudge: Improving Decisions
About Health, Wealth, and Happiness, written by American academics Richard H. Thaler and
Cass R. Sunstein. This book is based on the Nobel prize-winning work of the Israeli-American
psychologists Daniel Kahneman and Amos Tversky. According to Behavioral Economics, Nudge
Theory is the process of influencing consumer behaviour in predictable ways by choice
architecture. It is mainly concerned with the design of choices, which influences the decisions
we make. It aims to understand how people think, behave and make decisions and helps people in improving their decisions and thinking. A nudge is a subtle change in the environment that encourages individuals to make certain choices without actually limiting their freedom to choose. These nudges can be in any form like physical form, social norms, or default that guide people's behaviour in a certain direction.
"Each person holds so much power within themselves that needs to be let out. Sometimes they
just need a little nudge, a little direction, a little support, a little coaching, and the greatest
things can happen." ——– Pete Carroll
Nudges are based on the idea that small changes in the context of decision-making can lead
to big changes in behaviour. They are often used to promote healthy and sustainable choices but can also be used to influence the behaviour of individuals. Our daily lives are surrounded by arbitrary and seemingly meaningless decisions that wind up determining our behavior in certain situations. Imagine that you receive a text message saying "9 out of 10 people in your area are up to date with their tax payments". You automatically feel like an outlier and try to dovetail to fulfil the social norm of paying your taxes. This is an example of a nudge. In this case, the government of that particular country may have considered that tax evasion was increasing and instead of aggressively targeting those tax evaders, they decided to gently push them towards that choice. In other words, they decided to nudge people into being on their best behaviour.
Literature Review and Methodology:
Various studies have been conducted on the existence of the Nudge Theory in the real world. A paper by Yiheng Huang in 2022 focuses on investigating the impact of the Nudge Theory in increasing revenue by sales. It has been found that there is a positive relation between both variables. Another paper by Robert J. Weijers in 2021 focuses on the implementation of nudging in the education sector and gives a decision matrix while designing nudging for the education context.
Another paper by Yimiao Liang in 2019 discusses the behavioural nudges concept and offers the
potential behaviour nudges to overcome market inefficiency by policymakers. It is a
contrasting analysis of the efficacy of nudges in market inefficiency. Another paper by Siaw-
Chui Wee and Atol in 2021 aim to review the status quo of the pro-environmental context in
nudging for behavior change and the nudging techniques that are available for selection to
promote pro-environmental behavior. This review found that the majority of nudging studies
show positive effects in nudging the targeted behaviour of people and demonstrate that the
nudging technique has great potential to influence pro-environmental behaviour. Various other
papers are focused on how nudging can bring profits to marketing, business and finance. It has
been observed that almost all the papers have focused on linking nudging with climate change,
environment, finance, health, policy making, and education. Very few papers have focused on
our day-to-day techniques which are actually linked to nudge theory. This paper focuses on the
applications of nudge theory in our daily life with examples. This study is entirely influenced
by the researcher's experiences and observations. Various research papers and articles are
reviewed to make this study more reliable.
Applications of Nudge Theory:
The art of persuasion seems to have prevailed since the existence of mankind on Earth but this concept started gaining importance after the 1970s. Nudges are generally viewed as low-cost, behaviorally-informed, choice-preserving solutions to various personal and societal issues. This means that nudges are generally easy to implement, are relatively effective, and allow people to make their own choices, which has led to their widespread adoption in both the private and the public sectors in all fields. The researcher here will discuss some of the successful implementations of the theory by various countries.
 Nudge Theory really entered into the picture with news in 2009 that described how
authorities at Amsterdam airport had installed small fly-shaped stickers in the urinals in
order to reduce spillage. It has been found that 80% of spillage was reduced and 8% of
cleaning cost was reduced.
 In the UK, a scheme was launched where each house had two separate dustbins for the
garbage. One for regular garbage and the other for recyclable materials and a bin for
recyclable waste was a bigger one in the hope that it would limit the general waste and
people would recycle more. This scheme worked well in the UK.
 The schemes of "Beti Bachao, Beti Pdhao" and "Swatch Bharat Mission" Indian
The government are also influenced by the nudge theory because both these schemes were
focused on bringing the change in behaviour of the individuals through various ads and
quotations like "Darvaja Band to Bimari Band", Ek kadam swatch ki aur and
the importance of educating the girl child by initiating program like 'Selfie with Daughter'. It
has been found that 93.1 % have toilet access and 96.5% use the accessed toilets.
 The American grocery store Pay & Save placed green arrows on the floor leading to the
fruits and veggies. They found shoppers followed the arrows 9 out of 10 and their sales of
fresh produce skyrocketed.
 Another experiment in the Philippines was undertaken to reduce smoking. A 'CARES'
the program was started according to which the regular smokers were identified. They were
asked to open a savings account and deposit the money which they used to spend on
smoking for 6 months. At the end of six months, a urine test for nicotine was conducted.
If they passed the test, they got all their money and if they failed then there money was
given for charity. This experiment has found wonderful results that some of the smokers
actually decided to quit smoking.
Some of the applications of the Nudge theory in our Daily lives are as follows:
 Placements of items in a store: it is a common nudge used to influence the behaviour
of an individual in order to increase sales. The products which the owner wants
to be sold more will be kept at eye level so that they are noticed by the customers
easily. Another is that the items are placed together like bread and butter. This
makes customers more likely to purchase more.
 Social proof: it is a nudge that is used to make customers believe that others are
buying a particular service or good by showing ratings and reviews.
 Rewards: it is also a nudge used by almost all people in our society. Teachers and
Parents used it as a motivation to engage the students in their work so that they can
come in with flying colours.
 Loyalty programs: This is a nudge used to encourage the customers to continue doing
business. For example, a coffee shop might offer a loyalty card that rewards
customers with a free coffee after they have purchased a certain number of coffees.
This nudge encourages customers to continue coming back to the coffee shop to
make purchases, in order to earn their reward.
 Reminders and notifications: it is also a nudge used in technology to encourage
users to do certain actions or complete a task. Another example is a news app that sends
push notifications to inform users of breaking news. This nudge encourages users to
open the app and read the latest news.
 Gamification of tasks: it is a nudge done by incorporating elements of game designs,
such as levels, competition, points and levels. For instance, a fitness app might use
gamification to encourage users to exercise more and earn points.
 Fundraising: it can be done by nudge theory. The first strategy is to make giving
easy. Encourage individuals to keep donating by automatically enrolling donors for
ongoing donations or creating default settings that prompt donations on a regular
basis. A second strategy for increasing donors is to make donations more attractive.
This includes motivating people to donate through rewards, personalized messages,
or focusing on their interests. We've found that personal messages, small thank-you
gifts, and showing the impact your donation has on others are more effective in
increasing donations.
 Use of words: the researcher saw a reel on Instagram where a blind man was
begging on the corner of the road with a quotation on a paper "I am blind.
Please help me." Very few people helped him but suddenly a lady came and took
that paper and wrote, "it's a beautiful day today but I can't see it." This made a lot of
difference and many people helped him.
 Putting Quotations: it is also a type of nudge in which certain signs or quotations are
placed on the walls of the room to remind people to turn off lights when they leave
the room in order to reduce electricity consumption.
 Social Norms: it is also a type of nudge. Studies find that people actually adapt their
behaviour to stay aligned with social norms either out of fear or from feelings of social
pressure.
The Nudge Theory may seem to be simple to put into practice but it can be ineffective
and counterproductive. Many people believe that it has a form of brainstorming or
coercion that forces people to do certain things which they don't want to do. There is no
doubt that this theory has benefited a lot in almost all spheres. But it has certain
disadvantages like getting a particular nudge right is not always easy because people
have their own understanding and it's not easy to manipulate them and can often lead
to unexpected outcomes. Sometimes the owner can use it inappropriately by doing
negative nudging.
Recommendations:
As nudging has become a part of our life and daily routine, it has become more important to
understand the concept of nudging in a clear manner. By reviewing various research papers and researcher's observations, it has been found that this theory has bore fruit in every field. Though there are certain limitations its importance can't be ignored today. The researcher wants to recommend some points to make the Nudge Theory more effective.
 Set up a behavioural economics unit in every field.
 Every program or policy must go through a "Behavioral Economics" audit before its
implementation.
 Keep a separate vacancy for psychologists and economists in every company, education
system, marketing, and health sector. This will help in enhancing employment
opportunities.
Conclusion:
Traditional Economic Models have always assumed that human beings are rational and they
make decisions in an optimum manner in order to satisfy their needs. Behavioural
economies have proved that human decisions are not rational but irrational. So what can lead
people to encourage making rational decisions without restricting their freedom to choose?
Nudges are the answer. Nudging techniques influence an individual's behaviour towards a result that is both better for them and for society. The main aim of this paper was to study the
applicability of nudging in our day-to-day life. It has been found that we are surrounded by
nudges around us. In each and every field, nudges can be implemented to bring a change in
society as a whole. There is only a need to understand the concept of nudging to make better
policies and optimum decisions.
References:
 Richard H. Thaler, Cass R. Sunstein, Published in 2008, Retrieved from
file:///C:/Users/SAMSUNG/Downloads/Richard_H.Thaler_Cass_R._Sunstein_Nudge _Improv..pdf  Yiheng Huang, Investigation of the Application of Nudge Theory in Real World, 2022, Retrieved from file:///C:/Users/SAMSUNG/Downloads/125974807.pdf  Yimiao Liang, What are behavioural nudges and how can policymakers effectively uses them to overcome market, 2021 retrieved from file:///C:/Users/SAMSUNG/Downloads/EC355_Liang.pdf  Robert J. Weijers, Björn B. de Koning & Fred Paas, Nudging in education: from theory towards guidelines for successful implementation, 2020, Retrieved from https://link.springer.com/article/10.1007/s10212-020-00495-0#Abs1  Editorial, Nudging and Choice Architecture: Perspectives and Challenges, 2022, Retrieved from https://www.redalyc.org/journal/840/84070847005/html/  Hetvi Parekh, Nudge Theory: Literature, Effectiveness, Applications, Implications and Recommendations, Retrieved from file:///C:/Users/SAMSUNG/Downloads/HetviParekh_AU1900003_Assignment3
MKT642.pdf
 Anna Roig Roldán, Nudging individuals to increase participation in NGOs,
Retrieved from
https://diposit.ub.edu/dspace/bitstream/2445/152912/1/TFG_GEI_ROIG_ANNA
_JUN19.pdf
 Will Kenton, What Is Behavioral Economics? Theories, Goals, and Applications,
2023, Retrieved from
https://www.investopedia.com/terms/b/behavioraleconomics.asp#toc-
applications-of-behavioral-economics
 Vinoth Deva Kumar, What is nudging and some real-world applications of
nudging,2014, Retrieved from
https://www.linkedin.com/pulse/20141102132316-72002586-what-is-nudging-
and-some-real-world-applications-of-nudging
 Article, Nudge Theory, https://www.businessballs.com/improving-workplace-
performance/nudge-theory/
 Stephanie Mertens, Mario Herberz, Ulf J. J. Hahnel , and Tobias Brosch, The
effectiveness of nudging: A meta-analysis of choice architecture interventions
across behavioral domains, 2021, Retrieved from
https://www.pnas.org/doi/10.1073/pnas.2107346118
 Itamar Shatz, Nudge: How Small Changes Can Significantly Influence People's
Choices, Retrieved from https://effectiviology.com/nudge/
Please follow and like us: