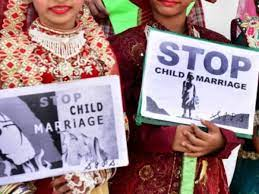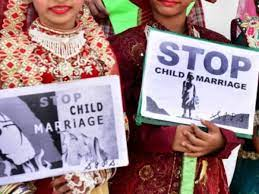 Introduction
Child marriage has long been a serious problem in Indian society. Not only does this action break the law, but it also gravely breaches the children participating in the marriage's human rights. The main states are Rajasthan, Uttar Pradesh, and Madhya Pradesh.
Child marriage has been a tradition to alleviate the financial and educational load of the girl child on her parents. A girl being married before she turns 18 and a boy before he is 21 might both have negative effects on them.
Human rights are violated by child marriage. Every youngster has the right to be shielded from this dangerous behavior since it has terrible repercussion.
Child marriage
According to UNICEF, the practise of child marriage constitutes a serious violation of children's human rights. This practise also violates the Indian Constitution's provisions since it threatens rights to equality and education, among other things.
Minor girls who are married off at an early age are the main victims of this practise. The main motivation for marrying off a daughter at a young age is to maintain stability without having to spend too much money on her education or wellbeing.
Child weddings are common in communities that are socially, economically, and educationally disadvantaged. The idea of child marriage has an impact on kids' physical and emotional wellbeing.
History
Child marriage has traditionally been considered a social sin in society. Although the exact date it was done is unknown, marriage age has changed over time. Girls who were married off at a young age were also the main victims in earlier times. Because patriarchy is still so pervasive today, young girls still suffer the worst effects of this societal ill. The Hindu Law's
uncodified clauses stipulate various ages for marriage, according to the different schools. The Mitakshara School sets a limit of sixteen years, whereas the Dayabhaga School considers the age of fifteen to be the minimum need for the institution of marriage.
Such occurrences became necessary to monitor the effects of child marriages on the general health of the couple. The age was again raised from 10 to 12 years old in 1891. When the legal drinking age was raised to 13 in 1921, this was altered once more.
To stop ladies from engaging in immature cohabitation, this was done. After that, Rai Sahib Sarda introduced a bill. The solemnization of weddings between minors was impliedly prohibited by this Bill. The Child Marriage Restraint Act of 1929 later contained this bill, known as the Sarda Bill.
The factum valet doctrine has frequently been used in relation to the idea of child marriage.
Earlier, the legality of child marriages was upheld in a number of instances. The court upheld a child marriage in the Venkatacharyulu v. Rangacharyulu case (1890) because Hinduism regards marriage solemnization to be a particularly important institution.
The'saptapadi' completes it, binding the two people's lives together and forming a sacred link between them. As a result, once this tie is established, it cannot be removed. Marriage is a holy institution
that cannot be broken like a regular contract. Therefore, the marriage is legitimate even if the one getting married is a minor or mentally incompetent. In the Naumi v. Narottam case from 1983, child marriages were also upheld.
Due to the uncertainty of the provision for the validity of child marriages, the history is filled of cases where the court's position has changed over time and in different situations.
Human and Children's Rights
Children's rights and human rights are both violated by child marriage, according to the United Nations and other international organisations. According to the Universal Declaration of Human Rights, a person must be of legal age and engage into marriage voluntarily with their complete consent.
Child marriage is prohibited, according to the 1979 Convention on the Elimination of All Forms of Discrimination Against Women. Children are those who are less than 18 years old, according to the 1989 Convention on the Rights of the Child.
The legal marriage age was raised to 18 in a number of nations, although enforcement of these laws and those mandating marriage registration is lax.5 For instance, in Mali, 65% of females are underage for marriage even though the legal age is 18.
Factors Driving Child Marriage
Child marriages are primarily motivated by three factors: poverty, the urge to strengthen social relationships, and the conviction that marriage provides safety. Child marriage is more common in impoverished areas. To assure their daughter's financial security and to lessen the financial strain daughters place on the family, parents are faced with two economic incentives.
Child marriage is primarily a result of extreme financial need. Girls eventually leave the home because they are expensive to educate, clothe, and feed. A dowry is given to the bride's family upon marriage. The bigger the dowry and the quicker the financial responsibility of rearing the daughter is removed, the younger the girl.
In addition to forming social bonds between tribes or clans, parents who marry their daughters off to "good" families also create
Health Consequences of Child Marriage
Isolation and Depression
After getting married, girls are sent to live with their husbands, taking on the roles of wife, housewife, and finally mother. These brand-new residences can be in another village or city.
Due to the huge dowry given, husbands are frequently much older than the girls (and as a result, don't have many interests with them), and their new wives are expected to have children.
Some of these areas may also be open to polygamy. The girls consequently feel abandoned, alone, and miserable. Some females understand that in order to survive, they must adapt to their new surroundings and demonstrate their fertility. They miss out on their childhood and the chance to play, make friends, and learn.
Risk of Sexually Transmitted Infection and Cervical Cancer
Parents believe that protecting their daughters from HIV/AIDS by marrying them off young. Contrary to popular belief, marriage before the age of 20 puts girls at risk for contracting
HIV.7 In Kenya, married girls have a 50% higher risk of contracting HIV than unmarried girls. The danger is significantly higher (59%) in Zambia. And between the ages of 15 and 19 in Uganda, the prevalence rates of HIV among married females and unmarried girls are 89% and 66%, respectively. These women were infected by their spouses. The girls frequently engaged in unprotected sex with their husbands in an effort to demonstrate their fertility. Their older husbands were polygamous or had previous sexual partners. Additionally, the girls' physical immaturity and virginity raise the danger.
The Legislative Framework in India
Hindu Marriage Act, 1955
To stop the pervasive practise of child marriage, India established the Child Marriage Prohibition Act (PCMA) in 2006. The PCMA forbids child marriage between people under the ages of 18 for females and 21 for boys, and also permits the child who was a part of the marriage to voluntarily dissolve the marriage within two years after the wedding.
The majority of Hindus in India abide by the requirements of the Hindu Marriage Act, 1955 on the institution of marriage. It lays out guidelines for the solemnization of Hindu marriages. The solemnization of marriage is mandated by Section 5(iii) of the Act. The criterion is that the applicant be at least 21 years old.
The circumstances for a marriage becoming void are laid out in Section 11, which also declares that if clauses iv or v of Section 5 are violated, the marriage is void from the start.
Section 5(iv) addresses relationships that are not allowed, whereas Section 5(v) describes the sapinda relationship between people.
The ancestry of both parties influences the sapinda relationship. They are regarded as sapindas, or connected to the same spot, if they have three maternal or five paternal common ancestors in common.
One exception is when a custom or usage permits it, in which case weddings between forbidden connections or sapinda ties are taken into account to be legal.
Marriages that are voidable on certain circumstances are covered in Section 12, and those grounds have been specified. These consist of:
• non-consumption due to the partner's impotence;
• forcing the party's or the guardian's consent;
• Respondent's pregnancy caused by another person.
The party is incapable of providing valid consent due to unsoundness of mind, a mental condition that renders him or her unfit for marriage and procreation, or insanity, according to Section 5(ii). It is noted that the sections make no explicit mention of the prevalence of underage marriage.
The minimal age for solemnising a marriage between two people is established in Section 5 however. Infractions of the minimum age requirements outlined in Section 5(iii) are punishable under Section 18(a) of the Hindu Marriage Act, 1955. It imposes a sentence of two years of hard labour in prison and a fine up to one lakh rupees, or both.
Validity of Child Marriage under Hindu Marriage Act
The Hindu Marriage Act of 1955 stipulates that a girl must be at least 18 years old and a boy must be at least 21, and it also specifies penalties for situations where these requirements are not followed. However, other provisions of the Act create uncertainty and call into question the legality of child marriages.
A variety of grounds for divorce are listed in section 13 of the Hindu Marriage Act. When a girl who has been married before the age of fifteen refuses to accept the institution of marriage between the ages of 15 and 18, it is grounds for divorce under clause 2(iv). This holds true regardless of whether the marriage is consummated. Consequently, the provision offers
In the case Mohinder Kaur v. Major Singh (1971), it was envisioned that the wife would leave her husband and begin living with her parents. As a result, he filed a lawsuit under Section 9 seeking the restoration of their conjugal rights.
The wife in this case claimed that because she was only 11 years old when the marriage was formally recognised, it was in violation of of Section 5(iii) of the Hindu Marriage Act, 1955. It was noted, however, that Section 18's imprisonment and fine (or both) were the only sanctions allowed for violating this clause. The Act made no mention of how the marriage would be impacted, the Court noted. Therefore, the request for restitution.
Prohibition of Child Marriage Act, 2006
The Prohibition of Child Marriage Act of 2006 aims to prevent marriages from taking place where either the bride or the groom are younger than the legal minimum age for marriage (18 years for girls and 21 years for boys).
The Prevention of Child Marriage Act of 2006, which replaced the earlier Child Marriage Restraint Act of 1929, was passed by the Government of India in order to ensure that child marriage is completely removed from society.
This new law includes provisions that make it possible to forbid child marriage, protect victims and offer assistance, and strengthen the penalties for those who arrange, support, or solemnise such marriages.
Constitution of India
The Indian Supreme Court has acknowledged that child marriage violates the constitutional rights of women and girls, is discriminatory, limits access to the equal protection of the law, and denies them a life of freedom and dignity. The following rights, which fall under the purview of the right to life and the right to personal liberty and which prohibit child marriage, have also been listed by India's lower courts:
1. the right to be free from torture and other brutal or degrading treatment, 2. right to health, including the ability to conceive and bear children,
3. right to autonomy, dignity, and the right to an abortion,
4. Right to privacy, which involves safeguarding individual privacy in relation to one's home, family, marriage, motherhood, procreation, and childrearing
Indian Penal Code
The IPC does not directly criminalise child weddings, however Section 366 on forced marriage makes it an offence to kidnap or abduct a woman in order to compel her into marriage and to employ any form of compulsion. Other laws in the IPC, such Section 496, which makes it an offence to perform a marriage ceremony with fraudulent purpose, may also
apply to child marriage in certain circumstances. The offence of unlawful confinement is defined by Section 340 as any illegal constraint that is absolute and prevents the victim from moving past a circumscribed distance. This section's text demonstrates that the crime of unlawful detention is defined with the aid of.
Social barriers in reporting of cases and filing of complaints
It is crucial that everyone is made aware of the Act and the rights, obligations, and duties that they have in relation to it when the law is implemented.
It is crucial that married girls, family members, concerned citizens, and government officials, including CMPOs, be all aware of their legal rights and the procedure they can use to report child marriages.
The societal conventions, or should we say social barriers, are the reason why it is not as simple as it may seem. We are in a nation where traditions and conventions are valued higher than the law. Many individuals think that child marriage
Lack of available legal remedies
For those who have been the victims of child marriage, there are legal remedies available, but they are insufficient, and some people may find it difficult to use those that are offered. International human rights law and Indian constitutional law have both established the right to redress for children who have been married off as youngsters as well as for the resulting abuses of their sexual and reproductive rights that frequently result from the practise.
Due to a lack of bodily, financial, and social autonomy as well as a lack of institutional support in providing facilities for married girls' rehabilitation, many married girls are frequently unable to use this therapy even when it is made available. many young women who are coerced into marriage.
Awareness
Nevertheless, raising public knowledge is the most crucial tactic for this. The idea of child weddings is societal, hence changing society is necessary to put an end to it. Numerous social vices were present in the past but were discarded as a result of social development.
Sati is a good illustration of this. Despite the passage of time, the issue of child marriages continues to be a concern for society as a whole, and a shift in perspective is required to solve it.
The government has introduced a number of programmes to prevent child marriage and to encourage parents to send their daughters to school. These programmes have been put in place to encourage girls to study and to raise awareness of the value of education.
Conclusion
The idea of child marriage constitutes a serious breach of a number of children's rights. Minors are negatively impacted by it in a number of ways, as they experience physical, mental, and emotional suffering. Their education is also hampered by it.
Due to premature pregnancies, it causes numerous disorders in some girls and raises the rates of foetal and mother mortality. Most significantly, it affects the minors psychologically since they are expected to fulfil the duties associated with the institution of marriage at a young age. Because the laws don't have a clear position on the matter, the situation's complexity rises. While some regulations set a minimum age for marriage
Please follow and like us: