Education and Women Empowerment in India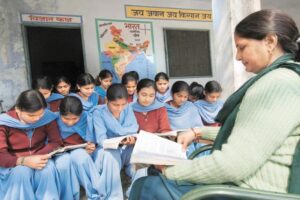 "If you educate a man, you educate an individual, however, if you educate a woman, you educate a whole family. Women empowered means mother India empowered"[i]
-Pt. Jawaharlal Nehru
It is rightly said because Women's education is at the core of social development. Without educating Women overall socio-economic development cannot be ensured. Education is a way of achieving gender equality and getting rid of disparities acting as a roadblock to women's empowerment. It is vital for the prosperity, development and welfare of women.[ii]
Indian orthodox and conservative outlook to keeping women within four corners of the house and limiting them to marriage, procreation, the raising of children and household chores is the biggest obstacle in educating women. This condition is not at present but it is since time immemorial. From the Vedic period till today, women have been deprived of education which is actually one of the most fundamental human rights.[iii]
Problems associated with women's education include gaps in primary and secondary schooling, high dropout rates, poor education infrastructure, early marriage, malnutrition and poor health, preference for a son, patriarchy and social perceptions etc.[iv]
In the older times, even enrolling the girl child in school was not normally observed. However, after the 1990s female enrollment rapidly increased. But still, there has been observed a significant gap between primary and secondary schooling. One of the reasons behind it is the high dropout rates which have their own consequential factors. The major factor behind high dropout rates is poor education infrastructure which includes the unsanitary conditions of schools, the absence of girls' toilets, the absence of teachers and so on.[v]
Social factors which contribute as one of the roadblocks in women's education is the custom and social perception about girls and women are to be limited to home for the reason of keeping them unexposed from the world and getting them married of at young age.[vi] Early marriages hinder women's prosperity as it comes the way of them gaining proper education and working in a prestigious job.
Son is still preferred over daughter as she is understood as a financial burden on parents which is basically a patriarchal perception. In the urban slums and rural areas, poor health and malnutrition also contribute towards women lagging behind men counterparts in excelling in the education field. Poverty is also one of the biggest reasons behind the poor status of women as the poor financial conditions of women lead them to work in hazardous factories, in the sex trade etc. Violence against women and trafficking of women is one of the factors contributing towards the subject problem.
Keeping in mind the trend of gender inequality and problems in women's education, the state's role comes into play to devise laws and strategies to implement them. Article 15(3) of the Indian Constitution enshrines that the state can frame laws for the welfare of women.[vii] Article 16 (1) is another enabling provision which empowers the state to provide equality of opportunity in public employment.[viii] Article 21 which is the heart and soul of all fundamental rights provides for the right to life and personal liberty.[ix] It is broader in its meaning and perspective and envisages the very right to education also which was inserted in the form of Article 21 A as per the 86th Amendment Act, 2002.
Article 23 of the constitution prohibits exploitation and trafficking.[x] Article 32 provides a remedy to move to the supreme court whenever there is a violation of any fundamental right.[xi] Art. 39 provides for equal pay for equal work which is a directive principle of state policy and is of great importance to women workers.[xii] Art. 42 provides maternity relief and Art. 45 is about early childhood care which is sacrosanct for the nurturing and nourishment of a girl child.[xiii]
International law prohibits discrimination against women in the area of education. Under Art. 26 of UDHR, 1948, it is provided that "Everyone has the right to education".[xiv] Article 3 of the International Covenant on Economic, Social and Cultural Rights requires States parties to undertake "to ensure the equal right of men and women to the enjoyment of all economic, social and cultural rights" set forth in that treaty, including the right to education.[xv]
Article 13 of the International Covenant on Economic, Social and Cultural Rights provides "the right of everyone to education and primary education to be compulsory and available free to all".[xvi] Article 28 of the Convention on the Rights of the Child provides that States Parties shall "make primary education compulsory and available free to all".[xvii]
The time is ripe that the judiciary, legislature and executive branches of government should take a positive stand on gender inequality and emphasize women's education. Women-centred constitutional provisions should be strictly enforced. The executive wing should formulate affirmative action strategies to achieve the goal. Community awareness programs should be organized to inform people about the need for hours to educate girls child and women.
Proper education infrastructure should be provided by the government in schools so as to reduce the dropout rate of the girl child and reduction in the gap between primary and secondary education. The state should take lead in facilitating adequate nutrition to the girl child through the Anganwadi programme. This not only will help in reducing dropout rates in schools but will also ensure good reproductive and maternal health when she grows up and becomes a mother. Vocational training centres along with a formal education system should be promoted.
Adult education programs for grown-up women should be emphasized. More employment opportunities for women who seek to secure powerful jobs like administrators or judges should be encouraged. Last but not least women need to learn about strategies which would help them lead in all spheres of life. They should raise their voice against any kind of wrong being committed to them and seek help from the administration to combat it. They should come forward and realize that they are powerful and can rule the world too.
---
[i] Sultan, D.R. (no date) Role of education in women empowerment in India: Future strategy, Think India Journal. Available at: https://thinkindiaquarterly.org/index.php/think-india/article/view/16635 (Accessed: March 3, 2023).
[ii] Girls' education (2020) UNICEF. Available at: https://www.unicef.org/education/girls-education (Accessed: March 3, 2023).
[iii] Women's empowerment in India, from the ancient period to the modern time period. (2022) Times of India Blog. Available at: https://timesofindia.indiatimes.com/readersblog/scatteredthoughts/womens-empowerment-in-india-from-ancient-period-to-modern-time-period-46689/ (Accessed: March 3, 2023).
[iv] Challenges posed to women's education (2021) INSIGHTSIAS. Available at: https://www.insightsonindia.com/social-justice/issues-related-to-women/women-and-education/challenges-posed-to-women-education/ (Accessed: March 3, 2023).
[v] Ibid.
[vi] Ibid note iv.
[vii] The Constitution of India, 1950.
[viii] Ibid.
[ix] Ibid note vii.
[x] Ibid note vii.
[xi] Ibid note vii.
[xii] Ibid note vii.
[xiii] Ibid note vii.
[xiv] The Universal Declaration of Human Rights, 1948.
[xv] International Covenant on Economic, Social and Cultural Rights, 1966.
[xvi] Ibid.
[xvii] Convention of Rights of Child, 1989.
Please follow and like us: