Haney Retains Titles with a Controversial Win over Lomachenko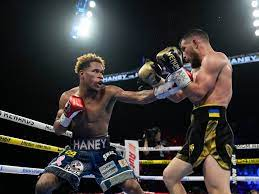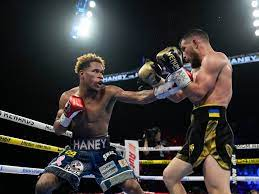 WHO IS DEVIN HANEY?
American professional boxer Devin Haney, who was born on November 17, 1998, has excelled in the sport at a young age. Haney, a native of San Francisco, California, started boxing at the young age of seven and showed remarkable talent and promise right away. He made his professional debut in 2015 at the age of 17, making history as the youngest boxer to sign with Floyd Mayweather Jr.'s promotion organisation, Mayweather Promotions.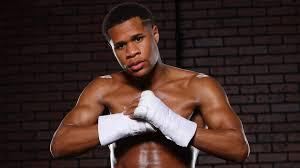 Haney, who competes in the lightweight division, has displayed amazing ring prowess. He possesses lightning-quick hand speed, excellent footwork, and remarkable defensive skills, earning him the moniker "The Dream" for his capacity to crush opponents' hopes of triumph.
Haney has a remarkable record and an undefeated streak throughout his professional career. He has faced challenging opponents and, in the ring, has demonstrated impressive boxing IQ and versatility. His victories over fighters like Jorge Linares, Antonio Moran, and Zaur Abdullaev are among his most notable ones.
Beyond his ring accomplishments, Haney has been known as a young boxing prodigy and a potential future star of the sport. He has a sizable fan base who eagerly await his fights and closely monitor his professional development. Devin Haney continues to establish himself as one of the best talents in professional boxing thanks to his commitment, talent, and tenacity.
WHO IS VASILIY LOMACHENKO?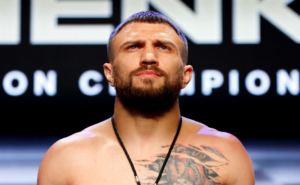 Ukrainian professional boxer Vasiliy Lomachenko, who was born on February 17, 1988, is renowned for his extraordinary technical proficiency and ring savvy. Lomachenko, a native of Bilhorod-Dnistrovskyi, Ukraine, began boxing at an early age under the tutelage of his father, Anatoly Lomachenko, who later served as his trainer.
Lomachenko won multiple honours during his amateur career, including two gold medals at the Olympics in 2008 and 2012. His amateur career was nothing short of extraordinary. He reportedly had a 396-win record as an amateur and just one loss when he made the transition to the professional levels in 2013.
Because of his technical prowess, Lomachenko earned the moniker "Hi-Tech" and rose to prominence in professional boxing. His special combination of timing, accuracy, and footwork mesmerised both opponents and spectators. As a result of his knowledge of angles, defensive prowess, and accuracy punching, he established himself as a formidable force inside the ring.
In his professional career, Lomachenko has triumphed over illustrious rivals including Jorge Linares, Nicholas Walters, Gary Russell Jr., and Guillermo Rigondeaux. He unified the WBA and WBO lightweight belts in 2018, enhancing his standing as one of the top fighters in the world pound for pound.
Beyond his abilities, Lomachenko's fighting style is distinguished by his unrelenting quest for excellence and his readiness to face difficult obstacles. He is a fan favourite and an example for young boxers because he never stops trying to push the envelope and demonstrate his superiority in the ring.
Due to his outstanding career and achievements, Vasiliy Lomachenko has earned a spot among the top boxers. He continues to enthral spectators across the world with his technical mastery and passion, leaving an imprint on the sport of boxing.
HOW DEVIN HANEY DEFEATED VASILIY LOMACHENKO TO RETAIN THE LIGHTWEIGHT TITLE BY UNANIMOUS DECISION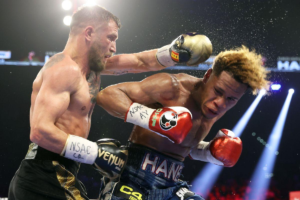 In a difficult unanimous decision victory over former three-division champion Vasiliy Lomachenko on Saturday night at the MGM Grand Garden, undisputed lightweight champion Devin Haney successfully defended his titles.
To the dismay of the 14,436 spectators present, Haney was given the victory by all three judges despite Lomachenko dominating the fight in the later rounds and landing more punches (124-110). Haney expressed gratitude for the chance to take on Lomachenko and earn a part in history while recognising his talent and considering him to be his hardest opponent.
Haney, a free agent as of Sunday after his three-fight contract with Top Rank and Lou DiBella expired, must make a difficult choice. One choice is to continue competing in the lightweight division for another bout, possibly against the eagerly awaited Shakur Stevenson.
Stevenson, who wasn't happy with the result, thinks Lomachenko ought to be declared the winner. As an alternative, Haney might step up to the junior welterweight division in order to compete for a second-division title and set himself up to face the victor of the June 10 fight between Josh Taylor and Teofimo Lopez Jr. A matchup with Gervonta Davis, who excelled with his victory over Ryan Garcia on April 22, is another fascinating prospect.
In the final preliminary match on the undercard, Oscar Valdez overpowered Adam Lopez and prevailed through a unanimous decision following a convincing 10th round. Jeremiah Nakathila's bout with Raymond Muratalla was stopped at 2:48 of the second round due to Muratalla's early dominance over Nakathila.
In the 12th round, Andrew Moloney was knocked out by Junto Nakatani, who also recorded his 19th knockout. Moloney was then brought to the hospital for a checkup. The fight between Nico Ali Walsh and Danny Rosenberger was adjudged a draw by two judges (77-75) and a third (76-all).
Please follow and like us: