Vande Bharat Express: Computer on Wheels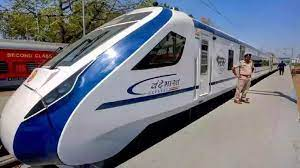 The Vande Bharat Express, a smart train dubbed as "a computer on wheels," is revolutionizing India's 170-year-old railway system with its advanced technology.
Union Minister of Railways Ashwini Vaishnav revealed that the indigenously manufactured semi-high-speed train relies heavily on integrated circuits (ICs) or chips to control nearly all operations from propulsion and braking to automatic doors.
Equipped with approximately 15,000 ICs, the Vande Bharat Express has a 16-coach configuration comprising four basic units, each containing two motorized cars and two trailer cars. Its vehicle control system, power electronics, and powertrain – from the transformer at the top to the motor at the bottom – are all software-defined and controlled by these thousands of chips.
Innovative Vande Bharat: Advanced Train Control Systems:
Advanced train control management is a key feature of modern rail transportation. In conventional trains, the locomotive contains all major electronic components and approximately 2000 integrated
circuits (ICs), while other coaches mainly house LEDs and air conditioners.
However, Vande Bharat differs significantly as it has eight motor coaches, meaning half of its carriages are self-propelled.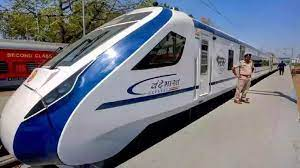 This design increases the number of electronic chips required since each motor coach shares common functionalities with a locomotive such as traction converters, auxiliary converters, and vehicle control units.
Additionally, Vande Bharat boasts an intelligent braking system, a door system, and a train control management system (TCMS). The TCMS serves as the heart of this advanced rail transport technology by controlling numerous systems including propulsion (traction), braking, heating/ventilation/air conditioning (HVAC), and passenger information systems.
Each coach in Vande Bharat features interconnected computers that manage AC controls, automatic doors, sensors for GPS-based passenger information systems along with CCTV cameras for security purposes. The incorporation of these additional electronics further contributes to increased chip usage on these innovative trains.
The TCMS assists in data analysis, enabling condition-based and predictive maintenance through the use of sensors and data analytics. This allows for monitoring equipment performance and predicting when maintenance is needed, identifying potential failures before they occur.
Data analytics and machine learning algorithms within the TCMS optimize energy usage, reducing consumption based on route topography. Moreover, it enables real-time monitoring and communication between different subsystems such as traction and braking systems, ensuring smooth acceleration and deceleration.
Indian Railways: History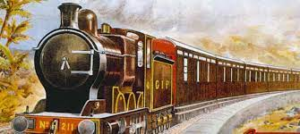 Indian Railways, the world's fourth-largest rail network, spans over 120,000 kilometres across India. It offers three main types of services: express trains, mail express trains, and passenger trains. Passenger train fares are the lowest while mail express fares are the highest; express train fares fall in between.
The idea of a railway system in British India was first proposed in 1832 when rail travel was still new in Britain. Recognizing its potential benefits, Lord Harding allowed private entrepreneurs to establish a rail system as Governor General of India in 1844. By 1845, two companies were formed: East India Company and Great Indian Peninsula Railway.
India's first train ran on April 16th, 1853 between Bori Bunder (now Mumbai) and Thane at a distance of about 34 kilometres. The network expanded to approximately 14,500 kilometres by 1880 around major port cities like Bombay (Mumbai), Madras (Chennai), and Kolkata(Calcutta). In1901, the Railway Board was established under the Department of Commerce and Industry's guidance but powers remained with the Viceroy.
Locomotives: History and Types from the 1800s
Indian railways have been operating continuously since their inception, regardless of day or night, season, conflict, or weather conditions. This enduring system has undergone significant transformations over time.
One notable aspect is the evolution of its heritage locomotives used throughout history.
Locomotive – is a powered railway vehicle designed for pulling trains. It is a self-propelled unit that runs on rails, responsible for moving railroad cars.
Steam Engine
The nostalgic chug-chug sound and accompanying smoke of trains bring back memories of childhood train journeys. However, this experience seems distant in today's Gen Z era. The constant whistles during those times, when there were no AC classes, entertained us throughout the trip.
Steam engines, now preserved in museums, are a testament to our parents' childhoods. Most trains relied on these coal-powered steam engines until the 1960s but they had low traction power and caused environmental pollution due to smoke emissions. Steam locomotives also required regular maintenance as they were complex machines with numerous moving parts and lower fuel efficiency.
Indian Railways eventually phased out steam traction in favour of diesel and electric engines which produced less pollution. Diesel engines significantly reduced environmental impact compared to coal-powered ones while electric engines eliminated it entirely. As a result, steam engine production ceased with the last wagon being Antim Sitara (10480) in 1970.
The final chapter for Indian steam locomotives came on October 6th, 1995 when WL-15005 Sher-E Punjab hauled the last official Borgorj passenger service from Ferozepur to Jalandhar in Punjab marking their end. Today all steam locomotives have been replaced by cleaner alternatives across India.
Diesel Engine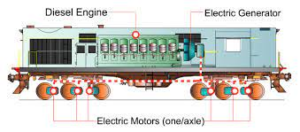 Since steam engines have been replaced by diesel locomotive engines, transportation has become more efficient and reliable. Diesel locomotives drive generators that power traction motors, making them fluent and less prone to breakdowns. As a result, they can travel thousands of miles between services and stops.
Diesel locomotives are capable of hauling immense loads across various landscapes without difficulty, proving advantageous over electric counterparts in certain situations. Although they may not be as technologically advanced or fast, their cost-effectiveness is appealing despite the need for imported fuel.
Ease of operation and maintenance contribute to diesel locomotives' flexibility since they do not rely on external factors for functionality. Additionally, these engines are well-ventilated and do not require infrastructure modifications.
Electric Engine
Electric locomotives, introduced in the early 1920s, were found to be cleaner, faster, more modern and more powerful. They increased capacity by as much as 100%, leading to track electrification on the first two sections from Victoria Terminus to Kurla and Banda in 1925. However, this required heavy investments in technology and infrastructure such as creating circuits, planting poles, drawing cables for hundreds of kilometres and establishing substations.
Initially, diesel won the race due to its flexibility but the 1973 oil crisis led to an aggressive push towards electrifying all major roads with a target of 1,000 km by 1979. Although still ongoing today, the pace of electrification has slowed down significantly.
Electric locomotives are best suited for high-volume trunk routes like Bombay-to-Delhi or Kolkata-to-Kanpur while diesel locos remain ideal for low-volume traffic lines, guard sections, rainy areas and heavy freight routes. As it is often said: a non-electrified double line is always better than an electrified single line.
Conclusion
The evolution of train engines has progressed from steam to diesel, and now electric. Among these advancements is the Vande Bharat Express, an electric multiple-unit train operated by Indian Railways. Since its launch on November 15th, 2019, this state-of-the-art train has gained significant attention throughout India.
Efficiency and modern amenities are key features of the Vande Bharat Express. On-board Wi-Fi, infotainment systems, electric outlets, and reading lights cater to passengers' needs while travelling. Additional facilities include automatic doors, smoke alarms, CCTV cameras for safety measures as well as odour control systems in bio-vacuum toilets with sensor-based water taps and roller blinds for added comfort.
Please follow and like us: