Important $3 billion bailout for impoverished Sri Lanka approved by IMF.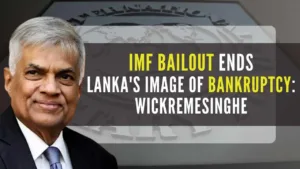 The first Asian nation to be investigated for corruption as part of a bailout agreement is Sri Lanka, the International Monetary Fund (IMF) said on March 21.
A roughly $3 billion rescue package for the insolvent country was authorized by the IMF executive board on Monday, and $333 million was to be made available right away to help with the humanitarian catastrophe there. Additionally, the permission will make financial assistance from other institutions possible. According to the office of President Ranil Wickremesinghe, it will open new paths for investments and he added that the permission will enable financing from other international multilateral financial institutions and also up to $7 billion from the IMF.
In order to pay for the imports of fuel and other necessities, Sri Lanka had to postpone last year's loan payments. Street protests sparked by shortages led to the president of Sri Lanka's ouster. Although incumbent President Ranil Wickremesinghe has made economic progress, his proposals to privatize state-owned enterprises have drawn criticism.
There have been several crises in Sri Lanka in recent years, including political, social, and economic issues. Here are some of the major crises:
Political Crisis of 2018: In October 2018, Sri Lanka plunged into a political crisis when President Maithripala Sirisena sacked Prime Minister Ranil Wickremesinghe and appointed Mahinda Rajapaksa as the new Prime Minister. This move was later declared unconstitutional by the Supreme Court, and Wickremesinghe was reinstated as Prime Minister.
Easter Sunday bombings: On April 21, 2019, a series of coordinated suicide bombings targeted three churches and three luxury hotels in Sri Lanka, killing more than 250 people and injuring hundreds. The bombings were carried out by a local Islamist extremist group known as the National Thowheeth Jama'ath (NTJ) with the support of a global terrorist network.
COVID-19 pandemic: Sri Lanka has been grappling with the COVID-19 pandemic since March 2020. The country has seen multiple waves of infections, with the Delta variant causing a surge in cases in mid-2021. The pandemic has had a significant impact on the country's economy, with tourism and other sectors hit hard.
Economic Crisis: Sri Lanka has been facing an economic crisis in recent years, with the country struggling to service its foreign debt. The COVID-19 pandemic has exacerbated this crisis, leading to a sharp decline in foreign exchange reserves and a currency devaluation. The government has implemented austerity measures, including tax hikes and salary cuts, to address the crisis.
Sri Lanka has received several loans from the International Monetary Fund (IMF) in recent years to address its economic crisis. In June 2016, Sri Lanka received a $1.5 billion loan from the IMF to support the government's economic reform program, which aimed to improve fiscal sustainability, reduce debt, and boost economic growth.
In November 2019, Sri Lanka requested another loan from the IMF to address its balance of payments difficulties and external financing needs. However, the loan was delayed due to concerns about the country's policy direction and macroeconomic stability. In June 2020, Sri Lanka finally secured a $1.5 billion loan from the IMF under its Rapid Financing Instrument (RFI) to address the COVID-19 pandemic's impact on the country's economy.
The IMF loan comes with certain conditions, including fiscal and structural reforms, to ensure that the country can meet its debt obligations and achieve sustainable economic growth. The Sri Lankan government has implemented a series of austerity measures, including tax hikes, salary cuts, and public sector reforms, to meet these conditions. However, these measures have been met with protests and opposition from some segments of the population.
Please follow and like us: